Among many ways for promoting fitness companies, referrals play a huge role. Do you know why referrals are widely used by many fitness companies ? First of all, referral-generated customers are the most profitable and loyal ones that your company could ever had. Secondly, these clients commit quicker, stay longer in your company and refer more clients for your fitness company. And finally, you have the chance to save some time on them, as there is no need to spend too much time for lead generation.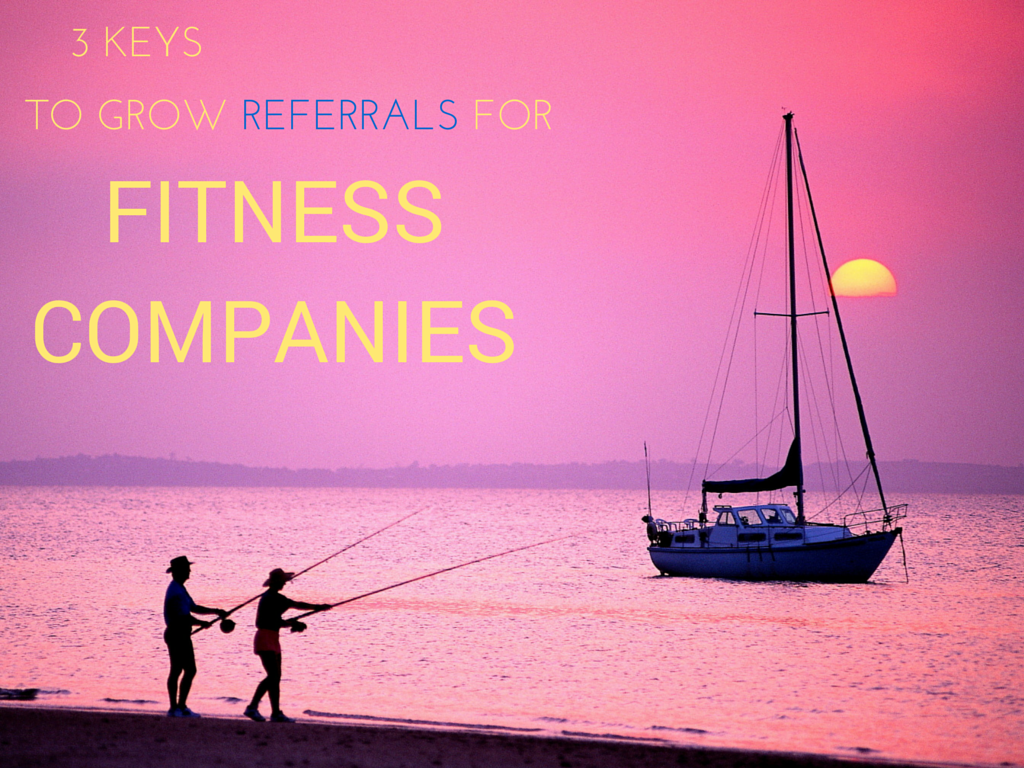 So, to make it easier for you to understand how you can make your fitness company more referral-generated, here are 3 keys to grow referrals.
"What's in it for me" (WIIFM)
This is the first key to grow referrals, because when you ask your customers for referral, first of all they ask themselves this question: "What's in it for me?". If there are no benefits for them, then there won't be no referrals for you. So, you need to make them understand that if they refer, then they will have some benefits as well. For example if they refer others, then they will get satisfaction for helping others to visit the best fitness company in the city. Another reason is that if there are enough referrals, you will spend less time and efforts on promoting your company, and there will be more time left to focus on your customers, to improve your services and so on. Thus, try to show the advantages to your customers for their referrals.
Another benefit that is going to motivate your clients most of all are incentives. Create an incentive system for them in order to get more referrals. For example, for each referral that becomes a client, they will get some amount of cash or a gift card. This will clearly answer to WIIFM and they will see a reason to help you.
3-Step Progression
To get referrals from your clients, there are 3 steps that you should pass: earn referrals, ask for referrals and reward.
Earn Referrals
If you think that in order to earn referrals, all you need to have are satisfied clients, then you are mistaken! To get referrals, instead of just satisfied clients, you must have fans. You should go further than just promoting your company and your services, you need to INTERACT with your customers. To make your clients fans of your company, you should act like them like with your own family, your sole purpose should be giving them what they want, instead of receiving something from them. Only in this case, when they feel like a part of your company, they will refer and this is how you will earn referrals.
Ask for Referrals
This seems to be the simplest step, but this is where most of the fitness companies "fail". Maybe the reason is that they feel uncomfortable to ask for help, but if you do not do this at the right time, you will really miss referrals. Just think for a second. You make the lives of your customers better, you improve their health, make them feel satisfied, increase the level of their energy and make their body to look perfect. So, you deserve to get some referrals from them. The best time to ask for referrals is when your customer starts praising you for your work, when you have completed a program with your client or when goals are achieved.
Reward
The last step in progression is rewarding for referrals. Let's think for a moment. How do you feel, when you help your friend and do not get thank you in return? I know, you feel stressful, because you have not been appreciated. The same applies with referrals as well. When you get referrals from your clients, you MUST reward them. When you reward the referrals, you get more of them. So, remember to thank your clients for bringing more customers to your fitness company.
Help Them Help You
Sometimes, when you ask for referrals, you can get such answer: "I don't know someone who needs these services now". You might think that this is just done in order to avoid your questions. However, there can be cases when your clients really do not know people whom they can refer. To make their work easier, and make them remember such people, you need to educate them, tell them about the reasons why someone would want to do business with you. So, first of all you need to shortly remind them about your selling proposition, about your services and unique offers. Secondly, you should remind them of people who may need your services, such as their employees, colleagues, family, friends, relatives and so on.
Here you have 3 keys to grow referrals for your fitness company. Remember, that all you need to do is to interact with your clients to make them feel special and ask referrals from them in the right moment! Everything else will come after these 2 steps! So, go on and grow referrals for your fitness company.
Here is another article you might like: 10 Fitness Companies That Do Instagram Marketing Right