5 Key SaaS Trends for 2019
April 29, 2019 – Sona Hovhannisyan
5 Key SaaS Trends for 2019
Having been involved in a number of SaaS companies over the last decade, we've noticed a series of recurring trends where growth is concerned. We recently attended SaaStr Annual with 14,000 other SaaS executives to discuss the latest trends in SaaS.
In this piece we go through some of the prevailing trends and ideas within the SaaS industry in 2019, which small, medium and large SaaS companies alike should consider as key focus areas this year.
1) Do you have GRIT?
Bessemer Venture Partners gave their annual State of the Cloud presentation which delivered some highly actionable points.
One especially useful section structured a framework – GRIT – to better understand the critical growth metrics of a SaaS business beyond standard revenue growth, and see where you rank compared to the likes of Slack and Twilio. If you're anywhere close to them, you're doing something right.
Annual Recurring Revenue Growth: it takes about seven years for the median SaaS business to grow from $1M to $100M ARR.
Annual Net Retention: the bigger the account size, the higher your net retention should be – churn is always bad, but fickle SMBs typically churn faster than Enterprise accounts.
Years Of Runway: 18-24 months of the runway is a very healthy benchmark.
Efficiency Score: a slightly more sophisticated formula (Net New ARR / Net Burn), it measures whether you're overspending to fuel growth – great in the short term, not scalable for very long.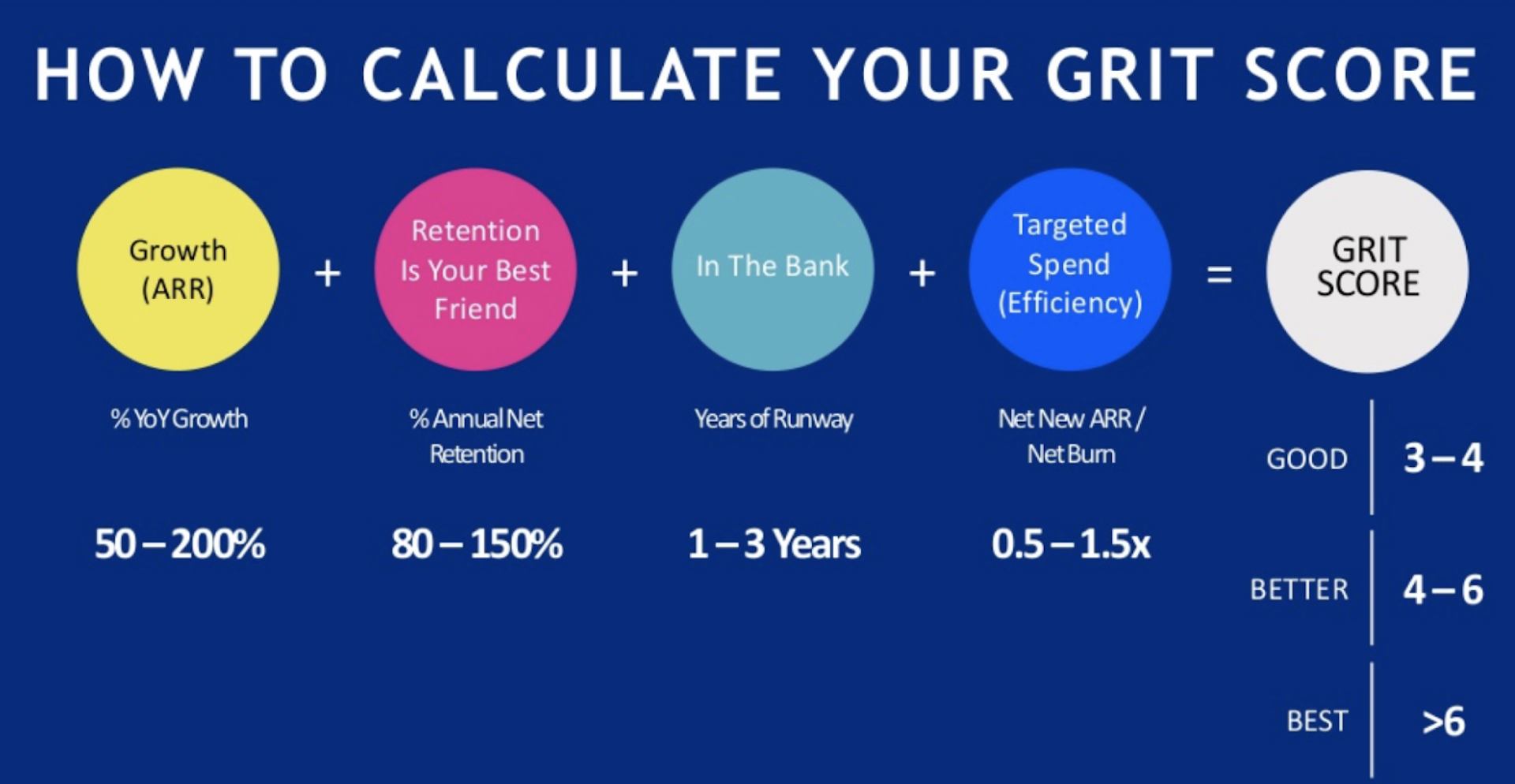 2) Consumer-grade frontend & Enterprise-grade backend
During a great presentation by Hubspot's Brian Halligan, he points to creating a consumer-grade frontend and an enterprise-grade backend as one of the keys for growing SaaS businesses.
Your frontend should be easy to use with a clear value proposition, tying into a strong trend with SaaS businesses moving downstream, that can attract SMBs and create lasting, value-led connections.
When it comes to your backend, it needs to be robust and scalable enough to sell and handle larger clients. Being adaptable to varying customer situations and delivering measurable value will be paramount.
3) Look further afield when it comes to your buyers' journey
Buyer or customer journeys are not a new topic, especially when selling SaaS (however it's important to be aware of how you can create an optimized buyer journey for your business). However, during this year's SaaStr there was still a great deal of attention paid to how we can look at a complete buyer journey and what lessons we should learn from this analysis.
These lessons were highlighted especially during a talk by Iterable, Segment, Madkudu, and Intercom which we've summarized:
With ever-growing new mediums, buyer journeys start even further away from your website than ever before. It's important to be aware and map out your customer journeys way before they start engaging with you directly creating touch points early on.
Your marketing needs to adapt to these expanded customer journeys. Pay more attention to branding and even though word of mouth is tough to measure, try to keep it in mind and find ways to measure where possible.
When potential buyers do land on your website, allow multiple options for them to engage with you. They may not want a full demo, so create a human-centered live chat, or another medium to enable them to choose how they want to engage with you.
4) Selling The Perception Of Value
SaaS pricing is a subject we've written about a number of times. People buy into features or value; as a consequence, your pricing needs to reflect that. By knowing who your audience is, the focus shifts and your pricing should reflect the value of your product. This is amongst a series of other techniques which allows you to differentiate your positioning.
Segmenting users by needs and willingness to pay allows you to know who you're building for, in time by doing this you can align pricing with building accretive value and personalize monetization with predictive data. By jumping into pricing by the value we've covered finding out what your customer truly values and what that means when practically implementing that value.
5) Key tactics to scale your SaaS company
The COO of Intercom, Karen Peacock shared her essential tactics that helped scale the company from $1M to $500M:
"Everyone has a strategy until they're handed a big cheque." Be careful not to end up chasing what your first big customer wants, instead of the big problem you're solving.
"Expand your product by going downstream if you're an upmarket business, or upstream if you're a downmarket business". We reflected on our own experience of scaling with our scaling lessons keynote from dealing with 1000 software companies.
"When growing your product watch what your customers do, not what they say."
In brief, going into 2019 you should be aware of these main takeaways. Firstly implementing a GRIT system to better understand your critical growth metrics, as well as being sure you create touch points early on when mapping out your customers' journey.
With your customers in mind, it's also important to segment your users by their needs and willingness to pay. Actioning on these strategies places you in a better position to take on the SaaS industry within 2019.