The number of SaaS (Software as a Service) products increased a lot during the past few years. However, it's not the limit yet. According to Gartner, world's leading information technology research and advisory company, SaaS products are going to grow by almost 19.5% annually and reach $34 billion in 2016 which is $13 billion more than in 2013.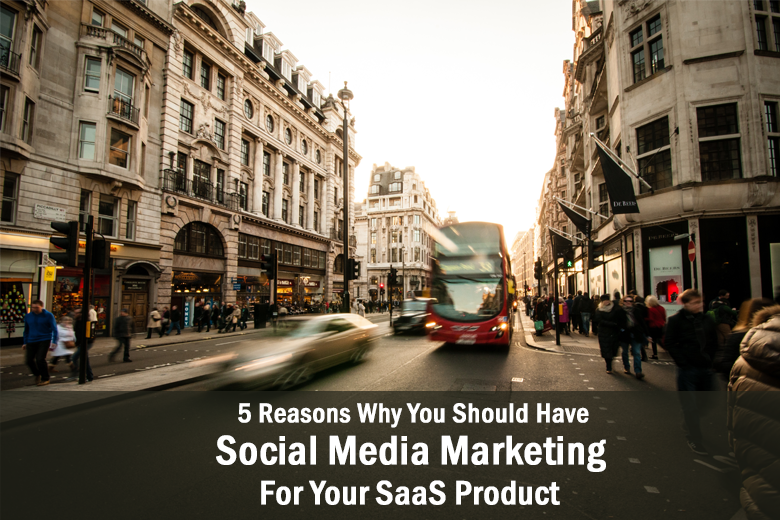 Studies show that SaaS products are growing three times as fast as the software as a whole. With such increasing numbers, it is important for SaaS products to position themselves correctly in the current market to succeed. Social media marketing is among the ways which helps almost all businesses get promoted and noticed. According to HubSpot, more than 91% of marketers in 2014 claimed that social media marketing is crucial for every type of business and for 80% social media was helpful to generate traffic.
If this information alone is not enough for you to start planning your social media marketing strategy, here are 5 reasons for you to use social media marketing for your SaaS product.
1. Increased recognition for SaaS companies
Every chance for sharing your content  is a great opportunity to get seen. Visibility is considered to be one of the key aspects of social media marketing. To get a huge audience, all you need to do is share your content in social media networks. Many potential customers who may have never heard of your SaaS product, can come across your profile in Facebook, Twitter or in Google+.
Or some of your customers who have already heard about you may get more information about your product if you are visible on social media channels. It does not really matter which way it happens, your product will get more visible and recognizable after some time if you create a good social media strategy.
2. Better communication with customers
If we put it simple, social media is a way of communication like email or phone. Social media gives SaaS companies a chance to connect directly to their customers. Each post, comment, like or share in your page is a great opportunity to engage with your clients, improve click rates and create trust, credibility and good relationships.
For instance, if there is a customer who has complaints or problems related to your SaaS product, then social media is a great chance for your company to post some solutions, reach out to these people, apologize for the problems and offer some new things, which will result in a better customer experience. Likewise, if there are some customers who compliment you, social media is again a good chance for you to thank them and recommend some additional services. Thus, being present in social media networks helps SaaS companies create personal experience with customers and let them know that they care.
3. Lower marketing costs
According to HubSpot, it was found that about 85% of marketers say that 6 hours of social media management a week is enough for SaaS and other companies to generate high traffic for their websites. Just think for a moment. Do you think 6 hours a week, that is less than 1 hour a day, is too much for large platforms like Facebook or Twitter? If you distribute just an hour a day for your weekly plan, you will start noticing results after a while. As to advertisements in social media channels, although they are paid, they are relatively cheaper than other means of promotions.
4. Correct customer insights
Another reason that will make your SaaS company get value from social media marketing is that it will give you the chance to get real customer insights. Just because so many people are present on social media sites, it is a great opportunity for companies to find any information needed about their target audience. By getting customer insights, SaaS companies will be able to correctly shape their offers, campaigns and make their products more attractive and satisfying for customers. In addition, social media websites are good for getting feedback from your clients and getting idea of common pain points.
5. Increased trust and credibility
On the one hand, it is good that there are so many SaaS companies that offer identical services, because there are alternatives for customers to choose from. However, on the other hand, customers often feel overwhelmed and want an easy way to choose a good company in a short time.
When people see that your SaaS company is present on social media networks, it creates trust and credibility among them, because they feel that your company cares about its customers. In addition, they feel safe, because in case of a problem, they will know how to contact you.
There are many other reasons why social media marketing is beneficial for all companies, especially SaaS. However, these 5 reasons are the most important ones that SaaS companies should take into account when making a decision about their social media marketing strategy.
Want to outsource your SAAS marketing?
Check our latest guide on how to choose an outsourcing agency that digs into your business