It is really hard to determine trends for one specific year, as trends usually bleed together year after year. In landing page design, most popular trends such as minimalism, flat design, videos and other such things have been popular for the last few years and the chances are high that they will continue to be on the top for many years. In our today's post, we will introduce the most actual HubSpot landing page design trends that are growing more and more popular and that you should use in 2016 as well.
1. Two-step Opt-in Process
A two-step opt-in process is one of the most useful landing page trends that is seen in 2015. This process takes visitors to a separate sign up form when they click on the CTA button. You may think that it's not so effective, because it takes more time from your visitors and, as a result, you may lose some of them. However, there are 3 reasons why this trend works. First of all, if you put a lead capture form in your landing page, it can intimate your visitors. By implementing a two-step opt-in process, you will take to the form page only those visitors who are really interested. Secondly, this process helps your visitors approve that they are going to buy your product or use your services. Finally, if you have a long form, and your visitors don't proceed with the second page form, at least you would save them as leads and will follow up with them later.
For example, Liporidex Fitness nutrition, which is HubSpot's client, is using this process and after click on the CTA of "Free 30 day meal plan" you will be redirected to their form page.
2. Background Video of Internal Processes
The next trend that is used a lot and is a very effective one uses videos on home pages, where you can show some of your internal processes. This will help you leave impression on your visitors right after they visit your website, because they will be able to feel the atmosphere and culture of your company. One of the best examples that is worth seeing is Icons Mind. They use this trend and show their internal processes and pets inside the company and of course their creativity.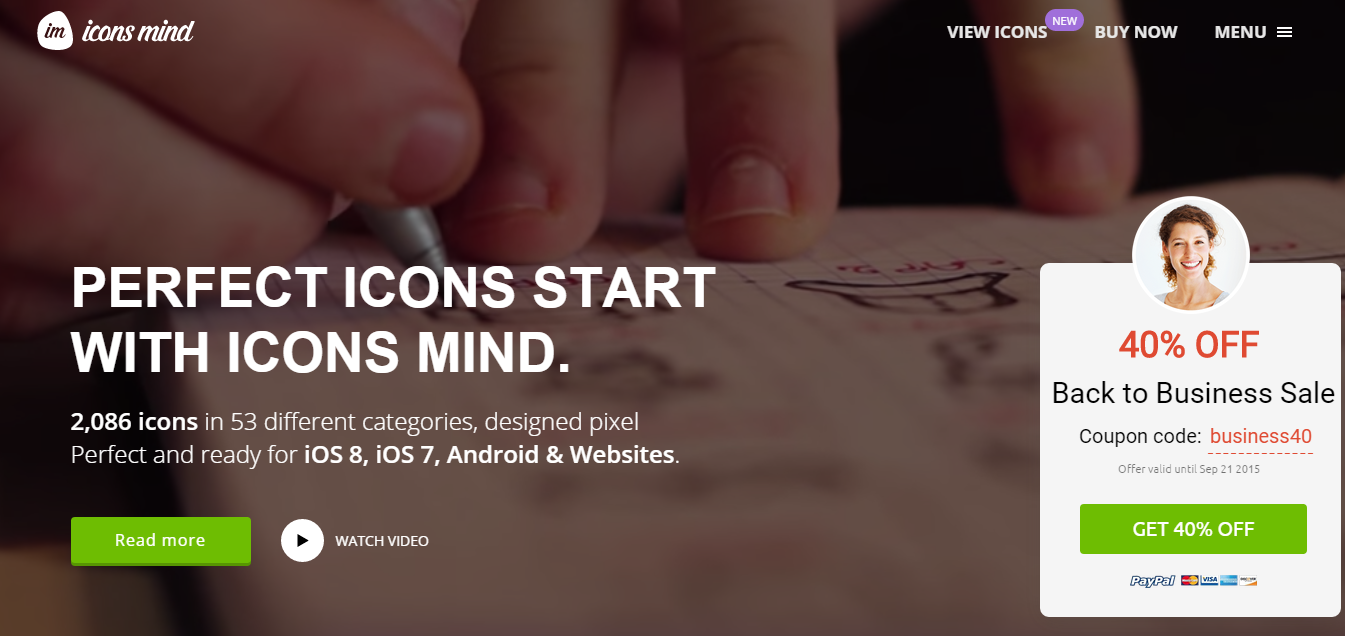 3. Desired Action for Button Copy
There exists a difference between the button copies of one-step and two-step sign up processes. Those pages that have one-step sign up processes usually use "sign up" phrase in their button copy. However, pages with two-step sign up processes use "start your free trial", "try it for free" "get started" and other such phrases. Many tests have shown that people clicked on the latest button copies more than on those ones which have a phrase like "sign up" or "submit". After all, people sign up to get something, they sign up because they want to try the free trial, download the file or something else. That's why it is more effective to use the desired action for button copy.
4. WIIFM Headline Formula
Headlines are very important in landing pages. If you don't have the right headline, then people won't click on your CTA or visit your form page. One of the trends in landing page designs is to use WIIFM(What's in it for me) headline formula. When people visit your page, they need to clearly understand what you offer and what benefits they can get from your offer.
5. Contextual Imagery
What is a contextual imagery? It's the use of pictures in your website that place your product or service in the context of your visitors' everyday lives. For example, on the HubSpot CRM page, they show the main features and advances options of their CRM system in the context of a computer desktop.
Contextual imagery is not only about showing your products in the context that is familiar to your visitors, it is also about showing it in a context that is desirable for your visitors.
6. Showcasing Clients
This trend is not a new one, however it is still on the top. Nowadays, you can see that this trend is used in most of the landing pages. This is a great way for company to create trust and credibility among its visitors. When visitors see that clients are satisfied with the products or services of that company, it leaves a positive impression and they are more likely to become customers. Many businesses also use other famous brands that use their products in order to increase the overall good impression of their company.
You cans see an example of showcasing clients in our homepage.
Here are the most used and effective HubSpot landing page design trends that are used in 2015 and will still be on top for a long time. If you have come up with other great trends, please share them with us in the comments box below.