6 mistakes that prevent your SaaS company from generating high-quality leads
June 15, 2022 – SaaS Lead Generation
6 mistakes that prevent your SaaS company from generating high-quality leads
The "Quality Vs. Quantity" battle inevitably occurs during every company's lifetime, especially if it is a SaaS company. Whether we talk about the content, leads or clients, this battle is perpetually being waged. Today we are going to go over why, when it comes to leads, quality wins over quantity every single time, and the five most common issues that hinder the acquisition of high-quality leads.  
Based on the Lead Generation Strategy Trends study by Ascend2, about 70% of the marketers surveyed said that improving the quality of leads is one of the most important goals in their lead generation strategy. Afterall, what is the point of having an uncountable number of leads if they all turn out to be useless?
WordPress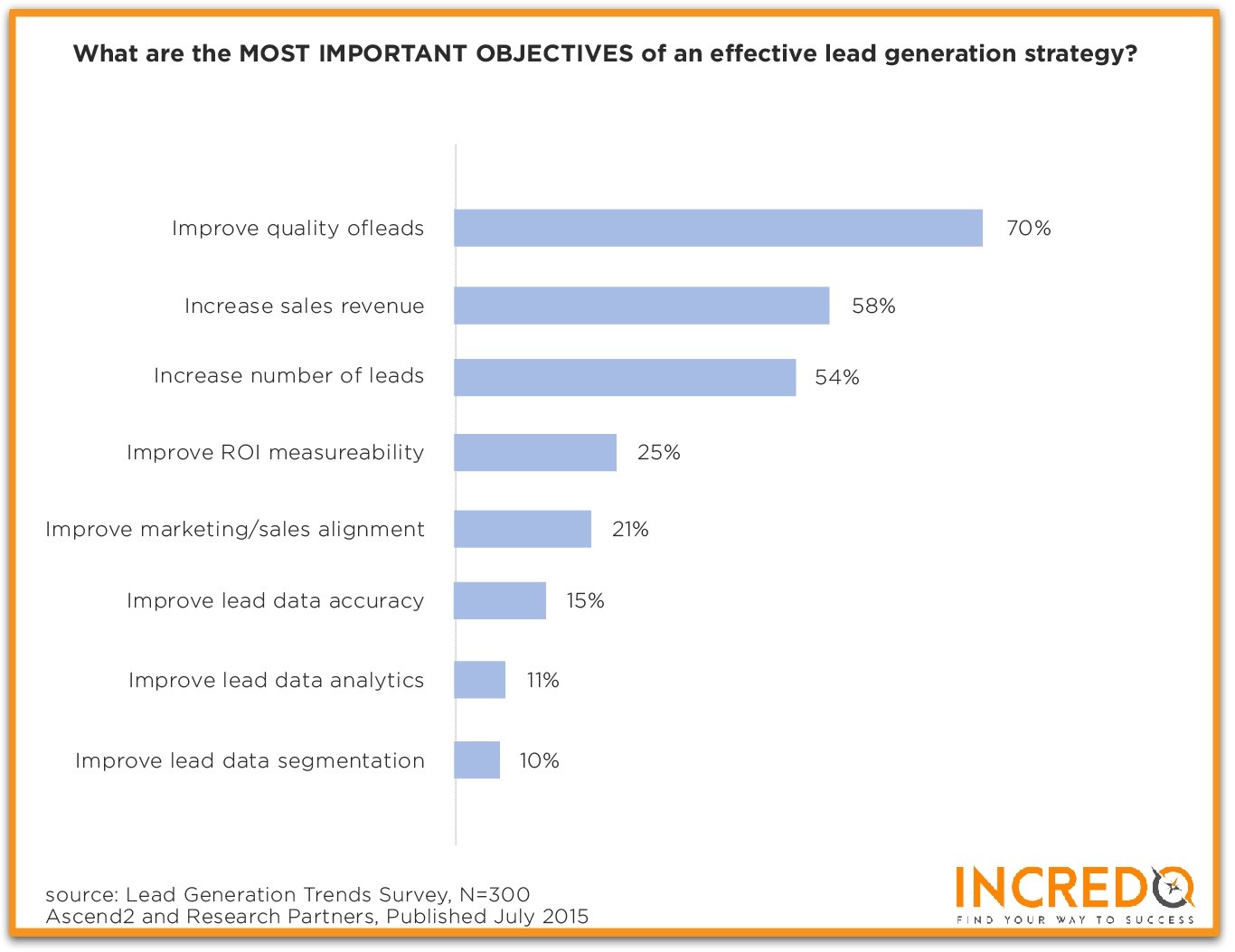 If we take a look at the third most important objective of the survey, we can see that more than half of the marketers surveyed think that increasing quantity of the leads should also be included in their strategy. However, quality of leads still overwhelmingly ranks as the number one objective of marketers.
Those marketers who think that the quality of leads are the most important factor, have incorporated their lead generation efforts into their sales pipeline metrics. They clearly understand the importance of quality, because as lead quality increases, so does its impact on the sales pipeline.
The key takeaway for SaaS marketers is that they need to focus their efforts on attracting the right prospects for their company. It's not about the number of leads. The demands of contemporary successful marketing are determining who are your qualified prospects, what type of content they consume, and how you can turn them into your customers.
So, now that we know why quality of the leads is so vital to marketing success, here we present six obstacles that can prevent your SaaS company from generating high-quality leads:
1. Not having a complete and detailed understanding of your buyer persona
Probably the biggest quality lead generation failure of SaaS companies is ignoring the importance of buyer personas.
A buyer persona is the profile of a fictional buyer that is based on real-time data and characteristics. By studying consumer habits and trends to create a buyer persona, companies gain an understanding of who their prospects are, how they are used to spending their time, what type of products and services they like to purchase and so on. Having a complete buyer persona description gives companies all the necessary information about their prospects' activities. A well-defined buyer persona can be effectively used for high-quality lead generation because knowing your customers will help companies in creating targeted and attractive content and offers.
According to a case study by MarketingSherpa, establishing buyer personas result in the following values for SaaS companies:
111% increase in email open rates
900% increase in the length of users' visits
171% increase in marketing-generated revenue
100% increase in the number of page visits
So, taking into account the facts mentioned above, the first thing a SaaS company should aim to do for generating high-quality leads is developing comprehensive buyer personas. Here is an awesome infographic by HubSpot on building better SaaS buyer personas.
Key Takeaway: All of the marketing content generated by a SaaS company should be focused on taking into consideration the buyer personas.
2. Mismanaged content targeting
There are many companies that offer content which doesn't suit the needs of their target audience, which is a huge mistake that results in potential leads finding goods or services from competing SaaS providers. This is a mistake that you should avoid at any cost!
If you want to generate high-quality leads, then you need to offer something that is valuable for your buyer personas. For example, if they are concentrated on Twitter or Snapchat marketing, then offer them an ebook or a guide on "How to get more followers and create engagement using modern social media platforms". To clearly identify and understand in which topics your audience is truly interested in, try sending out email blasts to your current clients and leads, and ask them to complete a short questionnaire about their needs.
Skytap, a self-service provider of cloud automation solutions, got the following results by implementing a targeted content marketing strategy:
98% growth of online leads
55% increase in organic search traffic
123% increased sales leads
Key Takeaway: Create content that is specifically targeted for your buyer personas.
3. Poor SEO strategy
Poor SEO strategy is one of the things that can hold SaaS companies back from generating promising, highly valued leads.
Search Engine Optimization is an essential method for generating leads via your SaaS company's website. SEO includes both on-site tweaks and off-site tactics that help you get more traffic to your website. When implemented in the right way, SEO can be the best bang-for-your-buck in terms of online marketing investment.
The importance of properly managed SEO cannot be overstated. The reason is that if you have a poor SEO strategy, then people who search for solutions to their problems (which you provide) will never even have a chance to see your content, and will give their business to your competitors. Here are some clever recommendations from webrunnermedia.com for implementing a powerful SEO strategy.
Key Takeaway: A proper SEO strategy is crucial for increasing your company's number of high-quality leads.
4. Not understanding and catering to the buyer's journey
There are thousands of people that will someday going to buy a service and/or product like yours. The challenge is that your leads and potential customers are at varying stages of their purchasing journey, which includes the following 4 stages:
Pre-awareness (need for product but still unaware)
Awareness (acknowledging their need)
Consideration (evaluating which product best suits their need)
Decision (purchasing the product)
The content that interests potential customers and the actions they take are unique during each stage of the buyer's journey. So, by not analyzing and identifying which stage a lead is at during their buyer's journey is a huge loss in the lead generation process that SaaS companies should avoid at all costs. Your lead generation strategy should be in accordance with the prospect's journey stage.
Just as there is a unique journey for customers during their purchase decision making, there is also another lead journey that moves them through your sales funnel. There are 3 lead categories that you need to define:
Lead
Marketing Qualified Lead (MQL)
Sales Qualified Lead (SQL)
As each of the above categories of leads requires case-specific care to convert them into a customer, your content must be designed to speak to each of them specifically. Again, the steps taken by you need to differ in accordance with the different stages of the buyer's journey that each lead is in.
Key Takeaway: You need to continuously check how your ideal leads are converted, what content and marketing methods have worked out or failed, and take those into consideration to improve the process of lead-to-customer conversion.
5. Incorrect online monitoring
SaaS companies often make mistakes when it comes to monitoring their company's online activities. If you run an ad campaign to your landing page, it is crucial to track everything that visitors do when they land on your site.
When appropriate online monitoring tools are not in place, it is a tremendous challenge to understand which campaigns are doing well, which ones need to be paused and modified or which need to be stopped altogether. In order to achieve high-quality leads, you should know where the bulk of your traffic is coming from and which landing page designs are converting the most.
Social media networks like Facebook or Twitter have their own analytical tools that will give your company the opportunity to monitor progress across these platforms. In the case of the company website, Google Analytics should be used to give your company a sense of direction regarding traffic, leads, and conversions.
Key Takeaway: Monitoring your lead generation efforts is a key step to bringing high-quality leads, which marketers often ignore.
6. Wrong ad targeting
Proper ad targeting enables SaaS companies to take advantage of massive amounts of data in order to achieve the ideal results from their digital marketing efforts. When advertising, targeting is the most fruitful method for reaching high-quality leads, and hence your potential customers. Shoddy ad targeting and analysis will lead to increasing leads, but worthless leads that are not interested in your product. Here are a few statistics by CMO Adobe that show the importance of proper ad targeting for lead generation:
Customer targeted ads are two times more effective than non-targeted ones.
A retargeted display ad encourages 1000% more people to search for the product.
1 out of 5 marketers has a dedicated budget for targeting.
Key Takeaway: Well planned and targeted advertising is a crucial way of increasing the amount of high-quality leads for your SaaS company.
The six mentioned mistakes of lead generation mentioned above are applicable for almost every SaaS company, and should be avoided to save time and boost lead quality. Avoiding these mistakes decreases the odds of lead failures and will bring your company a greater frequency of quality leads, and thus customers.