6 Outstanding SaaS Email Marketing Examples for 2021 (And What You Can Learn From Those)
December 29, 2020 – Sona Hovhannisyan
6 Outstanding SaaS Email Marketing Examples for 2021 (And What You Can Learn From Those)
Marketing and promoting your SaaS solutions can sometimes be tricky. The reason is that you cannot really offer loyalty programs or promo codes the way that traditional retailers do and if your service is free, it is even more important to keep your customers engaged with your SaaS company, so the advertisers continue to see the traffic.Taking into account the fact that the vast majority of your current and prospective customers spend their days in front of a computer, email marketing is proved to be an effective way of promoting your solution, and there exist a lot of powerful strategies you can make use of in order to build brand loyalty through email marketing. Emails are the main way of telling more about your SaaS product and showing your customers that you really care about them. However, just because according to The Radicati Group, about 205 billion emails are sent per day, it becomes a real challenge to grab people's attention. Still, this does not mean that email is dead. It means that it has evolved. Here are some email marketing trends and tips for SaaS providers that prove the importance of email marketing.
In order to assist you in creating an excellent SaaS email marketing strategy, below are 6 outstanding SaaS email marketing examples and lessons from SaaS providers:
1. Canva
It's not a secret that everyone likes to be recognized for their achievements. In their email marketing strategy, Canva, which is an online graphic design platform, makes their customers and their achievements the spotlight of the email. Besides celebrating the user's current feat (completing 10 designs), they also show their past milestone as well as the next landmark for higher motivation. The "5" and "20" trophies in the background show that Canva appreciates the user's ongoing usage of their software and encourages them to continue using it by providing a new goal.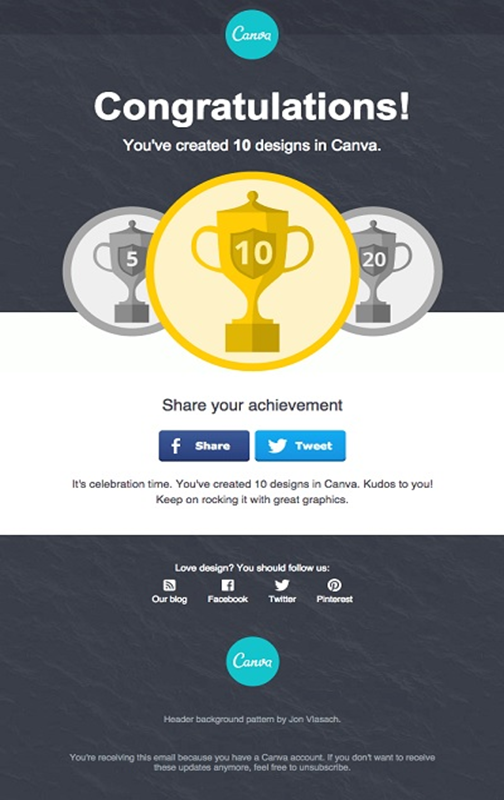 This email is focused on social, as the main call-to-action (CTA) invites the recipient to share their achievements on Facebook or Twitter. You might think that if the email is not directing the user back to Canva, it cannot boost brand interaction, but this is not the case. Sharing accomplishments has two benefits for Canva:
Canva can get positive feedback and can inspire other users to create more designs
It will expose a wider audience to Canva's platform
What you can learn: When sending emails, try to motivate your customers by showing their achievements, the path they have passed through and the future goals they need to achieve. Moreover, try to include social media CTAs to create engagement among your followers.
2. Dropbox
Dropbox, a file hosting service, is another SaaS company that has a great email marketing strategy. They have so called "friendly reminder" emails that are simple, cute and personalized. First of all, they have a cute charming header cartoon that quickly draws the reader's attention. Secondly, for more personalization, they greet recipient by their first name. Finally, the body of the text is straight to the point: it asks the recipient to download the software and reminds about the main benefits they might get.
Their primary CTA is also straight to the point: they just ask the reader to "Download Dropbox here". Though the usual rule of thumb is to make CTAs brighter and more eye-catching, in this case the CTA makes the transition from reading the email to downloading the software more fluid. Contact us to check how Incredo can help your marketing efforts. What you can learn: Based on Dropbox's email marketing strategy, the three main things you need to include in your email are:
What: the purpose of the email
Why: the benefits of the software
How: the way users can get the software
3. InVision
Post-registration emails are crucial in keeping new users engaged and interested in your brand. InVision, which is a prototyping, collaboration and workflow platform, does an awesome job of maintaining the momentum with its follow-up email that customers receive after creating an account.

In this example, we can see that the language used in the email is all about speed and efficiency: "simple", "quick" and "fast." This email demonstrates how helpful the software can be for the customers with the help of tutorials. The descriptions beneath video tutorials are just awesome:
Headlines act like CTAs, thanks to words like "create", "get", "update", "present"
Descriptions clearly show how easy it is to use inVision and how quickly projects can be completed
Instead of "click here" or "watch now" buttons, the CTAs are unique to each product feature that is demonstrated in the video.
The email closes with an easy way to reach out for support and the reader is given a chance to communicate directly with a staff member. This proves that InVision is there to help companies. What you can learn: After getting a new customer, make sure to send him/her a follow-up email and show how your software can be used and how beneficial it is for the customer. This is your first email and you need to show how much you care about your customers.
4. Basecamp
Basecamp, a project management software, clearly shows what email marketing strategy to use when your potential customer's trial has ended.
In the subject line, the main facts that you need to convey are clearly shown. The stage of the trial, the actions that need to be taken and what will happen to the user's work. This upgrade email is here to allay any worries and show the customer what is to come. It clearly explains what happens to the customer's data, team member access. It also presents the main ways the customer can pay for the software. This email is there to make the customer's work easier. Canceling or subscribing is just a click of a button. What you can learn: After the trial expiration, send a nurturing email and show what options users have for the future. Remember to be as clear as possible.
5. Squarespace
Sometimes, businesses offer extensions on trials and this is something that certainly needs to be communicated through emails. Such emails need to contain phrases like "Need more time to try our software? Or "Didn't get enough time to check our premium features?" and of course directions to get in touch. With such SaaS email marketing strategy, a company that we have noticed is Squarespace. This is a website building tool that has an awesome trail extension email strategy. Their empathetic acknowledgment that everyone gets busy and could use a little extra time conveys that they understand human beings — something that often gets left out of promotional asks.
In their email, first of all they notify the recipient that their free trial has already expired. However, to create trust towards their company, they try to care about their customers as much as they can. For this reason, they offer a trial extension for 7 days. The fact that all one extra free week takes is a simple click feels like a nice gift. What you can learn: You need to be as simple and straightforward with your customers as possible. Don't write too long email. Just be as exact and to the point as possible.
 6. CloudApp
Here is an email from CloudApp, file sharing software, that educates its users about its new feature. First of all, the company shows its responsiveness to user behavior just in the beginning of the email. In order to create personalization, they show that they follow their customers and know what they have already done with their software and what they might need. The phrase "Seeing that you have made 12 drops" creates personalization and makes the customer feel unique. Another thing that they do with this email is encouraging their customers to use the feature by showing them that only 'cool' customers use the feature. What you can learn: To create personalization, you should follow your customers. Show them that you know about their activities and offer some new features that might be useful for them. Here we have it: 6 outstanding SaaS email marketing examples and the main lessons you need to learn from them. The most important lesson to remember: always focus on your customers. Try to provide such offers and information that will encourage them to go further with your software. If you have other great examples in your mind, please share them with us in the comments below. We would be happy to hear from you.