6 SaaS Companies Who Use Community Content Strategy Well
September 13, 2017 – Victoria Greene
6 SaaS Companies Who Use Community Content Strategy Well
Selling software through content can be hard. How do you break down lines of code into scintillating copy, or get people to really care about what it is that your tool can do for their business? One simple answer: embrace the power of community in your content marketing strategy. Focusing on people stories is a surefire way to humanize your brand, and show customers actionable ways in which your tools will help them better their lives. Community content strategy can establish your brand as industry thought-leaders, and strengthen your brand reputation and reach. Use community content to dive below your product's surface and show people what they could achieve with your platform.
Xero
Xero's financial software is changing the world of accounting for countless small businesses and entrepreneurs. Xero's software is all about the nuts and bolts of business: finance and money, but they soften their approach through the power of content.
Instead of overwhelming users with financial data, Xero have opted for easy-to-read, yet super valuable, small business guides that are all about inspiring, not overwhelming, small business owners. They make accounting and business management seem fun, and break down complex topics and terms into easy-to-digest formats. Having a central content library filled with useful information is a great way to drive web traffic and audience interest.


A great example of their story-driven content strategy is their recent guide to "Starting a farm business in a flat market". Poignant, insightful, and full of inspirational lessons, this guide is a great example of how a real life case study can help bring a subject home. Mixing business advice with a personal story is a great way to make the subject feel more tangible.
When you are looking at your own content strategy, think about how you can bring compelling user stories like these to the table in the form of of guides, videos, and downloads. Help the community help itself.
Adobe
If you follow Adobe on Twitter, you will have seen their resonant tagline "Changing the world through digital experiences." As a brand, Adobe are all about making digital creativity accessible to everyone in the world, and they are famously supportive of students and rising innovators in the industry.
Abode have a complex blog, styled as 'conversations', that spans a wide range of disciplines, social issues, and localities. With frequent 'artists in residence', and creative illustrations and photo journals, Abode's content feels wonderfully ephemeral and diverse: just like their international client base.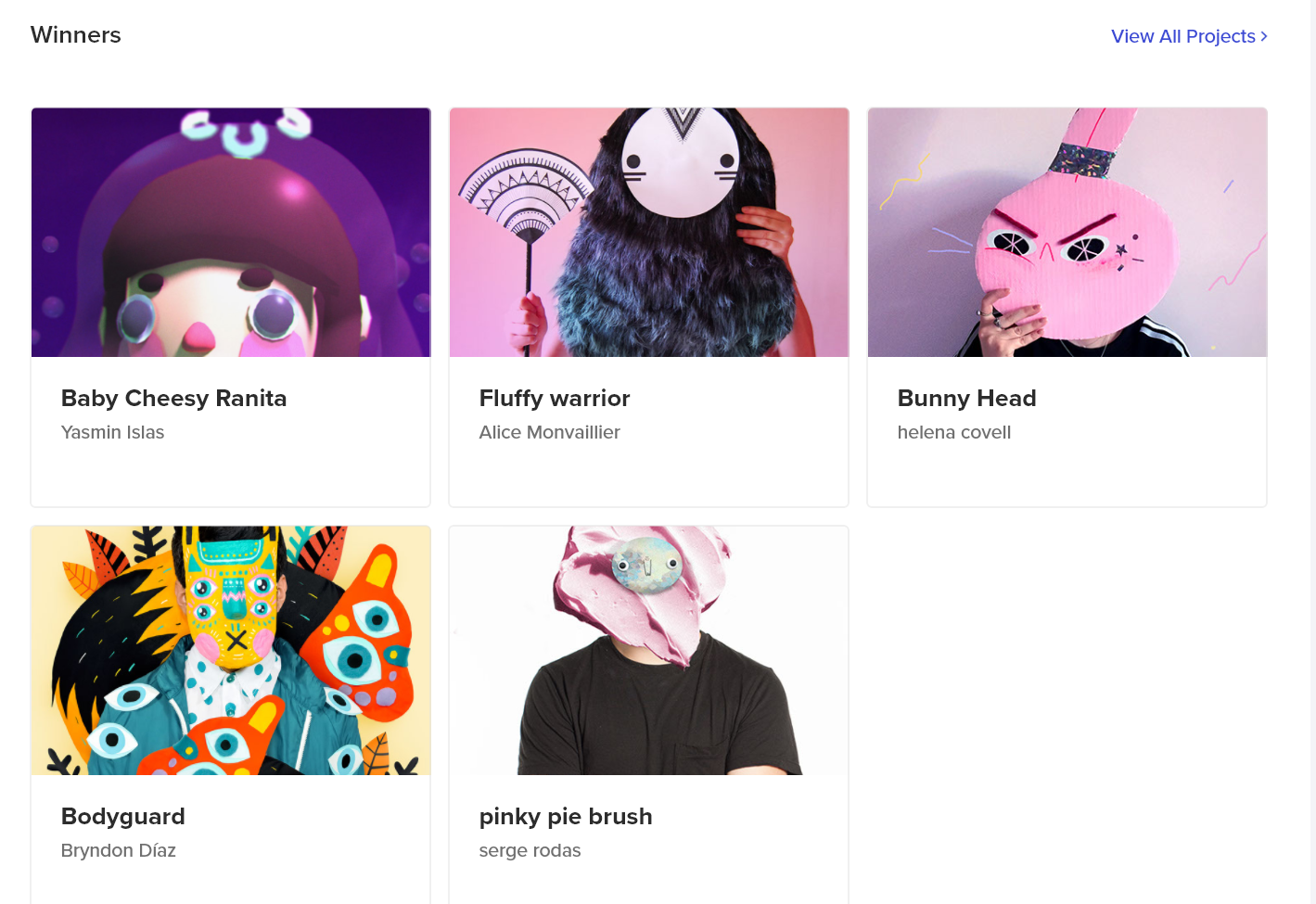 Innovative Adobe projects like the Face-Off challenges (winners pictured above) bring together members of the community in the spirit of creative competition. It's amazing what the community can produce when asked.
Competitions are a great way to reach a wider audience, and encourage the product community to engage with your brand in new and exciting ways. Easy to set up, and cheap to run, competitions should definitely be part of your content strategy. Don't be afraid to think outside of the box when it comes to community competitions: the more creative, the better. Competitions can also be great ammunition when it comes to conducting big media outreach and pitching.
ZenDesk
ZenDesk help companies scale their customer service operations through live chat software. Many companies, both small and large, rely on ZenDesk as a way to manage their customer support tickets and requests.
Their blog and content resources cover a wide range of customer experience challenges and issues, and they also have a huge bank of online information taking customers through their platform. It's a great idea to balance more generalist blog content with targeted user guides.
On social media, ZenDesk directors and staff are constantly interacting with the wider business world, in the form of collaborations, partnerships, and content. These create a sense of an active and thriving business community, positioning ZenDesk as industry thought-leaders. ZenDesk have been able to position themselves as a brand who has something to say.


A new initiative from ZenDesk is the free "Conversation Club", which is a great way to get people to come together and discuss the burning business topics of the day — and kicking off with a subject like 'disruption' seems very apt. Again, it's all about ZenDesk leading the online conversation. (It's not the only event ZenDesk are hosting either: check out other cool community events here).
ZenDesk's content strategy is very measured, featuring case studies that are likely to inspire future customers into using their software, without being too pushy or salesy. For them, it's all about informing their followers about what's going on whilst improving their own brand equity through content.
Shopify
Shopify is an ecommerce SaaS company from Canada experiencing rapid growth. A big part of their growth has been thanks to their commitment to faithfully serve the ecommerce and entrepreneur community.
Shopify has really taken on the core challenges that new ecommerce entrepreneurs face: how to start an online store, where to source products from, how to do inbound marketing etc. These issues are constantly explored, dissected, and explored in their content strategy. Whether it's for a small family-run business, or a big corporation: Shopify tackle issues and topics that are close to people's hearts.
Here are some of the ways they are getting their community involved in their content production:
1. Featured stories on their blog, showcasing the rise of small businesses from around the world, exploring their growth strategies and philosophies. These are often very people-led narratives, with an open and honest approach to doing business, even sharing challenges and things that haven't gone so well
2. Interviews on Shopify podcasts (TGIM and Shopify Masters) with business leaders, store owners, marketers, and ecommerce newbies. Again, these interviews focus on actionable insights and tips on all aspects of running a business
3.  Facebook groups and physical Shopify meetups are also driving user-generated content from the ground up


What can your SaaS company learn from Shopify? The main lesson: feature a wide range of different community stories — from case studies and 'how tos' to in-depth interviews. And don't leave any demographics or parts of the world out of it: make sure your content strategy is inclusive. One of the most inspiring things about Shopify's content is its inclusivity, and its commitment to getting everyone a piece of the entrepreneurial pie.
CoSchedule
Known for their awesome social media tools, CoSchedule are great at owning the online content space. From free downloadables and templates, to snappy blog posts and tweets, they are always engaging with their online users and fans. CoSchedule's strategy is all about breaking down complex issues, and serving the community well with content they are going to bookmark and love. It's all about meaty, user-driven content.
They also publish a ton of free tools like the Headline Analyzer which drives highly relevant traffic to their site, and they now rank for a whole host of relevant keywords. It's a great example of how giving something away for free can be a huge driver for commercial growth. CoSchedule are making it their mission to help people organize their digital lives (very apt as they are selling a social calendar tool).
Think social media is the way to go for you? Here are some other SaaS companies killing it on social media right now.
Toggl
Time-tracking software sound a bit dull? Well Toggl have nailed the power of humor and insight: the perfect way to speak to edgy tech start ups and founders. From quirky infographics, to tongue-in-cheek videos and games like the Startup Simulator, there is never a dull moment in the Toggl world. It's great to see a SaaS company approach their content strategy from such a wide and diverse angle, leaving no stone unturned and embracing a variety of content formats.
Toggl's content strategy does a great job of taking an affectionate, sometimes ironic, look at the community it serves. Knowing that people always love to joke, Toggl have managed to make time-tracking fun and engaging: a big feat in itself. It's a great testament to the power of humor, and 'inside jokes' when it comes to creating a coherent content strategy.
The number one rule of great community content? Know your audience. You need to understand how to push their buttons, how to inspire them, and how you can use content to serve them and meet their needs. As an aspiring SaaS company, make sure that you truly appreciate and understand the people you are pitching to.