6 Working Ways To Bridge The Gap Between Your Marketing And Sales Team
November 7, 2020 – Sona Hovhannisyan
6 Working Ways To Bridge The Gap Between Your Marketing And Sales Team
The disconnect between sales and marketing teams has historically been a huge problem for many companies, with both sides claiming that communication is key but typically shying away from any real-world, concrete business process management solutions for creating such communication. According to a recent study by Demand Gen, about 50% of marketers and sales executives agree that communication is the biggest challenge in bridging the gap between these two teams.
If the alignment of marketing and sales teams is so crucial for the growth of the company, then how come it's so hard to get the two departments work on the same direction? Here we have found six answers to bridge the gap between the marketing and sales teams of your company.
1. Question: How to create universal language for sales and marketing?
    Answer: Define common terms and definitions
There is no way sales and marketing will work cooperatively if they disagree on basic terms, concepts and definitions. If you ask a marketer and a salesperson to give a definition for a sales-ready lead and you get two different answers, then it's time to nail down a company-wide set of definitions, that everyone can use to get on the same page and seal the language gap for good. Coming up with a clearly defined terms and concepts is a critical way of increasing efficiency within your company.  When a prospect expresses interest, fills out a form, downloads a white paper or reaches out by phone – at what point is he considered to be a lead? Is this consistent with what the sales team considers a lead? If concepts and terms are not aligned between salespeople and marketers there will be missed opportunities, inconsistent reports and an overall uncertainty regarding whether everyone is working toward the same goal. So, get together with your teams, ask the right questions and create a widely understood, global set of definitions. Making sure that all of these details are communicated is an effective way of getting both teams working cooperatively toward a common goal and bridging the gap between the two teams.
2. Question: How to define the jobs of the two teams?
    Answer: Create a practical Service-Level Agreement (SLA)
Now, when both teams are on the same page regarding terminology, it is time to use that new language in order to come up with a service-level agreement that will make goals much more clear for everyone. Think of the SLA as a contract, that clearly defines the number of leads marketing needs to provide to sales and what sales needs to do to make sure that these leads are given every opportunity to become a customer. In order to create a useful service-level agreement, establish a solid set of expectations for the marketing team by asking questions like:
How many leads should be given to the sales team in order to make sure that each rep is efficient at all times?
How many sales qualified leads (SQLs) does every sales rep need in order to meet his/her target?
What kind of content drives leads further down the sales funnel than others? Which one has the biggest effect on leads?
With solid answers to such questions, you will be able to create measurable marketing goals that define your SLA. When both sales and marketing teams are ready to shake hands, make sure you've got the following tasks crossed off of your meeting agenda:
Define the number of sales-ready leads marketing needs to drive to sales.
Establish the number of contacts the sales team needs to reach each month.
Define a list of information marketing needs to include with sales ready leads in order to ensure that salespeople have everything to engage the leads effectively.
Establish what kind of data sales needs to record in the CRM system after engaging with leads to let marketing know what is working and what is not.
3. Question: How can the marketing team provide more qualified leads to sales?
    Answer: Create valuable content
When 
Demand Gen
 asked sales what they most wanted from marketing the number one answer was better quality leads, followed closely by greater quantity of leads. The best way of gaining more qualified leads is through creating valuable content. There is a plenty of evidence to support the idea that better content brings better leads, since most buyers are already nearly a 
third of the way through their journey
 before they even contact sales teams. The further the buyer's online journey goes, the great the responsibility is for the marketing team to create effective content that will support their journey.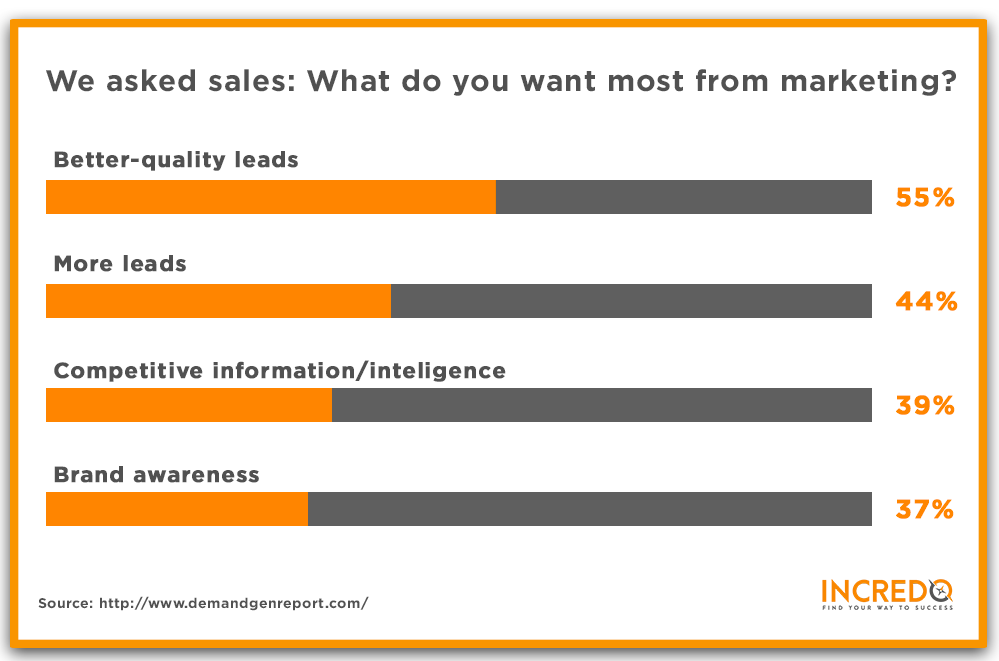 Content that educates, nurtures the prospects and stands out from the competition is critical in this initial phase. This is where 
interactive content
 can make a difference for your company. Research by Ion Interactive has shown that interactive content is about 95% more effective in educating the buyers than static content and 88% more effective at differentiating the brand from competitors than static content. Interactive content like ROI calculators, assessments, etc. can act as invaluable tools in a salesperson's arsenal. These interactive tools are used for gauging where customers are in their journey and making sure that they are getting personal, relevant attention as soon as they are ready for it. 
Mark Yeager
 says that content fails when it speaks to very broad audiences. That's why static, impersonal content meant to appeal to the masses could be failing not just for your customers but also your sales team.
4. Question: How to empower sales and marketing?
    Answer: Make use of Customer Relationship Management (CRM) system
CRM platforms are almost always treated exclusively as sales tools. However, if the alignment of the sales and marketing teams is the company's goal, keeping data exclusive to one team only widens the gap that you are trying to bridge. That's why many companies have started to realize that CRMs are much more than just "sales only" tools. Through integration with the marketing software, CRM systems can play a huge role in enabling marketers to help move leads further down the pipeline when more lead nurturing is needed to keep them from falling off completely. Integrated CRM systems allow for closed-loop reporting, an environment where marketing and sales both have a full view of each customer interaction. This is used to determine not only which campaigns are most effective, but which parts in particular of those campaigns are having the most impact. Here is how closed-loop reporting looks like:
5. Question: How to get the two teams on the same page?
    Answer: Set up regular meetings with structured agendas
Frequent, regular meetings between sales and marketing departments will help them to keep the lines of communication open. These meetings do not need to be long, complex or time consuming, but they should allow time for both departments to provide updates on current projects and share opportunities for collaboration. Before organizing a meeting, make sure to create an agenda, point out the topics and issues that need to be discussed and send it to both teams prior to the start of the meeting. This is to ensure that everyone knows what to expect and what to prepare for the meeting.
6. Question: How to avoid any miscommunication?
    Answer: Make materials/data accessible for both teams
It goes without saying that the messaging of your brand should be uniform across all communication channels. Having a common access point for marketing and sales materials will improve collaboration and limit back-and-forth exchanges for a more unified front. For this, set up an equally accessible and regularly updated location for all branded collateral on Dropbox or within your company's internal digital asset management system. To create a positive experience for the customers, your sales and marketing teams need to have a consistent and complete view of their profiles. How many times have you bought something from a company and then got an email from them trying to sell the same thing that you have already bought? This kind of inconsistency and frustration will be eliminated if you create a single source of customer information for sales and marketing. In the end, sales and marketing want the same things: better leads and more relevant conversions with sales-ready buyers. Bridging the gap between your sales and marketing team is an ongoing process that may happen in phases. Start today by having a conversation with the sales, marketing, your leadership team, and share this article with them. Do you have any other tips on aligning sales and marketing teams? Share your thoughts and experiences with us in the comments below. We would be happy to hear from you.