9 SaaS Marketing Tactics At First Hand That Have Worked Like A Charm [2021]
November 13, 2020 – Chintan Jain
9 SaaS Marketing Tactics At First Hand That Have Worked Like A Charm [2021]
Marketing is approached differently in each industry. The audience and the platforms keep changing with the industry and the product.
Particularly in the SaaS industry, it can be daunting for new business owners and marketers. You know you've built an awesome product, but sometimes your marketing efforts don't pay off all the time.
With so many metrics and variables to chase in each campaign, it gets increasingly difficult to market the product effectively. To make sure your product stays relevant in your market, you need to stay on top of your game.
Here are some tested SaaS marketing tactics that will help you display positive results:
1. Market the concept first, product next
We already know that people buy emotions and not just good products. But how can you make this emotion stay in their minds long enough for them to stick around and buy your product?
It starts with the idea of marketing a concept. Once you evoke an emotion, associate it with a concept that your product stands for.
Hubspot had originally developed a great product for marketers, but most people didn't understand the problem it solved. So, instead of pushing the product, they promoted a concept called inbound marketing.
As they defined that concept, they not only educated their audience, they also had the perfect product that gave an elegant answer to the challenges of inbound marketing. Hubspot became the recognized leader of the industry that they defined.
To put a new concept into business people's minds, you must be a thought leader. Get their attention and convince them that a new concept exists, which brings value to their business.
If you have a product that isn't in a well-defined category, focus on selling the concept more than your product, especially in the SaaS industry where new solutions are springing up every day.
2. Make the UX stand out
When a user lands on your page for the first time, make sure you fulfill their intentions by presenting information in the easiest way possible with a seamless user experience.
Instead of showing ten different buttons leading to different pages, group them according to their purpose. To reduce friction around the decision making process, eliminate some buttons that lead to different pages. Group similar pages under one menu, letting people choose where they want to go.
Your website should be intuitive and follow a logical order of information. Link to other pages in the right context, optimize the UX for all your buyer personas, and consider all the scenarios when someone would visit a particular page.
Here are 10 examples of a good user experience
3. Use a unique brand voice
Just like an individual, your brand needs to have a unique way of thinking and speaking. People remember and recognize brands as a single entity with certain qualities and habits.
The best way to establish a brand voice is to document a set of communication guidelines for all your marketing activities. This guideline should describe your style of communication–how your emails look, how your blogs read, the simplicity/complexity of words, and the tone of your sentences. Your brand voice should reflect the qualities and values you espouse in your product.
People should look at your company as one person rather than a group of people. No matter what content they interact with, they should walk away with the same feeling every time. When people see your content online, they will immediately recognize your brand and get a familiar feeling.
Here is a comprehensive content style guide used by the writers of Mailchimp. From writing tech documents to informational blog posts and mails, they follow a strict guide for all their marketing communication so that you always feel the same way after interacting with their content.
Your UX and content style should be consistent across your entire marketing team so that your audience perceives your brand as a single entity, not just whoever wrote the landing page that day.
4. Do interactive webinars
Nothing gives high quality leads like webinars. However, some marketers make the mistake of having a one-sided conversation, or worse, a product pitch. People don't buy when they hear about your product for the first time. Webinars should benefit the attendee more than the presenter.
Choose an important topic/problem that has not been discussed much, and look at it from different angles. Initiate conversations that raise new questions. Expand on your viewers' questions and have detailed discussions around them.
When you give valuable insights to someone, you gain their trust by establishing yourself as an authority on the topic. You earn the ears of your audience, making them ready to listen to everything you say.
5. Sponsor events that guarantee leads
It is a common practice for companies to sponsor events to boost their brand. Many of them target huge events that give them a lot of coverage. There is an advantage if you appear before a huge audience, but a lot of the marketing traction for events gets put into the hard-to-measure category of branding rather than actual leads.
General brand awareness is a good outcome of events, but it's hard to spend a lot of money on events that aren't directly traceable.
If you are going to sponsor someone else's event, then make sure you have a way to directly engage with participants. This goes beyond just setting up a nice booth and expecting traffic to flow to you. Establish yourself as a thought leader and take advantage of sessions and topics. Find ways to make individual connections with people without requiring them to come up and talk to you.
Event marketing for leads should be treated as outbound marketing. Those who want to learn more about you will come on their own, but you should have a way to pursue others on a personal level.
Also, consider hosting your own event instead of sponsoring someone else's. Even if it is small, you might find a lot of intense value by inviting your ideal audience to come and learn or discuss a topic that is important to them. By associating your brand with these kinds of events, you are establishing yourself as a trusted partner.
Bonus tactic: Freemium options with no time limit
One problem with having a time sensitive free trial is that the customer doesn't get to use and understand the product extensively in the short time. They either ask for a trial extension, or forgo the product assuming it's too hard to use.
An alternative to this problem is splitting your product into modules with specific functionalities. Select a few basic features and put them in
to a module. The features need not be the best in your arsenal. But rather what is required for fulfilling the minimum purpose of your product. These features should demonstrate how you address the core needs of your audience.
A great example for this tactic is Slack. They provide unlimited messaging and channels for all users. But to have integrations, single sign on (SSO), and other more sophisticated features that make Slack more valuable, you need to subscribe for a higher pricing model.
The intent behind this tactic is to get customers to see the value of your product for free. When they start using it in real time, it's easy to make them realize the importance of having the whole product. Even if they don't reach out to you and buy, you can contact them, pitch the whole deal and upsell.
Time for the promised +4 SaaS marketing tactics from SaaS founders & marketers
We shared what SaaS marketing tactics we follow at Kissflow. Now it's time to give the floor to other SaaS founders and marketers:
#1 How creativity wins: Tactic from
Neil Andrew
Co-founder at PPC Protect, Click Fraud Detection & Protection Software
"We had tried all the usual SaaS marketing tactics, including running a blog, paid ads, and LinkedIn marketing. But we still weren't reaching the big clients we were hoping for.
To change our strategy, we decided on contacting prospective clients directly using the old school method of snail mail.
Our tactic included sending see-through lockboxes to large agencies full of chocolate and sweets. The box was carrying a simple note that told them to contact us for the code. Imagine you're an agency and this arrives at your office. Of course you'd like to get the sweets and chocolate inside!
After sending out 5 boxes as a "test run" we received contact from all 5 agencies. And managed to get 4 of them to sign up for a trial with us.
By using this unusual tactic, we managed to get interest from the big agencies we were targeting. And managed to build a great relationship in the process.
I'm not saying every business should copy this tactic. But with a bit of creative thinking, I'm sure you can come up with your own twist!"
#2 Engaging on the right websites helps: Tactic from
Yuri Vedenin
Founder at UXPressia, Customer Journey Mapping Software
"Describing your target audience is step 0 before you do anything else. Then based on your buyer persona data you can:
1) Find all "Top X products" or "Best X tools" articles in your field. Then contact the authors, pitch your product, give them free access to it, ask to add you to the list. Win-win: top ranked articles will drive traffic to you. Updates to these articles are good to the website owners because search engines love fresh content.
2) Create a list of online and offline events that are related to your product's industry. Then contact them suggesting product sponsorship (meaning providing discounts or even free versions of your product) and giving a talk. Your speech may or may not even be about your product.
3) Do comments marketing: find the most popular articles on your topic, read them carefully and post a meaningful comment. Also mention that you just released a MVP version of your product and suggest others trying it out. Please, do not spam if you can't post something meaningful."
#3 When branded link drives customers: Tactic from
Pawel Lawrowski
Head of Growth at Tidio, Live Chat & Chatbot Software
"For 2 years we're growing 160% year to year. And I want to share with you one of our best strategies.
Nowadays CAC and CPC grow very quickly and traditional banner ads are becoming less clickable. So you need to look for new, non-standard methods to increase your website traffic.
At Tidio, we have developed a *Viral Loop* that engages our customers to generate traffic for us. How does it work?
There is a Powered by Tidio link displayed at the bottom of our live chat widget. When one of our customers installs the widget on their site, the link is automatically visible to all of their visitors. We call them end-users.
When these end-users click on the link, they are redirected to our website and eventually become our customers too. And then, the cycle repeats itself. Our newly-acquired customers install live chat on their website. It is branded with a Tidio-powered link that their users see and click.
This is how our self-accelerating Viral Loop works, bringing us tens of thousands of traffic without any effort and cost on our part."
#4 Why questions matter: Tactic from
Vivek Kumar
Founder & CEO at Qlicket, Talent Retention Platform
"Since we are an early stage B2B SaaS startup, content marketing has been a fantastic lead generation channel for us.
An excellent habit for success with content marketing is answering questions in the minds of customers.
In our blog writing process, for example, we use AnswerThePublic to find customers' questions. And answer them with simple, brief, and effective blog posts. We use Google Trends to select optimal keywords so the blog post appears as a top result on search engines.
Putting yourself in the shoes of a prospective customer will help you reach them effectively and quickly."
Marketing is an experiment
It takes a while to establish your brand and market your product effectively.
Through this journey, you should experiment with different marketing tactics. Not all of them will work, but the objective should be finding new ways to connect with your audience. You need to have multiple options in case you find that certain tactics don't work with your audience.
In the SaaS industry, it's important to have a solid marketing practice. Since people are looking at your product as a long time investment, they want to be completely convinced before they buy your product.
At Kissflow, we are always trying new ways to market our product effectively to our audience. While many attempts have failed in the past, these tactics have been successful for us.
What's working for you?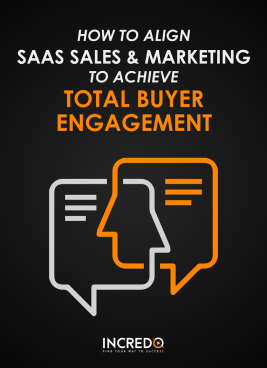 HOW TO ALIGN
SALES AND MARKETING TEAMS
TO ACHIEVE
TOTAL BUYER ENGAGEMENT