Coca-Cola Marketing Success In Just 16 Easy Steps That Every Company Can Make
September 28, 2014 – Artash Arakelyan
Coca-Cola Marketing Success In Just 16 Easy Steps That Every Company Can Make
Coca Cola is one of the best and biggest brands in the whole world. Not only they are successful in outbound marketing, but also in inbound marketing, as they have over 90.000.000 followers in their social media channels. So, here are some easy steps that Coca-Cola has adopted and that every company can do it, in order to be successful in online platform.
Coca-Cola's Digital Marketing Success
1. Amazing Twitter profile
They have around 2.7 million followers all over the world. Since their registration on March 2009, they have twitted 97.000 times. On August @cocacola tweeted about 2000 times.
2. Direct engagement with fans
Probably the most important thing for any brand is staying connected with the large audience. And Coca-Cola does it extremely good, as almost 85% of their tweets aim at connecting with their fans. This method aims to prove that they care about their customers and love them. This was the main reason of their huge success on Twitter.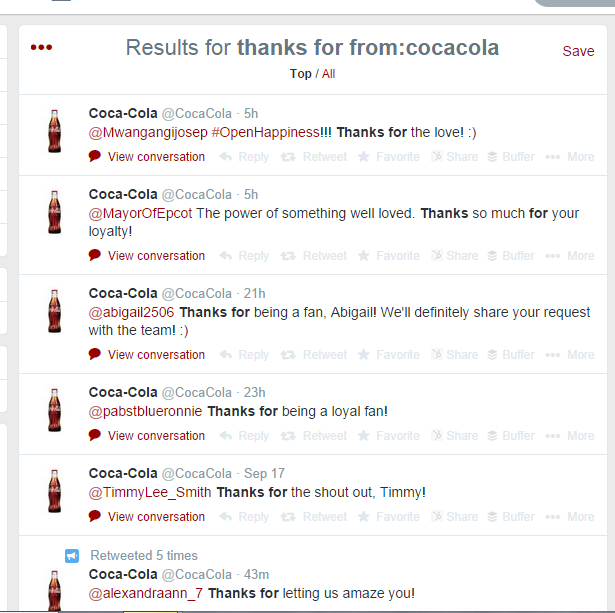 3. Encouraging sharing
Very similar to Starbuck's Tweet-A-Coffee program Coca-Cola is using the power of social sharing by giving users the chance to send a link to a friend with their Tweet a Coke campaign, which lets them order Coke while in Regal Cinemas locations. The cost is $5, but you can send a multiple ones. Currently, this campaign is only accessible in the U.S.
4. Coke Blog and 'Stories'
These are light articles about different topics, like music, fun, food, health, sport and so on. These articles are about more essential parts for human satisfaction. They are written to develop deeper level of personal belonging and success. It is rather easy content to write, but certainly it has more effort than tweets.
5. Coca Cola Opinions
These 'opinions' are written by experts outside Coca-Cola. The articles cover much deeper issues like economics, politics, environment, law and rights, innovation and so on. These articles raise awareness in the society and give an impression that Coca-Cola is not only busy selling its products, but also is worried about more global problems for the entire population.
6. Influencer involvement
Coca-Cola has a tactic of engaging famous people like Ryan Seacrest. The campaign, during World Cup, used people like him to get people to upload their pictures to their huge project. I know this step can be very costly for start ups to engage Ryan Seacrest, but at least they can go with YouTube celebrities, authoritative bloggers or local influencers.
7. Coca-Cola's success on Tumblr
Once Marissa Mayer, CEO of Yahoo!, announced that Coca-Cola is the best and the most interesting brand on Tumblr. She is definitely true, as the title of their Tumblr is "Where happiness lives online" and it's something true.
8. Mixed messages
Coca-Cola does a lot of efforts to balance product placement with pictures which aim to keep things funny. It's very important in social media. You can hardly find someone who enjoys the sales 7 days a week and 24 hours a day. Weather it comes to their blog or social channels you can easily see this balance that Coca-Cola keeps. The same applies for your star up as well. 65% of your audience are visual learners so share some funny and interesting content and they will be attached to you.
9. Coca-Cola's Instagram profile
Coca-Cola shares happiness in Instagram too. They post both images and videos. 6 of their latest 25 posts were videos and their engagement was very high. On Instagram, they have more than 300.000 followers and almost 320 posts and this is still the beginning!
10. Coca-Cola's biggest fan page is on Facebook
Coca-Cola's biggest fan page is on Facebook with nearly 90 Million likes. Their page includes stories telling how many people from all parts of the world helped them to become what they are today. Coca-Cola uses this page to promote all their campaigns. 
11. Accepting social challenges
When everybody including all your friends, colleges and acquaintances were posting their #IceBucketChallenge videos Coca-Cola wore its creative hat and joined the ALS Ice Bucket Challenge too. Their vice president Wendy Clark accepted the challenge and not only she poured water on her, but also she did everything to make their brand visible in many ways, from the Polar Bear to a Coke towel.
12. Coca-Cola on Google+
During 2012 Coca-Cola had very active Google+ page and posted a lot of updates. Though, now, it posts less than on Facebook, it still has more than 6000 followers and 3 million views.
13. Coca-Cola on Pinterest
Their Pinterest account is very interesting, while there are only 2-3 boards about their ad campaign, while the others focus on specific themes. For example, they have boards like 'be together', 'be active', 'be giving' and so on. Another board is 'Olympic Games Moments', which contains a lot of images of their sponsorship of that event.
14. Coca-Cola on LinkedIn
By entering Coca-Cola's LinkedIn profile, one can find everything that is connected with their employees and activities with them. They have 49.415 employees on their LinkedIn profile and they update information about who they are hiring. So fans can see who create their 'happiness'.
15. Coca-Cola on YouTube
You can spend your whole day in their YouTube channel and I bet that you won't be bored. There are a lot of videos, including their viral videos, for example happiness machine, World Cup's videos and so on.
16. Personalizing customer experience – Share a Coke campaign
Share a Coke is probably their most successful campaigns. It consists of bottles on which the logo is replaced with the most popular names or other friendly identifiers, like 'boyfriend' , 'girlfriend', 'bff'. This campaign lets users to create virtual personalizes bottles and share them on social media sites, like Facebook, Instagram, Twitter. So, here they are… 16 steps that every start-up can accomplish with the right team, time and dedication and it will help you enter to people's hearts and never leave them anymore. Have something to add to this story? Share your feedback in the comments! Here is another article you may be interested ►10 Successful Digital Marketing Campaigns From Coca-Cola
Next Steps
Running a successful internet marketing campaign is easy, if you have a good selection of hand-picked resources to help you through each step.
Download our [Free Guide] How To Attract Customers With Facebook and get llustrations and tips of best marketing strategies in Facebook
Are you struggling with attracting the right visitors? Download [Free Guide + Templates] How to Create Buyer Personas for Your Business