Content Marketing Pricing: Is The Cost Worth Your Investment? [2021]
October 19, 2020 – David Tashjian
Content Marketing Pricing: Is The Cost Worth Your Investment? [2021]
It goes without even a whisper of denial that content marketing now dominates the digital marketplace, and in particular the SaaS marketing industry.
As more and more SaaS companies pop up each year (angel.co alone lists over 10K at present) and the marketplace becomes more crowded, there is the content generation equivalent of an arms race going on within the B2B and B2C sectors. With some Google Adwords keywords now fetching a whopping $50+ per click, original content marketing pricing is looking rather enticing for the majority of SaaS companies, the teams of swarthy coders and developers that are fighting to be the next Dropbox, Salesforce or AirBNB.
With an overly saturated digital realm with regards to traditional advertising (even previously seemingly safe-from-spam social media sites like LinkedIn are now excessively littered with "sponsored" posts, and don't even get us started on Facebook…), inbound content marketing for SaaS companies is a welcome beacon of hope for companies, clamoring to connect with and engage their target audience, and thus convert customers.
Why?
Because it works, much more so than the traditional approach to marketing. But, there is a caveat – content marketing is only successful when it strikes the right place at the right time, and truly speaks to the targeted audience. It is not just about writing word after word to boost your SEO – rather, quality content is generated when it really speaks to your buyer personas, resonates with their pain points, and demonstrates that you are the best guys to go with for their purposes. It is quality when you can stand out in the sea of SaaS companies.
According to recent research conducted by the Content Marketing Institute, 62% of B2B marketers in North America feel that their content marketing efforts are more successful over the past year than the previous year. Why the continuing shift to inbound content creation over paid ads?
Well, it's because so many of us are tired of traditional advertising! The whole "hey, look at me!" approach has become exhausting, and frankly has become viewed as a lazy attempt to woo customers.
Let's put up a billboard ad with our name on it – no.
Let's tell a story that entertains yet informs potential buyers – yes.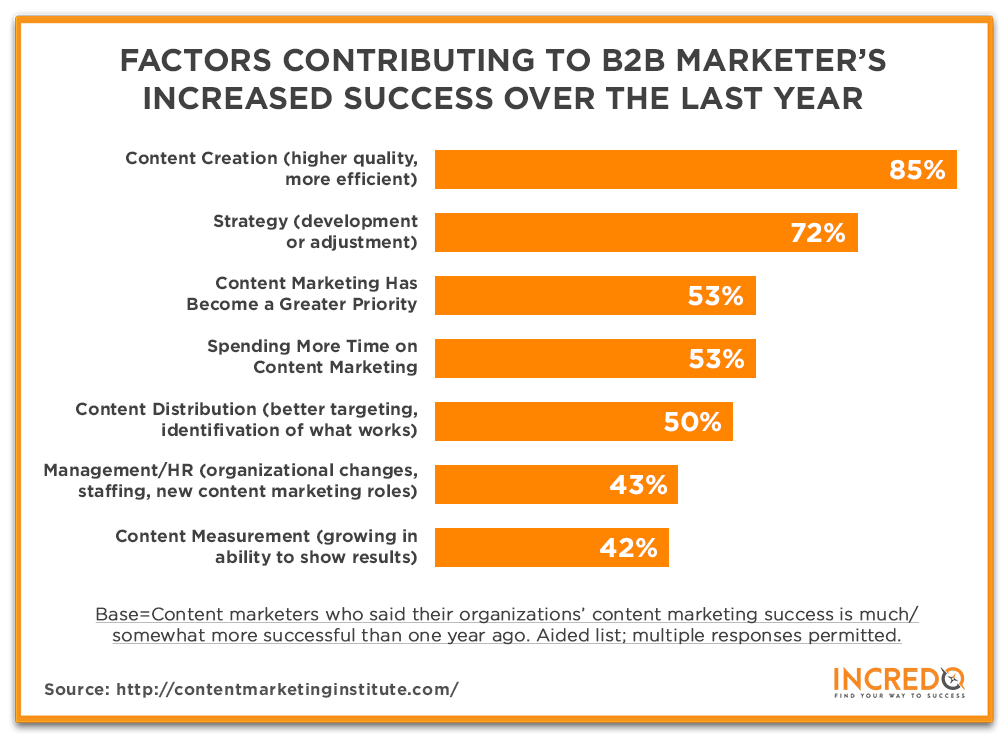 As seen in the above chart from the CMI, content creation is overwhelmingly valued as a successful B2B strategy for present and future B2B marketers. However, did you notice what came in a close second? The application of a marketing strategy. In line with what we mentioned a minute ago, it is not simply about generating a massive word count, but making sure the right words (and graphics, too) are used at the right time for your target audience.
Right now, according to us there are only a couple of companies that really excel at creating engaging content down pat (kissmetrics, WordStream, etc.), other than, of course, yours truly. Here are a couple examples of how these two generate content that doesn't simply inform their audience, but gets them involved:


In the first example, you can see how kissmetrics consistently not only has readers commenting on their blog, but sharing posts on Twitter 100+ times.
In the second example, did you notice what happened there? The blog author, Erin, wrote a post that sparked a conversation, but more importantly for audience engagement they took the few seconds needed to respond personally to comments.
Were these examples of engaging posts simply random accidents? No…
Bro, do you even strategize?
Possessing a well thought out, detailed content strategy is crucial to marketing success. We cannot drive this point home enough – no matter how valuable your insights are, nor how many graphics you include in your posts, content will fall on blind eyes if there is not a strategy in place for how to engage your ideal readers.
If we take a minute to examine what kissmetrics did there, you can see that their blog titles start with a pain point – someone who's "lazy" but wants results, a little thing that has a big impact on business, etc. Kissmetrics knows exactly what today's modern marketer needs to be answered, but they also touch on varying pain points instead of new posts addressing the same point one after another. This is all part of their content marketing strategy – they aren't just writing post after post; there is a method in place.
If we take a look at the CMI's report from this year, the majority of B2B marketers have a documented content strategy, and 83% of the most successful marketers believe that a strategy is extremely effective in returning results.
When we mention strategy, of course the details of the content are going to vary just as much as how many individual SaaS companies there are, but there are a few common denominators that are required, universal for all content marketing efforts to be effective:
Simply spitting out content that demonstrates how valuable your SaaS product is won't cut it in today's digital market. Before you even write a single Facebook post on your company's page, or post your first blog, you need to research who your ideal audience is and how they have come to expect companies communicate with them when trying to solve their pain points. Then, the next two steps need to follow, and finally there should be a team reviewing the efficacy of the strategy on your ROI.
Make no bones about it, people – content marketing is war. Even though it is a bloodless (well, usually) battle, there are still casualties each and every day in the form of SaaS companies closing their doors. Putting your feet on the battleground without a strategy in place is practically begging for your company's failure, or at best a waste of time and money on content that mismatches what your target audience wants to read about.
Do not know where to start, or who to put in charge? Feel free to check out this strategy guide from our good pals over at Hubspot. Whether you have the resources to manage your content marketing in-house or choose to outsource it, as a CEO, CMO or brand manager it is wise to know the ins and outs of what makes a robust inbound content marketing strategy, even when you are enlisting someone else to take care of it for you.
Content marketing pricing – upfront costs and option
There are two roads you can choose between to take for managing your content creation, and full disclosure, we have our own bias:
Hiring in-house writers, editors, graphic designers, managers
Outsourcing your content creation to a professional agency or freelancers
No matter which options you decide make the most sense for your SaaS company, it is going to cost you bucks. While blogging, guest blogging and social media posting are (more often than not) free of charge in comparison to traditional ads, your company will still need to hire manpower to put the content out there.
When it comes to pricing, it is rather tricky to pin down an exact percentage of your company's overall revenue to budget, and there are no existing exact guidelines for percentage of spend. The variables that determine how much you should expect to set aside for content marketing are numerous, and include the following amongst others:
Scale of your product line; quantity of products that require content generation
Degree of established brand presence
Novelty of niche products; degree of innovation that requires explanation to the target audience
Number of existing competitors
Current churn rate (customer loyalty)
Geographic location
While some marketing buffs may talk about how 10% of overall budget should be the magic number for marketing spend, keep the following in mind – over the past several years, the amount of money that companies have
spent on social media content and marketing has increased by 234%!


While companies are spending less on social media marketing than predicted in the preceding years, 11.7% is still a sizeable chunk of any company's budget, especially when compared to 3.5% being spent just seven years ago!
As we detailed a few minutes ago, the exact numbers will vary widely, but to get back into the in-house vs. outsource debate, expect to pay over $40/hour in the United States for a decent content copywriter.
Right now, you are probably saying to yourself "Gee, that doesn't sound like it's too much for us to afford. $40 an hour is just $320 a day!" Well, it isn't a large number on its lonesome, but planning, executing and managing a robust content strategy takes more than a single writer. The second that you factor in graphic design efforts, the cost immediately doubles. Then content managers, project managers, campaign strategists, the list goes on! Especially if you are enlisting services domestically in North America or Europe, a comprehensive content team will be quite an investment.
Obviously, the more you invest in content marketing, the more you should be expecting to see in return. But, hmm, what if you can invest less upfront and still experience stellar results, month over month?
So, what to do about your SaaS company?
The future of CM is only going to become increasingly more involved, and thus, challenging for SaaS companies. Trends in CM are emerging that pose hurdles to freelancers, in-house content managers/writers/designers and professional firms alike. This means that the more we move forward, and away from traditional marketing, the more CM needs to be taken seriously, and handled by experts to deliver a tasty ROI.
Now, we come to why Incredo is a brilliant choice for your SaaS company. Before we toot our own horn to death, let us take a step back and remind ourselves of what your primary goal should be as a B2B or B2C SaaS effort: developing valuable products. What is Incredo's goal? To deliver your products to market.
Anybody can write copy and design graphics. However, only 9% of B2B marketers feel that their content marketing efforts are "very effective". Clearly, there is a tangible disconnect between doing and excelling when it comes to CM.
The core of a great SaaS company is innovation, and we get that. This is why we have been in business serving SaaS companies for years – you guys should handle the groundbreaking product development, while you let Incredo take care of getting your name out there, and consistently enjoy the industry relevance you deserve.
While there are tons of SaaS marketing companies with stellar track records, there is only one based in Armenia – us. Remember how we mentioned how much it costs to hire a single top-notch writer in the US?
Due to our location in Armenia, you can hire an entire hybrid marketing office for about $30 an hour (of course, depending on custom contract details, this figure can be slightly lower or higher), that can handle everything from updating your brand logo, to quadrupling (or more!) your customer conversions.
The proof of our worth is in our customer recognition as an industry leader. Earlier this year, Incredo was ranked by Clutch, the Washington, DC-based enterprise review firm, as one of the top ten content marketing agencies, anywhere.
Yes, you read that right. Located in a country that most people cannot point to on a globe, rests one of the most reputable content marketing teams.
We have a reputation amongst our clients for making the seemingly impossible happen in the blink of an eye. For example, with one of our recent clients, Savii Care, our team was able to increase their leads by 600% in just one month. How? By designing and implementing an extensive and holistic content marketing strategy for them, and at a fraction of what they would have spent having hired marketers domestically.
Would you like to be next?
There is an ancient proverb that we have in Armenia – tangeets ejanuh chka – there is nothing cheaper than expensive. Basically, that you should buy once, but buy right, and cutting corners will cost you more in the long run.
However, a successful content marketing campaign doesn't necessarily require a hefty price tag. Whether you are a mid-size SaaS vendor or a massive enterprise, keeping expenditures down with maximize your ROI, and with Incredo running your SaaS marketing, you can rest assured that you can handle the innovation while we get you the leads and conversions. Feel free to contact us anytime and see whether you would like to use one of our pre-designed marketing packages, or if a custom designed marketing package is best to take your team to the next level.