The SaaS (Software as a Service) industry is dominating the public cloud marketplace and will continue to dominate throughout the foreseeable future. According to Gartner analysts, in 2017, cloud services in general will hit $244 billion. Meanwhile, according to a study by Technology Business Research, the global SaaS market was $49 billion in 2015, and the SaaS market is expected to earn $67 billion during 2018, with a compound annual growth rate of 8.14%.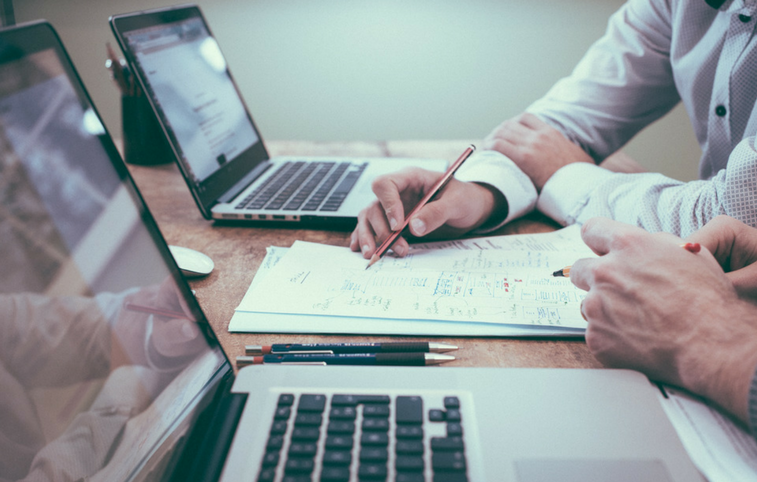 The bulk of the SaaS industry's growth, of course, comes from the rapid launching of startups left and right, day after day. To remain competitive against the rising number of industry entrants, your SaaS company needs to have the perfect sales processes in place. If your SaaS sales processes suck, here is what you need to do in order to remedy the situation:
Establish trust and confidence
Loyalty and trust are the foundation of every business relationship, especially in the SaaS world. Here, you need to first of all build trust before a sale can even be a possibility. The reason is that knowing customer pain points and their primary needs will help your SaaS company become a trusted partner instead of just another vendor or service provider.
Let's take a look at the homepage of Mint, a cloud-based personal financial management platform. The first thing we see here is the statement "That horizon might be closer than you think." They are not trying to sell you anything at that point. Instead, the messaging establishes trust. Below, by expanding on the main statement, they describe what they do: "We'll help you get there by managing money and budgets better every day." Then, there is also a simple call to action for a free sign up.
Mint is not really selling anything on their homepage. They know that financial decisions are not made in an instant. They know that their prospects need to first of all trust them before making a purchasing decision. Such soft of an approach makes the visitor feel comfortable exploring the site, before making an informed decision to move forward.
So, to better your SaaS sales process, you need to first of all understand what your customers need, build trust, confidence and then sell.
Sell solutions instead of products
People come to your website, make contact with you and open a dialogue up with you because they have a problem that needs to be solved. Very often, people do not clearly understand what solutions they need. So, it is your job to be an expert and come up with a solution to their problems. But, what is the best way to understand and solve your customer's' problems? Of course, by asking the right questions! Questions help you to figure out how far along your customers are on the decision making path toward buying.
Selling solutions in place of products might not even involve making direct references to products. A great example is Nimble, which is a leading social CRM SaaS.
"Keep Track… Of Everything.", "Intelligently Engage." and "Full Contact(s)." emphasize the benefits of using Nimble from the perspective of the end user. There is nothing there on the page about the product features – rather, there is simply a clear explanation of how the platform can solve problems.
Map the customer journey
The needs and preferences of your customers evolve over time, and with every new product feature, there is a new learning curve. In order to have a robust SaaS sales process, you need to be your customers' partner alongside them during every step of their journey, and you need to guide them first through the basics before moving on to the more advanced capabilities of your software. This type of ongoing engagement increases customer retention which, as a result, will improve your SaaS sales processes.
Here is a three month outline of what your company should be doing and when, throughout the sales process:
Month 1: Over the course of the first month after making contact, you need to teach the basics of how your product/service is used. For this purpose, dedicate some time to organize webinars, send automated emails and tutorials to first engage with your customers. This will establish your pain point expertise and will build a powerful foundation for a long-term business relationship.
Month 2-3: Here, you need to build upon the foundation of trust and show the advanced capabilities of your SaaS product/service. You can do this by bringing in sales and marketing for checkups and then by upselling or cross-selling additional products and services. Adding more value will lead to generating more revenue.
Be proactive
In the SaaS world, there is no "one solution" that is flawless and appropriate for every company to follow with increasing sales with all of its potential customers. So, try to focus on identifying similar types of customer needs and be proactive in creating such solutions that can be standardized for similar types of customers.
Patterns will start to emerge over time, and you will be able to create such solution types that can be repeated and scaled. By using website tracking software systems, you will be able to understand what your customer is examining and for how long. This way, you can predict what his/her objections might be upfront and notice trends among your potential and existing customers – the people that are actually spending time navigating through your website.
Examples of great SaaS companies
After making sure that you understand all of the points mentioned above that are necessary for improving your SaaS sales process, here are some inspirational examples for you that you need to carefully examine, in order to end up having a perfect SaaS sales process and good reputation among your customers. As these companies are deserving of it, remember that imitation is the most sincere form of flattery. Just, please, take inspiration from these leaders, rather than plainly plagiarizing.
A terrific example of a SaaS business that is known for its great customer support and good SaaS sales process is FreshBooks.com. FreshBooks, the online invoicing and accounting service, has been around for quite a while and certainly knows how it should take care of its website's users. Freshbooks is known for sending cakes at random to new users and birthday cakes to long-time customers, which is an excellent way for making a personal connection. Ask yourself, how surprising would it be to click on a SaaS website and a week later receive a cake on your birthday?
Would it seem desperate? Endearing? Who cares!? They sent you cake!
Though cake itself does not make their customers more successful, their commitment to customer service really does. Besides surprise cakes, FreshBooks is always available for its customers, as they have a 24/7 phone support, an extensive FAQ section and help guide.
Providing great customer service is a no-barrier, however few SaaS companies consider it as a part of their sales process. In reality, it is. When your customers are paying you service fees month-to-month, everyone at the company should be part of the sales team. This is why great customer support is essential to the long-term success of your SaaS company.
Providing ongoing training can turn out to be a huge value for users and can greatly influence your SaaS sales process.
MailChimp, which is a leading email marketing SaaS vendor, has a large number of free eBooks that are available to all of the users. These eBooks are much more than just telling how the product should be used – they cover many of the best practices and tips for sending powerful emails. This is all done because MailChimp knows that by making their customers much smarter and successful, that Mailchimp will be recognized as a leader, which will have a an end positive impact on their bottom line.
Moz.com is another SaaS company that is doing an excellent job of educating its customers and has a good SaaS sales process. It cares about its customers by posting useful, relevant and interesting blog posts. Their blog is a gold standard as respected by the SEO industry, where all concerned parties follow it.
What they do is regularly post about SEO best practices, even including videos on how to get the most from each search. In this way, they not only get high inbound traffic, but also train their users and make them more successful.
Now, after having taken some guidance from some of the best SaaS companies, you know what you need to do if your SaaS sales processes suck. If you have any other tips, tricks, or you have other great SaaS company examples in your mind, please share them with us in the comments below. We are always happy to hear from our peers and faithful followers!