Why Testing Is So Critical to SaaS Marketing
June 21, 2016 – Shayla Price
Why Testing Is So Critical to SaaS Marketing
SaaS marketers cannot afford to keep using the same old tactics. The SaaS industry is a hub for innovation in digital marketing. The fastest-growing SaaS startups popularized growth hacking and effectively leveraged content marketing. Plus, they learned how to turn growth in users to growth in revenue.
Competition is fierce. And today's sales won't always satisfy tomorrow's revenue goals.
Therefore, SaaS marketers who subscribe to popular tactics may find themselves left behind. But how do you discover new marketing strategies for your business? The answer lies in testing.
Similar to your product team who relies on analytics and rapid testing to build the end product, your marketing team should rely on the same tools to refine user acquisition and customer retention.
"Testing is key – learning by trying. Marketing disciplines perform differently across industries. Plan, test and learn. Collate, document, provide and use data to enable effective planning and execution. And surround yourself with curators and be your own curator of what's important," says, Jesper Termansen, CMO of Templafy.
Testing is key to a winning marketing plan. Let's explore how your team can move your SaaS business forward.
Why You Must Test Your SaaS Marketing
When Facebook launched their advertising platform, early marketers saw incredible ROI. But over time, more marketers flocked to the platform, quickly driving up the CPMs. From November 2013 to November 2014, that cost shot up seven times higher. What had been a marketing channel delivering phenomenal results for low costs became saturated. Eventually, every marketing tactic is overwhelmed by eager practitioners. Andrew Chen, growth marketer at Uber, calls this the Law of Shitty Clickthroughs. It's the reason why your SaaS marketing tactics possess a short lifecycle and why you must test often to innovate ahead of competitors. Here's how email open rates have changed over time, for instance:
Get off the bandwagon of shiny, new growth hacks. They will lead to subpar results. Think: if an industry leader is blogging about the hacks, it's probably already saturated.
How Testing Pushes You Ahead Of The Curve
Over the years, marketers have become fully aware of the accelerating pace of change in modern marketing. In fact, McKinsey reported that 75% of marketers are concerned about more agile competitors. In other words, they're concerned that ever-changing customer behaviors and expectations cause businesses to constantly find new ways to stay relevant. The answer to innovation challenges is trying new ideas. But it's not about generating any and every idea. Instead, it centers around making educated hypotheses based on your SaaS, market trends, and customer data. Innovation starts with data. Eighty-three percent of marketers believe that making data-driven decisions is important. Yet, only 10% feel they are using insights to improve their company's performance. Why is there such an enormous gap? Marketers aren't testing enough. Product teams run weekly tests to measure everything from time spent in the application to security vulnerabilities. Each week, those results are used to generate reports for upcoming tests. But most marketers don't have a comparable process. Learn from the Lean Startup model pioneered by Eric Ries. This model states that teams must build, measure, and learn in an endless cycle. First, teams create ideas by interviewing customers, brainstorming, and performing surveys. Then, they take those ideas and build them directly into their product. Finally, they measure the results from the actual data. If the idea works, teams continue. However, if it doesn't, it's removed or improved upon in the next version. Ross Kimbarovsky, co-founder at Crowdspring, says, "If your experiments fail, don't worry — this is normal. At my company, 99 percent of the marketing tactics we try fail. Find several other channels — pay-per click search-engine advertising or sponsoring a newsletter targeting potential customers, for example — and run new two-week experiments." How can this short cycle help marketing teams succeed? It offers value by executing several, quick tests. Compare this to a one-year or five-year marketing plan that many companies still use. Thus, leaving your company impacted by outdated marketing techniques. The Lean Startup model isn't designed for marketing teams, but the same principles hold true. Scott Forshay, in an interview with Hubspot, provided a visual of how Mutual Mobile has adapted lean methodology for their marketing: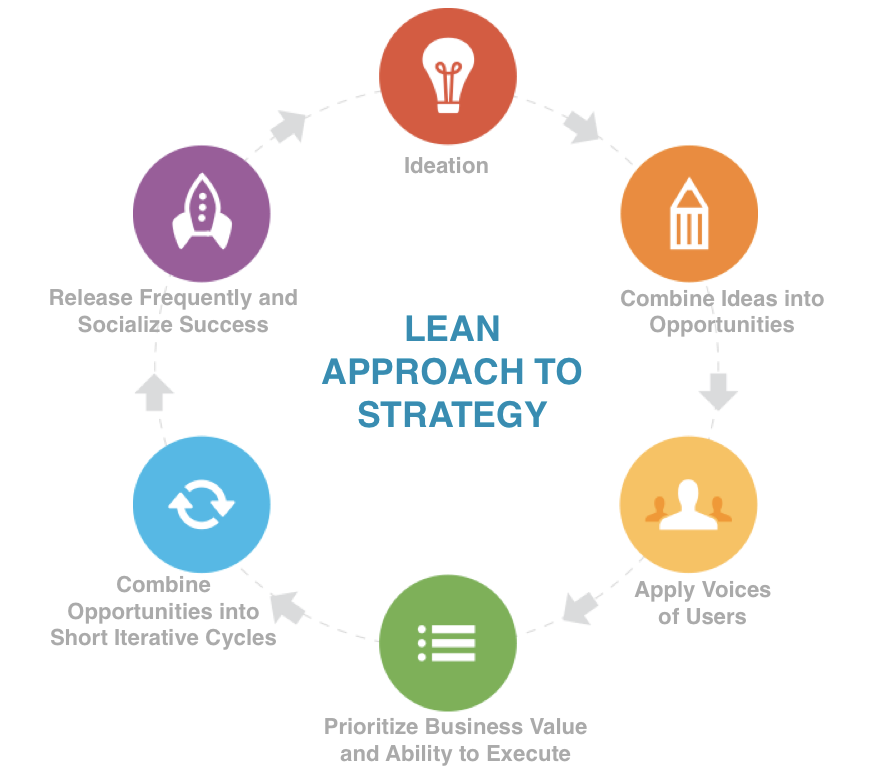 3 Tips To Start Testing
The process of testing may seem overwhelming. But you don't need an ironclad process to get started. Try the following three strategies to help your SaaS team drive marketing innovation.
1. Experiment With Advertising
Facebook has a whopping 2.5 million advertisers. That means companies, just like you, are vying for customer attention. And it's strong competition because the social giant plans to show users an average of 300 stories in a day. How do you know if one set of ad copy beats another? How do you choose the best image? Use A/B testing to identify the most effective ads for your target audience. It's a way to directly compare two versions of your message. And you're not just testing the words. Your team should experiment with the image, formatting, and color, too. Ana Gotter, a freelance writer specializing in social media, suggests the following: "Facebook ad campaigns with the objective of engagement should be measured and evaluated the same way as campaigns that bring in sales. Track your social ROI to determine if the number of likes you got from a campaign were worth the amount of money you spent on them. Plus, decide if that campaign had enough value to run again." In addition, remember that your advertising needs to focus on the customer. Use emotion to engage with them on a deeper level. Neil Patel, co-founder of Kissmetrics and Crazy Egg, says, "Similarly appealing to your customers' emotions will help them like you. Put yourself in their shoes and think of their fears, objections and motivations. You can also present your product as a solution to their problems."
Don't limit your testing efforts to just your blog or website copy. Maximize your ROI by experimenting with different advertising collateral.
2. Try Customer Feedback
Customer feedback is one of the pillars of the Lean Startup model.  Your customers are gold mines to understanding the strengths and weaknesses of your business. Why did they choose your product over a competitor? What was the main benefit that brought them to you? Did they love an ad, or did your free trial convince them? Ross Beard, marketing at Client Heartbeat, states: "To create an amazing experience, you need to ask your customers what they want and use the insight to create a consistent, personalized experience. If you can create an experience that is better than your competitors, your customers will remain loyal and ignore tempting competitive offers." Learn how to improve your marketing with the help of your consumers. Monitor the live chat sessions with your sales reps. Sift through the reviews left on external sites. Or even read their comments on social media channels.
Sometimes, it's just best to ask your customers directly. Offer them an incentive for their insight. Csaba Zajdo, CEO at OptiMonk, says, "You can solve this problem can by giving out gifts to customers for sending feedback. Gifts can include free shipping, discounts on future purchases, free samples, gift cards, contests, etc. The prize should be valuable for the customer rather than a cross-sell tactic."
Customer feedback lets you learn more about your target audience. This will help you tailor marketing messages.
3. Use Tools
In the early 2000s, marketers struggled with selecting the right calls-to-action and header images on their websites. Thus, the carousel became the hottest homepage marketing tool. But with testing, expertsrevealed dramatic reductions in effectiveness because of the carousels. If marketers had relied on A/B testing to pit the non-carousel variant against a carousel variant, they would have noticed the solution more quickly. Instead, many dollars were lost by companies who adopted carousels. That's why testing works. It causes you to question the norm. But not every SaaS organization has a team of analytical geniuses on their payroll. "So what will you do to get exposure and grow your business this year? If you don't have the budget to assemble a top-tier marketing team, you'll need some great tools to take your marketing to the next level," says, Sujan Patel, co-founder of ContentMarketer.io. Tools, like Optimizely, Unbounce, and SessionCam, help you optimize the customer experience without the hassle. These companies even offer useful tutorials to guide you through the entire process. That way, you're building the right landing pages, mobile sites, and overall experiences to meet your visitors' needs.
Go beyond the call of duty for your customer. But enlist some guidance with the many SaaS tools in the market.
Start Testing
Testing is necessary for the modern SaaS marketer. It will add value to your team. Moreover, it will push your organization to personalize messages to your audience. Become the company that sets the pace amongst competitors. Drive the marketing that everyone else will follow.