Today we address one of the most commonly asked questions: How much time do you need to dedicate to Inbound Marketing via Hubspot to achieve great results? The answer is pretty simple – the more the better.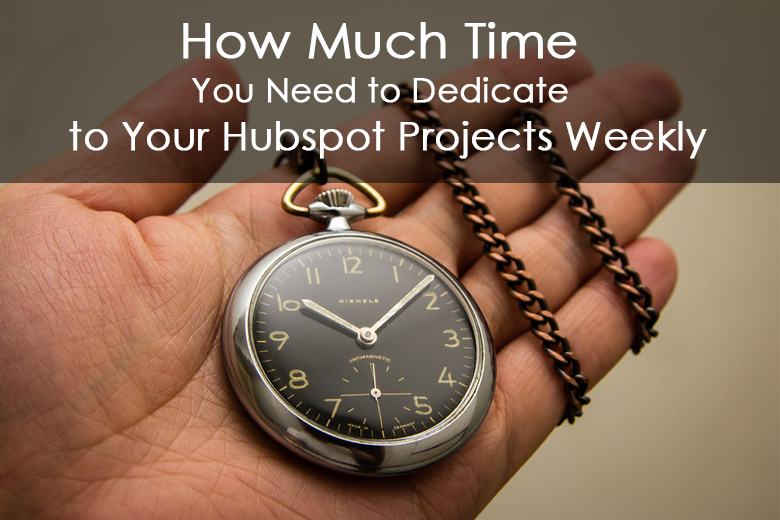 But since we all know that time is the most valuable asset nowadays lets understand what are the optimal time limits you need to spend on your inbound marketing and it's components to get the most out of your investments.
Starting off with one of the most important things – Inbound needs and takes time to show results. Think of it as a gym card, you can't just get the gym card and expect to see results right away. You have to be consistent with whatever strategy you decide to implement. That is one of the keys to success.
Next up: Quality vs Quantity
Inbound is all about delivering smart, relevant, educational and quality content to your leads and customers.Always think about these criteria when posting, sharing or creating any kind of content and put yourself into your customer's shoes.
Is this something my leads and customers would like to see? Will this help solve their problems or provide additional education on a certain problem? This type of content will earn you respect and results in the long run.
Smart Goals and Strategy Planning
Setting S.M.A.R.T. (specific, measurable, achievable, result-focused and time bound) goals and backing those up with solid strategy is a key step you need to think about before creating any kind of content. Firstly you need to understand exactly what are you looking for and what the content you create is going to accomplish.
This is an essential part of any kind of marketing, but especially true for inbound. You don't want your content to be for everybody and everything even if it's consistent and of high quality. The more specific and audience focused content you create, the better results will be achieved.
Content Marketing
Before we go to any statistics and studies lets identify the key activities that every company using inbound methodology needs to do:
Constant and active engagement on social media
Writing, editing and posting blog articles
Studying reports and analyzing them (number of leads, conversion rates, keyword research, traffic etc.)
Improving your knowledge of the marketing software you use (Hubspot)
Constantly improving the company website (calls-to-action, landing pages, thank you pages etc.)
Staying updated on latest trends, tools, strategies etc. (being well informed and educated in your sphere)
These are the main points that every company must dedicate time to, in order to achieve satisfying results. Now let's jump to some actual numbers and statistics that will show just how much time you need to invest in each one of these aspects every week in order to be successful.
Social Media
Multiple studies have shown that every minute spent daily on social media marketing roughly equals the number of leads generated per month. Here is one of them shown in a simplified manner:
| | |
| --- | --- |
| Time spent weekly on Social Media | Number of qualified leads generated per month |
| <12mins/day | 1-5 leads |
| 12-24mins/day | 6-20 leads |
| >60mins/day | >50 leads |
Based on the statistical analysis you can see the right answer for time investment in front of you. Dedicating 1 hour of time to social media each day will help you manage your posts, shares etc. effectively while maximizing your ROI. Do not forget to stay consistent with your posts and be to the point. Remember: Inbound needs time and consistency to truly shine. (1 hour)
Blogging
Blogging is an important part of your everyday Inbound activities. It usually take more time and effort to accomplish but the payoffs are there as well.
Keeping current customers up-to-date with your latest news, creating quality content to attract new leads, earning respect of the community and establishing yourself as a thought leader of your industry is money worth spent.
A quality blog article every two days with approximately 90-100 mins spent on each one is the way to achieving expected results. (4-5 hrs)
Keyword Research and Tracking
Monitoring, researching and tracking your keywords are essential factors of success. Understanding the ways your customers reach you is an important aspect of generating more traffic to your website. The more keywords you can find or create, the more leads and potential customers you will obtain. Consider taking about 90-120 mins to research your keywords. (1-2hrs)
Improving the Website
Landing pages, thank you pages and calls-to-action must be reviewed and monitored constantly. Some kinds of changes, A/B testing and improvements should always take place here. Creating the perfect landing page for your potential leads is a long process, but if you invest time and stay consistent in your efforts, they will pay off in the long run, generating huge amounts of leads each month. (1 hour)
Improving Your Knowledge of the Marketing Software
This is especially true for beginners who are just learning the inbound ways and how to make your company thrive when implementing them correctly. Time and dedication devoted to learning the software mechanisms should be a core part of your everyday activity in order to succeed and provide your customers with expected results. (2 hours)
And there you have it! The complete guide on the time management of your inbound activities is ready and waiting to be implemented. If we add up all the numbers above we will get around 10-12 hrs of time needed to be invested in Inbound activities each week in order to achieve truly great results.
One the last note I will not hesitate to stress again the 3 key aspects of Inbound: Consistency, quality and strategy: Provide your audience with valuable and educational content, which is specific and to the point and be consistent about it and leave the rest to the magic of Inbound Marketing.
Continue reading: 5 Reasons Why We Love Inbound Marketing and Hubspot
{{cta('4f7bdbcb-37d1-482b-8de5-53980a7bb126′,'justifycenter')}}
---