Writing styles matter. When writing for a business blog, you can't just pour content in there randomly. You need to have your own style, one that fits your business and audience. Your blog is not only an online library for education, it also has to reflect the way you look at business. The writing style that you choose can make all the difference.
Whether it's a fitness, healthcare or financial consulting company, blog is important for all of them, as it is the main way companies interact and communicate with their customers and provide some useful information. However, just having a blog is not enough, you should take into account that there are several writing styles and you cannot apply a one-style-fit all approach, because there are different audiences with different preferences. There are 3 main writing styles: Professional, Conversational, Storytelling, which are introduced below.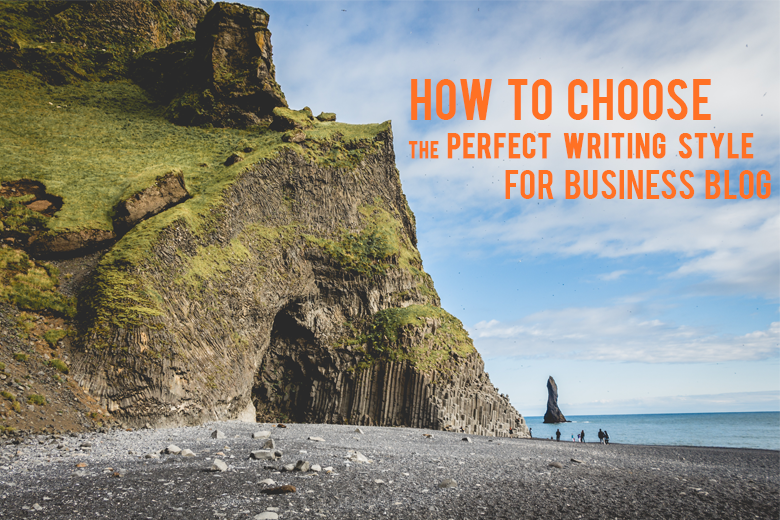 Professional Writing Style
Professional writing is more suitable for those companies, which do business with financial consultants, lawyers, doctors, professors and so on. The reason is that these people usually search for valuable and trustworthy information and they look for exact answers to their questions. There are 4 things that should be included in professional writing style:
Objectivity

: In this style, the most important points are stated with the help of strong arguments. Here, limited range of emotions are used and no exclamation points or ellipsis are included.

Complexity

: In professional style, usually longer and more explanatory sentences are used. When writing

in

this style, each point should have an introduction, body and conclusion.

Third person

: This style is widely used in professional writing. Just because professional writing is not a personal writing, it means that the first or second person point of view(I, you, we) is not used. All the

content

should be written in third person.

Full words

: In professional writing style, words should be used fully. For example, instead of using "They're", one should use "They are". Abbreviations should be also eliminated, besides the ones which are widely used in that way, such as BBC, NATO and so on.
Conversational Writing Style
Conversational writing style is considered to be more fluid and it has the ability to convey any message to the audience. Conversational writing style is usually noticed in newsletters, magazines, interactive blogs and so on. Unlike professional writing, conversational writing can break some grammar rules, for example sentences can begin with conjunctions, like "but", "and", "or" and end with verbs. To have a conversational writing style, here are some tips one should follow:
Write the way you talk

: The name of the style says all itself. You should write in a way that you would talk in conversations. This will remove any formal parts in your writing and it will get much easier for your readers to understand you.

Use easy words

: In this style, there is no need to use difficult, long or too professional words, because it won't be appreciated by your readers. Try to use easy, simple words that will help your audience catch the meaning of your article much easier.

Avoid rambling

: You should never use rambling in conversational writing style. Rambling is all about wordiness. Try to write smoothly to make the experience of your readers a pleasant one.
Storytelling
Storytelling is a style of writing that is used by many companies, was developed a lot during the past few years and is as ancient as humanity itself. It's all about telling your content in the form of a story. Stories engage and intrigue readers. Great stories keep them pinned to their screens to the very end. Stories make you unique, since every person/brand has its own story. They help people remember you and result in a positive reading experience. Here are some tips to follow for awesome storytelling.
Remove slow parts

: In storytelling, you don't need to tell every single detail, instead you need to focus on the most important parts of your story. Try to ask yourself: " It is so important to tell this part?". If you feel that it's not so critical, you better leave it.

Be confident

: You need to write in a confident way, if you want your readers to believe your stories. Don't use any words that contain hesitation in them.

Tell the most impressive part at the end

: If you want your audience to read your story till the end, don't hurry to share the most impressive and important part at the beginning. Keep your audience interest

ed

and surprise them at the end.
Now, when you are familiar with the main writing styles, it's the right time for you to understand how you are going to choose the right one for your business blog. Here are some tips for you to follow.
1. Examine your audience
You are writing to appeal your audience, right? Then, your blog's writing style should depend on your audience's preferences. Try to understand which are the main professions, lifestyles and preferences of your readers. To choose the right writing style for your blog, try to involve your readers in your decisions as well. Make some surveys to find out which writing style they prefer and what is the most important part for them in your blog posts.
2. Do A/B testing
Another way to understand which writing style you should use is implement A/B testing. Try to write several articles in different writing styles, one in professional, another in conversational and do A/B testing. As a result, you will see which one is more appreciated and valued by your customers.
3. Look at similar blogs
If you still can't understand which style is better for your company, try to do a research and find out similar blogs. Read some articles to find out which style they use and which articles have more engagements. For example, if you have a fitness company and you see that people like more conversational and storytelling fitness blog posts, then it becomes easier for you to make a decision.
Here you have the main writing styles and tips on how you can choose the most suitable one for your company's blog. However, don't stick to these styles, as there can be also some mixes of styles, depending on the preferences of your readers.
If you already found the right style for your business blog, please share your experience with us in the comments below and help others find their style as well.