Your SaaS Business Social Media Marketing Complete Guide [2021]
June 11, 2020 – Sona Hovhannisyan
Your SaaS Business Social Media Marketing Complete Guide [2021]
Since there are so many articles out there about the importance of social media marketing and as the number of companies having social media pages increases tremendously, no one can neglect the fact that when starting a business, especially SaaS, one of the first things to do is creating a valuable social media marketing strategy.
According to HubSpot, the leader in inbound marketing world, about 93% of marketers surveyed highlighted the importance of social media marketing for their SaaS company. Moreover, HubSpot's The State of Inbound 2014-2015 report states that more than 3500 online marketers surveyed regarded social media as one of the most important lead sources for their SaaS business. That's why according to Social Media Examiner, about 97% of marketers include social media in their marketing strategy. If you wonder how social media can benefit your business, here is a great graph by Statista.com that clearly shows the benefits of social media marketing for businesses.
Among the most important benefits are increased exposure, traffic, leads, loyal fans, higher sales and reduced marketing expenses. However, the challenge is not in having social media presence, but in understanding how social media marketing can be used correctly for SaaS companies. Here are some overlooked ways to do your SaaS social media marketing correctly.
1. Use a calendar
In order to be more organized, you need to have social media calendar in place. Calendars allow to organize the content that needs to be published, get ahead on work and schedule posts ahead of time. Another benefit of calendars is that by seeing the performance of your previous posts, you will have the chance to plan more efficient promotional campaigns for your SaaS company. However, make sure that your calendar plans no longer than for two weeks, as you need to always provide your audience with fresh content. Otherwise, if you plan for say a month, then your content will be outdated and not so useful for your followers.
2. Create a social update library
One of the most challenging things both for SaaS companies and other ones is coming up with social media post ideas. However there is a good way to solve this problem: creating a social update library. When you create a content like an article or infographic to post on your website, blog or social media pages, try to come up with a list of 10-15 social media posts relating that topic. When you have a list of post ideas, add them to a spreadsheet to continuously keeping track of them. So, when you need a post idea next time you can come back to this source and select one of the main ideas available there. Apparently, social media library and calendar should be used together. This strategy can however be a challenge when you want to scale up. At this point, you can automate the process by scheduling content from your social update library directly to your Instagram or Facebook account. This way, you may post dozens of highly relevant posts through the day without having to manually publish them each time. Automation also lets you to measure the performance of each of these posts and weed out content updates that do not perform.
3. Find relevant chats/groups to be active in
Surely, if you want to have more followers and fans, you need to constantly post some news, interesting inforgraphics, photos, videos and other such content related to your SaaS company. However simply posting stuff on your page is not enough to get visible, you need to find some places where people are interested in your services and be active there. Here is where twitter chats or linkedin groups shine: you can find the right group that is connected with your company's purposes and create an image of an expert in these places.
4. Engage with industry leaders
You are on social media networks not only for educating your followers, but also for being educated by others. To get some useful tips and techniques related to your SaaS company, you need to be engaged with industry leaders. Use social media platforms to talk, ask questions and engage with leaders in your industry. Moreover, when people see that you are friends with other credible authorities, their trust in your services will automatically increase.
5. Take advantage of Pinterest
You may think that Pinterest is only for those companies who have something to show, like fashion, food, sports, electronics or something like that. I was also thinking that way before, but it's not the case anymore. My opinion about using Pinterest for SaaS companies changed after I came across with Salesforce's Pinterest page.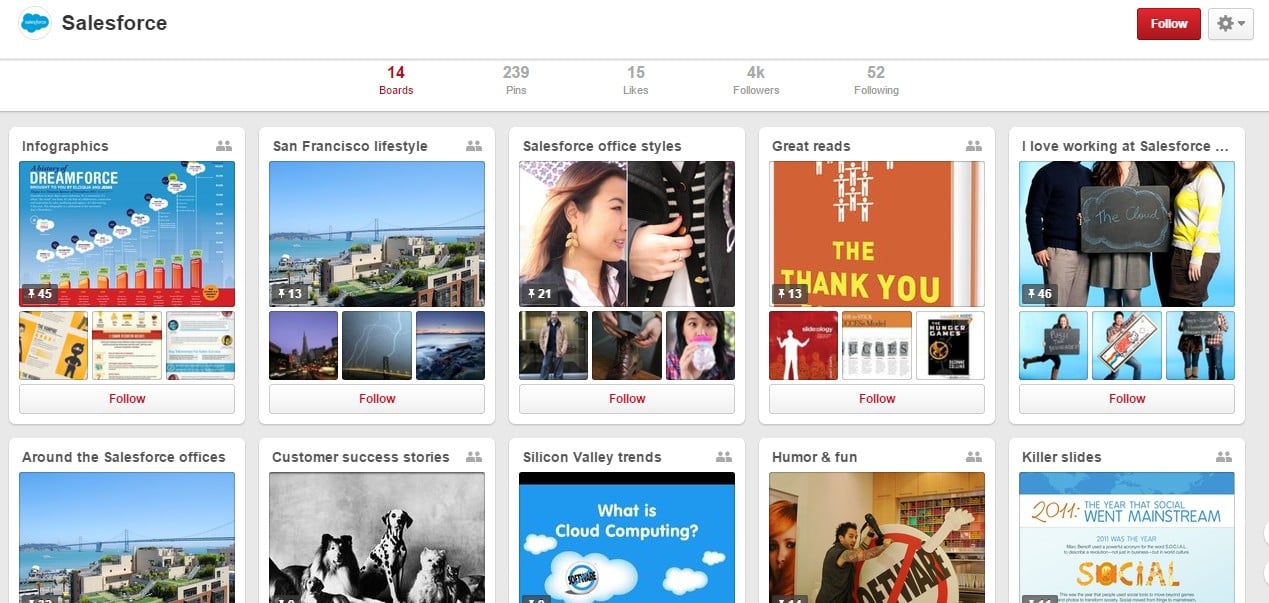 As a SaaS company, you can use Pinterest for sharing infographics, showing some latest trends in your industry, sharing success stories and as well as for promoting your blog posts like Salesforce does.
6. Use Instagram's direct messages
Some marketers wonder how they can use Instagram to grow their business besides posting photos and videos. With Instagram's direct message feature which was launched in 2013, marketers have more ways of promoting their SaaS company on this platform. You can send a private message with up to five photos to 15 people at once. You can use this feature to thank your followers, give them some unique discounts and offer other promotional materials. This is a great way to increase the conversion rates, because nowadays very few marketers use this tactic.
7. Attract people with your infographics
People love infographics because they explain information in a clear, concise and quick way. Here are some statistics about infographics that will make you use them more frequently:
Infographics are 30 times more likely to be read than simple texts
There were more than 67 000 Google monthly searches for word "infographic" in 2013
People remember 80% of what they see. They remember only 20% of what they read
These facts alone are enough for your SaaS company to start using infographics in your social media strategies. Be sure to include your business' watermark so your brand will get exposure as infographics are shared on the web.
8. Learn the right ways of using #hashtags
I am sure you came up with many companies using hashtags in every word in their Twitter, Facebook or Instagram communication. Sometimes they even dedicate a comment to include all of the hashtags regardless of whether they are relevant to the post or not. However, including many hashtags does not necessarily mean that it is a good strategy. To make your SaaS company's social media strategy effective, first of all educate yourself on the do's and don'ts of using hashtags. Here are some examples to guide you:
DO's:
Be specific on hashtags: When you make your hashtags specific, specific audiences start to follow you and, as a result, the interaction and engagement increases.
Cater hashtags to social network you use: Yes, all hashtags have a common purpose: tagging content and making its discovery easier. However, you should not use hashtags on Facebook the same way as on Instagram. For example, on Instagram, hashtags are focused on describing the photo and the tools used to make it, whereas on Facebook hashtags create a story.
Use relevant hashtags: Using many hashtags does not necessarily mean that you use them right. To get more interaction, try to use only those hashtags that are really relevant to your post.
Don'ts:
Don't make them too long or too clever: Your hashtags need to be simple, short and understandable. Don't make them too long, as it will be difficult for others to guess your hashtag. In addition, don't use abbreviations, as you want people to naturally search for your tag
Don't use more hashtags than words: If your post is "7 ways of using social media marketing correctly", don't try to use more than 8 hashtags for that post. Try to give readers idea about your post with words rather than with hashtags. Use hashtags just for making your post searchable.
9. Share content at best times
Of course, there is no single best time for posting on social media networks, but data analytics firm SumAll found the average optimal times to post on different networks: Google+: 9AM – 11AM Twitter: 1PM – 3PM Facebook: 1PM – 4PM Instagram: 5PM – 6M Tumblr: 7PM – 10PM Pinterest: 8PM – 11PM Though these hours are based on deep research, you cannot just use them with closed eyes. You need to make your own research to understand which times are best to post just for your audience.
10. Embrace mistakes
We are all humans and we all do mistakes. However, instead of ignoring them, you need to embrace them. It's not about small mistakes when you missed to place a comma in your tweet, but when you write something don't ever delete it. The post has already been published and your followers have seen it. It's better to accept your mistake with another post, then deleting it. As all SaaS companies are unique with their own purposes, own goals and strategies. Of course, these tips mentioned above will bring good results to your social media marketing strategy, but you need to go deeper and find out which strategies are good for your type of SaaS company and which are not.