Marketing During Coronavirus: 14 Ways SaaS Companies Reacted to the Pandemic
December 8, 2020 – Aida Grigoryan
Marketing During Coronavirus: 14 Ways SaaS Companies Reacted to the Pandemic
Almost all industries witness decline in revenue because of the coronavirus crisis. And SaaS companies aren't exceptions. But human nature and the will to move forward help companies even in the hardest times to come up with creative initiatives to spread the word about their companies. We interviewed tens of SaaS companies worldwide to understand what special campaigns they launched or how they tried to help people in general. And we introduce them below:
#1 Company: Uneeq, Digital Human Platform
UneeQ launched a free COVID-19 health advisor designed to educate and help prevent the spread of misinformation. Named Sophie, the digital human is available twenty-four hours a day, seven days a week to answer concerns about the COVID-19 in English, French, Spanish, Portuguese, and Dutch. After receiving a query, she scans databases from the WHO and CDC, and presents the information in conversational form to the user.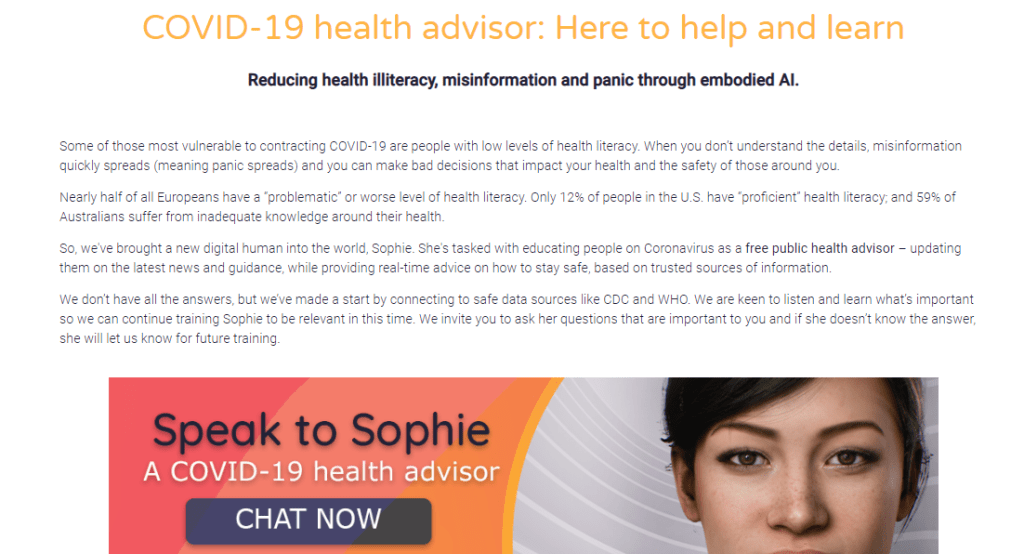 #2 Company: InternX, University Recruiting Platform
InternX created a constantly updating list of hiring companies who are still looking for new employees during the coronavirus. They also decided to shift their focus to providing virtual fairs. They're now working with universities to help them host virtual fairs or plan limited-attendee-size fairs with pre-set meetings for the fall, depending on the university preference.
#3 Company: WorkPuls, Employee Monitoring Software
Workpuls created an employer's guide to work from home to help out business owners and managers who needed to switch to remote work. They're also organizing free consultations for all those companies that need extra advice on how to manage a remote team. Their team has 15+ years of remote work experience, so anyone who asks for advice can be certain they'll get actionable tips.
#4 Company: Reach.at, Conversational Page Builder
  Reach.at made a chatbot using verified resources from who.int and cdc.gov that answers questions asked by online users. Parents and teachers were able to use the interactive page to raise awareness among kids and teens. The page uses quizzes to make them aware of the myths that are spreading on the internet and helps them fight fake news. It also teaches the best practises to follow to prevent the spread of COVID-19 through short videos.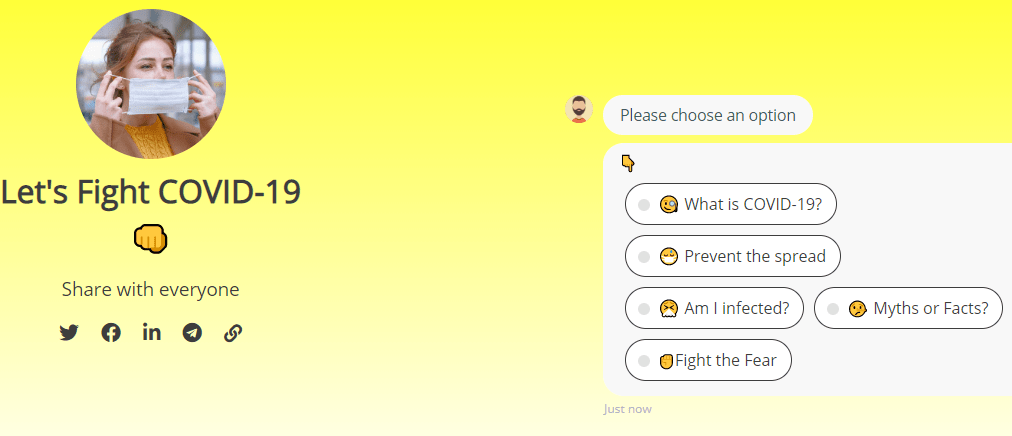 #5 Company: Fast Layne Solutions, EMR & Practice Management Solutions
Fast Layne Solutions started a Covid-19 relief charitable initiative: all new sales will see 5% of both initial and ongoing monthly fees and 5% of all 2020 corporate profits will be donated to Covid-19 relief charities. They also started offering a standalone telehealth application that is EMR/platform-agnostic so that doctors can get up and running on HIPAA-compliant telehealth within a day.
#6 Company: The Cut, Barbershop Booking Software
Stay at home orders mean barbers must stay home with no means to supplement income. In response, The Cut launched a gift card donation program for the barbers community. Clients can purchase gift cards from $10 to $100 for their favorite barbers. Funds will be mailed to the barber via a Visa card that can be used to buy groceries or pay bills.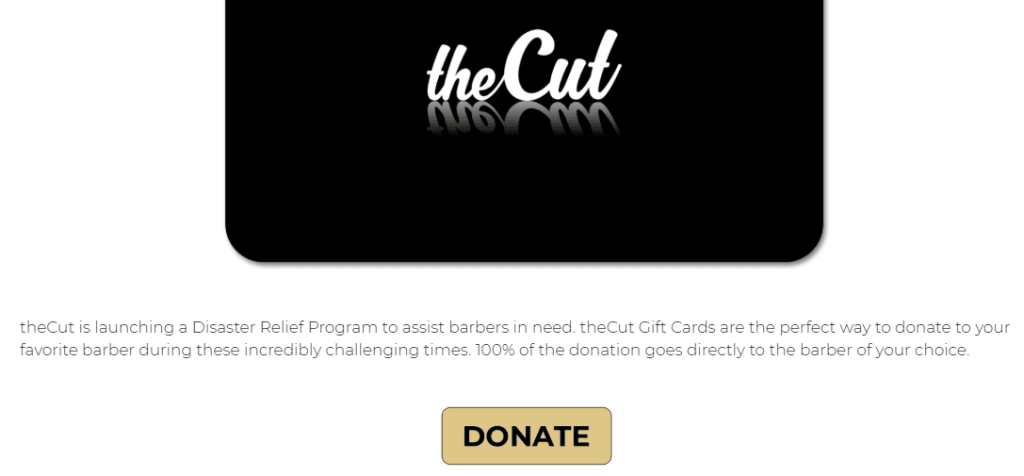 #7 Company: SurveySparrow, Online Survey Tools
SurveySparrow made a Self-Help Portal, free & publicly accessible with carefully curated form templates to help teams ride this crisis safely. The self-help portal comes fully equipped with free ready-to-use form templates and puts in the workflow to boost productivity even through quarantines. Here's what templates are available:
Request work from home form (let team members apply for WFH via this pre-designed template to keep the process easy)
Volunteer registration form (helps gather registrations, the contact information of volunteers to help the people in need)
Request immediate help form (lets the person in need seek & access immediate assistance with minimal effort)
Self-diagnosis bot (allows for self-tracking of your symptoms and helps you make better judgments)
Isolation assistance form (helps stay accessible and request backing of any kind)
Report travel history form (helps gather travel information, including travel dates & destinations)

#8 Company: Botbaba, Bot maker
  Botbaba initiated a social project to take grocery orders from senior citizens and get them delivered. They created an ordering chatbot for volunteers who are home delivering items in Surat, India. Users pay only for products and not any delivery costs.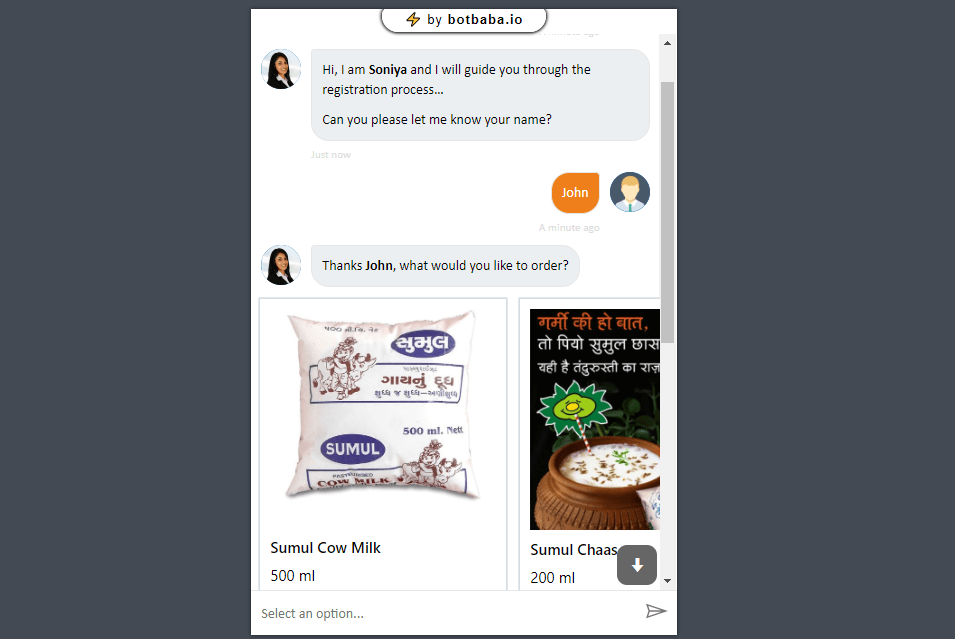 #9 Company: Storyblaster, Story-based Social Media Marketing Platform
Storyblaster is giving away free Small Business Relief Social Media Content Templates for companies in need during the pandemic that are seeking to raise funds to stay in business. The pandemic has caused thousands of small businesses to turn to crowdfunding campaigns to raise financing and get community support to continue operating. The fundraising templates can be quickly tied to company sites or their current crowdfunding campaigns on Indiegogo, Kickstarter, Gofundme, etc.
#10 Company: Axonify, Learning solution for Frontline Employees
Axonify launched a social media campaign which highlights "Frontline Heroes" and gives them a chance to win a gift card. They have featured Frontline Heroes like grocery store employees, healthcare providers, delivery drivers, pharmacists. They are randomly choosing 5 nominees per week and reward with a $50 gift card as a way to thank for their work.
#11 Company: Solodev, Content Management System
Solodev opened its code and created an entirely free service for frequently requested website design elements. Anyone can visit Covid Response Toolkit and install free tools such as Covid alert bars, Covid hero banners, and Covid alert modals.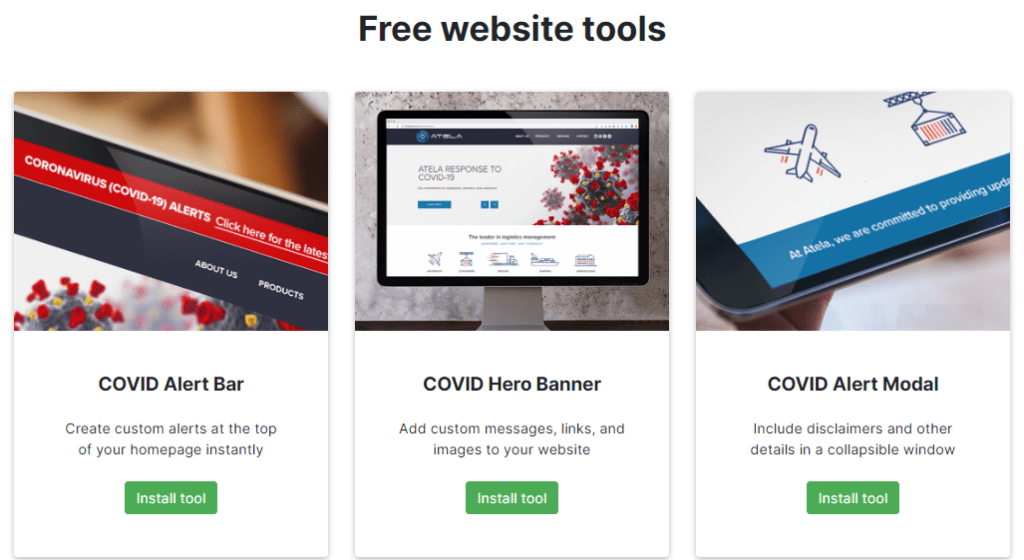 #12 Company: Shufti Pro, AI-based Identity Verification Solution
Shufti Pro launched a charity program Shuftify for Humanity under which they will provide 10 million free ID and face verification services to healthcare institutions and NGOs from all over the world. They will integrate the solutions into their websites, web portals, or apps and can verify volunteers, researchers, or hospital staff. Free face verification service will substitute for fingerprint scanners which are contagious, so they can practice security while fighting the pandemic.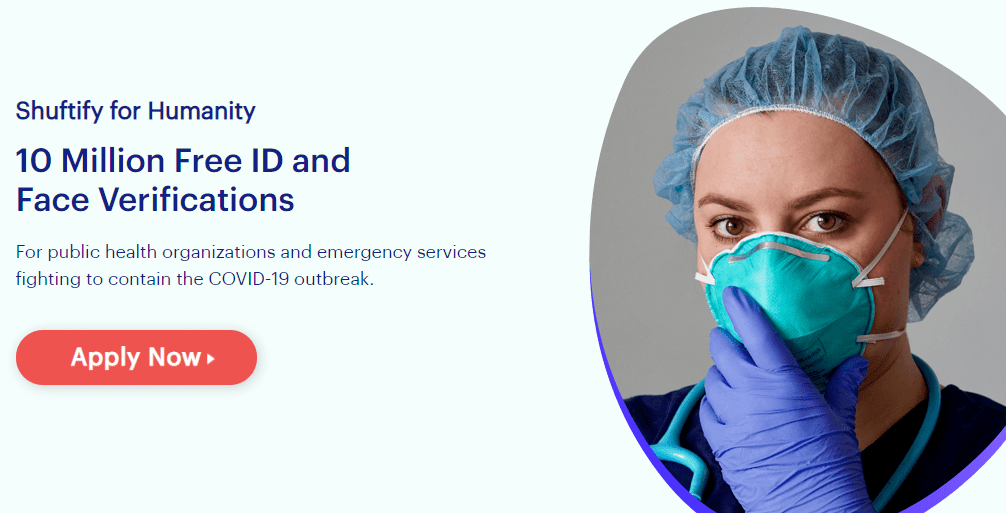 #13 Company: Smarten Spaces, AI and Iot-powered digital workplace solution
Smarten Spaces has specifically created a technology solution to keep employees engaged and safe, no matter where they work. Jumpree WorkSafe, is an all-in-one free app which is easily downloadable by employees, and has configurable features to address workplace needs. Here are the features:
Service Requests – Track requests by people working from home or office. Employees can now make real time requests when it comes to workplace supplies or any work-from-home support.
Bulletin Board – Strengthen communication with reliable information. This includes company updates, employee polls and company events.
FAQs – Centralized repository of queries for quicker resolutions.
Hotline – Quick access to Covid-19 crisis management team and other support teams.
Visitor Management – A contactless process with Health Declaration form
Real-time data – Digital log of data to ensure preparedness.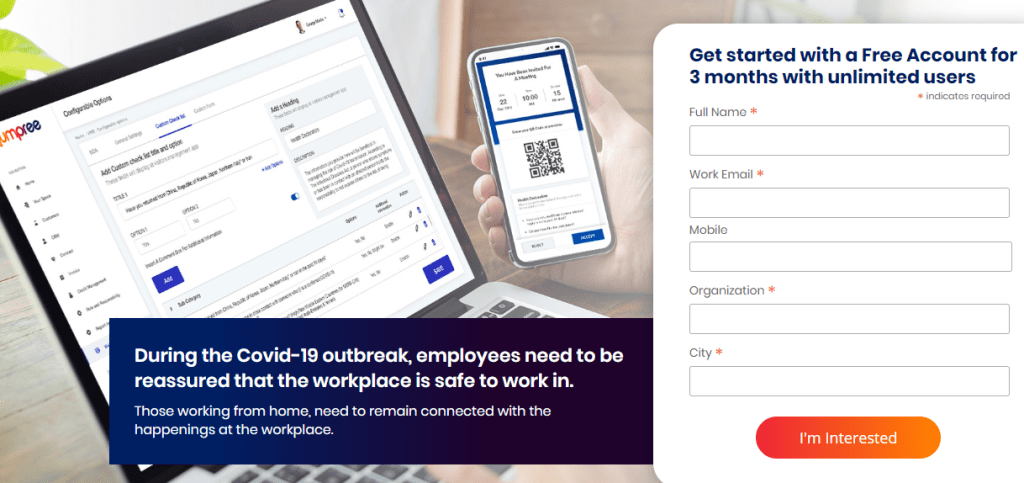 Jumpree WorkSafe will be made free for companies until 1 Aug 2020 in response to Covid19.
#14 Company: iAuditor, Inspection Software and Mobile Inspection App
iAuditor published Free Working From Home Checklists to help assess the safety of a home office, identify areas of improvement, and ensure employees' well-being while working remotely. The featured templates include
Work From Home Safety Checklist,
Working From Home Health and Safety Checklist,
Working From Home Checklist,
Home Healthcare Worker Safety Checklist,
Telecommuting Safety Checklist.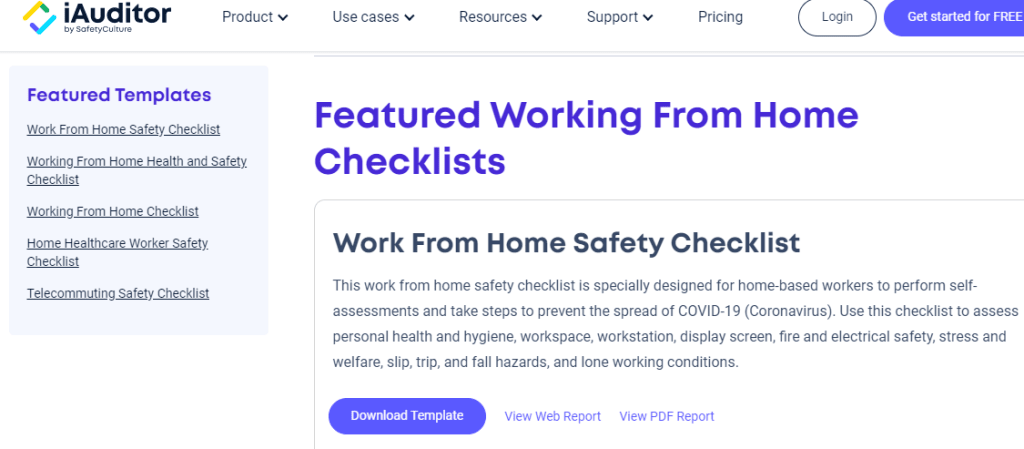 Final thoughts
Incredo recently published a guide for remote teams on how to organize their work effectively during coronavirus. You can check it out here. Did your SaaS company launch any special campaign to support its community or customers during coronavirus? Let us know and we may include your initiative in our post. Once more we urge everyone to follow self-isolation and hygiene rules, learn news only from trusted sources and stay safe!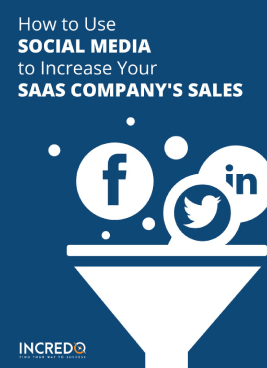 HOW TO USE SOCIAL MEDIA TO INCREASE YOUR SAAS COMPANY'S SALES DOWNLOAD YOUR E-BOOK