Marketing Goals Examples for B2B SaaS Marketing Teams
March 12, 2019 – Tatevik Stepanyan
Marketing Goals Examples for B2B SaaS Marketing Teams
Nowadays, successful marketing teams try to keep their position as the most effective ones in the marketplace by providing clients with epic experiences and remarkable results. At the core of any well-organized marketing team lies the mission of creating innovative and effective marketing and sales systems for customers leading to predictable and scalable growth.
>That's why to help your B2B SaaS marketing team stand out in a crowded marketplace and record good results, you should have a clear insight into your marketing goals. Setting realistic and results-driven goals that really work is essential for any B2B marketing team. However, before going in-depth to details, first of all, let's see what B2B marketing stands for?
What is B2B SaaS Marketing?
>As the name presumes by itself, Business To Business marketing is the marketing of services and goods to other businesses. In marketing, B2B purchase is often based on logic in contrast to B2C purchase which is rather based on emotion. It's explained in a way that B2B purchase involves more people, consequently more consideration and it also requires more decision-makers. In this regard, gaining the purchase decision of a B2B customer is harder compared to B2C client, where the decision can be made by an individual and spontaneously. Therefore, a B2B marketing team should back the growth of its company and prove their value by clear goals set up for success. Here we have separated several results-based goals aimed to take your B2B marketing to the next level.
Which Are the Most Real-Time B2B SaaS Marketing Goals?
1. Customer retention
>The essence of customer retention is keeping your customers interested as long as possible. It aims to reduce customer defections and make them stay and continue to buy. That's what differs the companies which grow continuously. Hence, you can achieve your marketing goals by keeping customers to buy as long as possible.
>When opting for the customer retention goal, let me remind you that you should always keep trying. This goal stands out from the rest with its feature of earning the customer's trust and loyalty first. As soon they notice that you don't care about them, they will stop returning. According to a Customer Experience Report, 68% of customers leave as they think you don't care about them.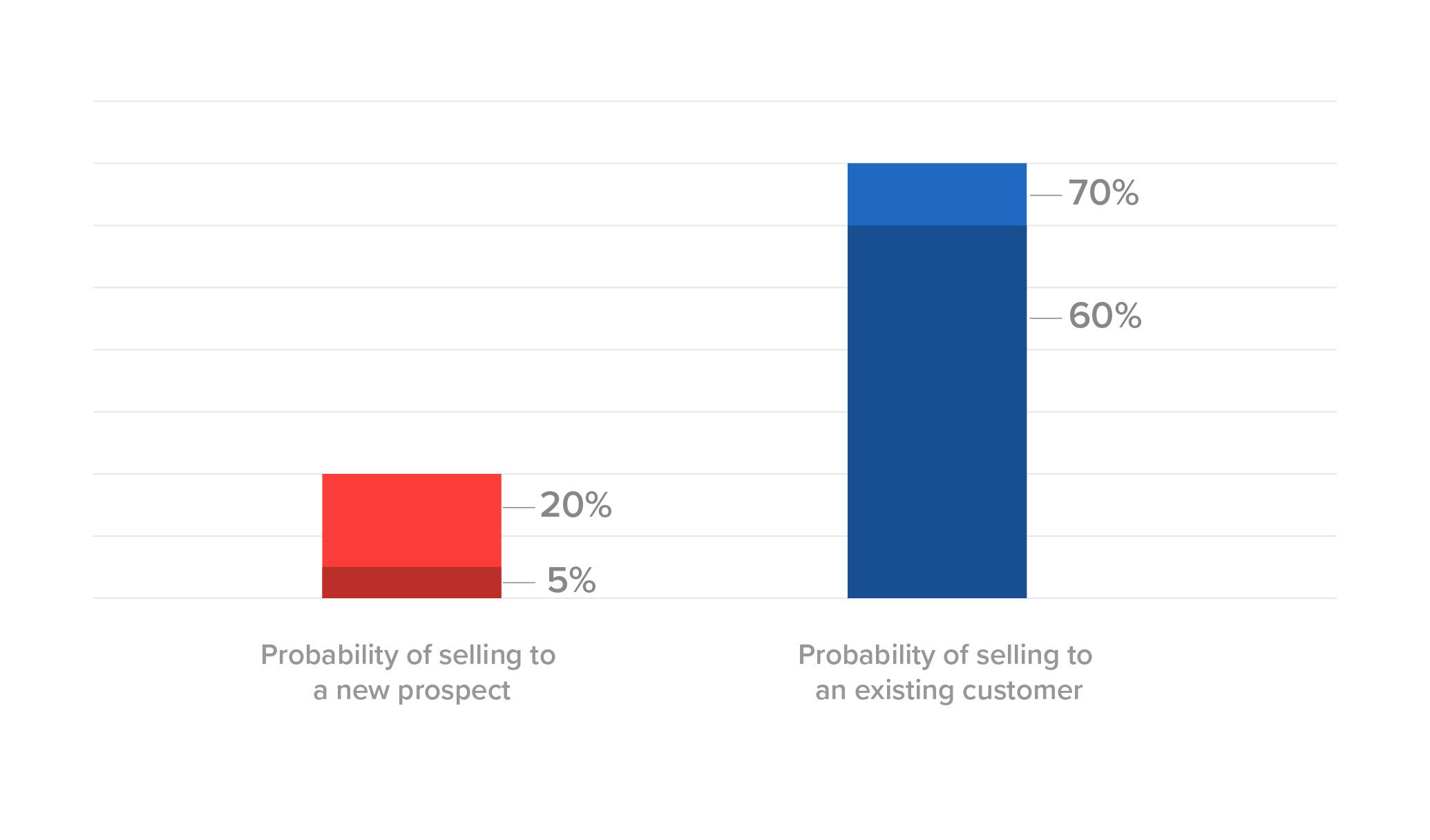 >Thus, having an effective retention program enables you to find, track and sell more to customers with a long-term perspective. According to Hubspot statistics, gaining a 5% growth in customer retention, you may provide 25-95% revenue to your company.
>Another goal that is of utmost importance for B2B marketing, is lead generation.
2. Lead generation
>Lead generation is the process of attracting and turning strangers into people interested in your service or product. Now let's see how it is done step by step. First, the website visitors click a CTA (an image or a line of text encouraging visitors to take some action). Then the visitors are directed to a landing page, where they meet the "offer" (ebook, template, course, etc). The offer should present some value by itself in order the visitors trusted their information for the sake of accessing it. When the visitors accept the offer by filling out the form, they become a lead.
>As soon as you are done with these steps, it's time to use different promotional channels for driving traffic and generating leads. As it's depicted in the chart below, as a form of channels may serve emails, social media, blogs, ads and many more.
>Since your website has already started generating leads, your next step will be moving them down the funnel. This process is done by the combination of content marketing, promotion, email marketing, phone calls, etc. Due to marketing automation, all this is done effectively and measurably.
>Marketing automation is implemented due to software created for automating marketing actions. It's beyond doubt that many marketing teams have to automate a huge pile of repetitive tasks related to social media, emails and other marketing activities. Therefore the technology of automated marketing is developed to make these tasks easier. Thanks to automation you will learn a lot about your leads as people and the way they interact with your business. It's recommended to create workflows for expired trials, premium content offers and other activities directing leads to purchase. Evolving automation in the lead nurturing strategy of your SaaS company, you will considerably increase the possibility of converting them to a paying client.
>With the use of marketing automation you can nurture your leads into SQLs (Sales Qualified Leads). As soon as you collect email addresses, you should start sending personalized emails using marketing automation software. It will help you to target customers with specific messages leading to conversion. Moreover, the sales team may convert the leads in the marketing funnel to SQL, too.
>Except for marketing automation, there are many more ways of lead generation. Some of them are inbound marketing and content promotion. The methodology of inbound marketing is based on attracting, converting, closing, and delighting. The ideal way of drawing individuals to your software is providing remarkable content.
>With the help of intriguing, informative and actionable content you will be able to address your prospects' main issues and pain points. Creating remarkable content isn't enough, you have to promote it to influencers and targeted more audience. Therefore, you had better create a content-promotion strategy to reach the desired audience. There are a lot of other ways of generating leads, and it's up to you which one is applicable to your B2B Marketing goals.
3. Upselling
>It's a marketing technique designed to inspire the clients to buy additional items or upgrades to make more profitable revenue. Up-selling can be easier with the use of particular marketing channels such as social media and community building if the customer feels trust and loyalty with your brand.
>According to B2B marketing metrics, it's easier to sell to an existing customer, than to a new prospect.
>Thus, putting the right upsell product before an existing customer at the right time is a crucial sales growth tactic. As soon as the users get engaged with a SaaS product, able to meet their needs regarding the necessary workload, they are more likely to buy anything offered additionally. They are more inclined to buy from a familiar brand that already enjoys their trust, then switching to a new project management platform. In contrast to other marketing goals, the upselling won't succeed if the clients are not emotionally linked to the brand.
>Overall, upselling is a lucrative technique that can bring 20-25% rise in revenue if packaged and presented properly. Hence, there are a few simple steps you should follow to succeed with this goal:
Create a short benefit statement about your product or service. It should be something catchy and informative describing the benefits of the product or the service, not the features, as it's done in the example below.
Think about the products your customer may need before suggesting anything. There should be a logical relation between the suggested products.
Pay attention to the prices of the up-selling items. The pricing level between each suggested product shouldn't exceed 20-25%. Otherwise, the chances are higher that your suggestion will be declined because of the bigger price difference.
Be sure you back up the customer's buying decision at the last stage of paying. It may be like "It has a really good value" or "This bundle is really a good choice", etc.
4. Conversion rates
>One of the most crucial B2B conversion benchmarks is undoubtedly its rates. They provide you a lot of data related to your visitors, viewers or leads. It's one of those essential metrics SaaS companies use to comprehend their place in the market. Blogs, PPC ads and other inbound marketing techniques influence the conversion rate of your website.
>To better understand this, let's pretend that your marketing goal is generating more leads. Consequently, you should consider the concrete marketing campaign you have used for collecting the data, which is PPC ads in this respect. Here is a real-time and vivid example of a PPC advertising campaign aimed to drive conversion.
>Actually, a good conversion rate differs conditioned with your industry, marketing channel and what you want to accomplish.
>Hence, according to Wordstream statistics, PPC campaigns have an average conversion rate of 2.35%. From the other hand, MarketingSherpa stats suggest that the average conversion rate of software industry is 7%.
>Taking into account the statistics by Wordstream, an average conversion rate by the PPC campaign is 2.35%. Consequently, in the chart above we have 4.26% which is a good conversion rate for the PPC campaign.
5. Improve brand awareness
>In spite of the fact that brand awareness is a measurable benchmark, you cannot provide month to month statistics about it, as you can do with generated leads.
>The following stats and research show what a significant role brand awareness plays for SaaS marketing:
>To make a prospect remember your brand, you need 5-7 brand impressions. Thus, awareness is about more than just recognition, it's about the extent your audience is willing to trust you. SaaS companies with higher awareness usually gain more audience, referral, and trust, since they have secured awareness (explained above). Therefore, B2B marketers should develop a systematic approach for improving their brand awareness and make it a goal for their marketing strategy.
6. Increase web traffic
>Some B2B marketers may argue that website traffic doesn't matter since sales teams are looking for leads now. From the other hand, without traffic, your website content won't reach to the target audience and won't achieve your other goals. Therefore, B2B content marketing should concentrate on producing mainly valuable content that will be helpful or at least entertaining for the audience. By focusing on it, you may provide good distribution and your traffic will boost automatically.
>It doesn't matter whether you use pay-per-click, email or social for driving traffic, quality content is the cornerstone of an advanced website succeeded in marketing. Let's see the example below and understand how web traffic from PPC can change the traffic map of your website.
>In this chart, the website traffic is considerably high (21000 users) per month providing a 3.52% conversion rate. Considering AdWords' stats about the average conversion rate in all industries being 3.75% in 2018 and 0.77% for display advertising, it becomes obvious that the traffic depicted in the chart above is good enough. Here is another example of display advertising, providing a 0.60% conversion rate, which is again quite high if compared to AdWords's stats of 2018 (0.77% on average as of 2018).
7. Increase Google Rankings
>According to an Ahrefs study, the top 10 pages ranked by Google, are at least 2 years old. Also, the average age of pages ranking the first was 3 years.
>Thus, it becomes evident, that ranking higher on Google requires a lot of effort and time. Subsequently, if you want to have increased conversion and sales by ranking your page on Google, you should follow the steps below:
Provide a good website structure: A poor website structure that causes inconvenience for users while navigating and Google to crawl will make your rankings suffer.
Improve your website performance: You should check whether your products or services are easy to find, or the users have to scroll endlessly to find them.
Make it mobile-friendly: In this digital era having a mobile-friendly website is a must. With so many mobile users out there, you shouldn't miss the chance of driving mobile traffic to your website.
Work with links: By fixing broken links, exacting match anchor text, turning site mentions into links you will polish up your website.
>With all these priorities on the mind, you can raise your Google ranking sooner than expected.
Core takeaways for B2B SaaS Marketing Team
>Summing up these essential goals for B2B marketers from our exploration, we have some key points to keep in mind:
Due to an effective customer retention program enables you to find, track and sell more to customers with a long-term perspective
By attracting strangers and nurturing them to leads you will drive more traffic and increase the conversion rate of your website
Upselling is an important technique since customers feel loyalty and trust towards the brand and selling them anything additional is easy
Using PPC advertising campaign will drive more traffic and conversion to your website
With the use of marketing automation you can nurture your leads into SQL (Sales Qualified Leads) more effectively
B2B content marketing should focus on producing valuable content to bring an increase in traffic.