Successful business owners know that one of their greatest learning sources is customer feedback and customer challenges which either bring them more opportunities either create a snowball effect with lots of new problems. Weather you are B2B, B2C or H2H, admit it, the process of winning new business and retaining existing customers is getting harder and harder. Offering an amazing experience that keeps your customers coming back and referring their friends to you is the best way you can stand out from the competition.
While I assume you already recognize the importance of customer feedback because you are here, we will proceed with 5 Facebook tips on getting customer feedback from Facebook without any further ado! As inbound marketers our ultimate goal on Facebook is of course to generate leads that become customers,but we have also immediate engagement goals for each post and activity, and those goals vary. Sometimes we really want to encourage comments because all we want is feedback.
When it comes to getting feedback and finding out what's wrong with your product here are 5 ways you can do it with Facebook:
1. Get Satisfaction Facebook Integration
Get Satisfaction is one of popular customer feedback management tools out there. One of the advantages of GetSatisfaction is that you won't have to teach your product users about your internal feedback system and it's UX, since they may have thisinterface already used multiple times for other products. Get Satisfaction's customer engagement community integration in Facebook creates a community space within your product/company's Facebook page. And the best thing about GetSatisfaction's Facebook integration is that all topics created or discovered here are the same as those accessible through the web app, a mobile device or the Get Satisfaction Engage architecture.
Below is an example of how Livescribe – global leader in smartpens is using Get Satisfaction on Facebook get feedback and improvement suggestions on Facebook!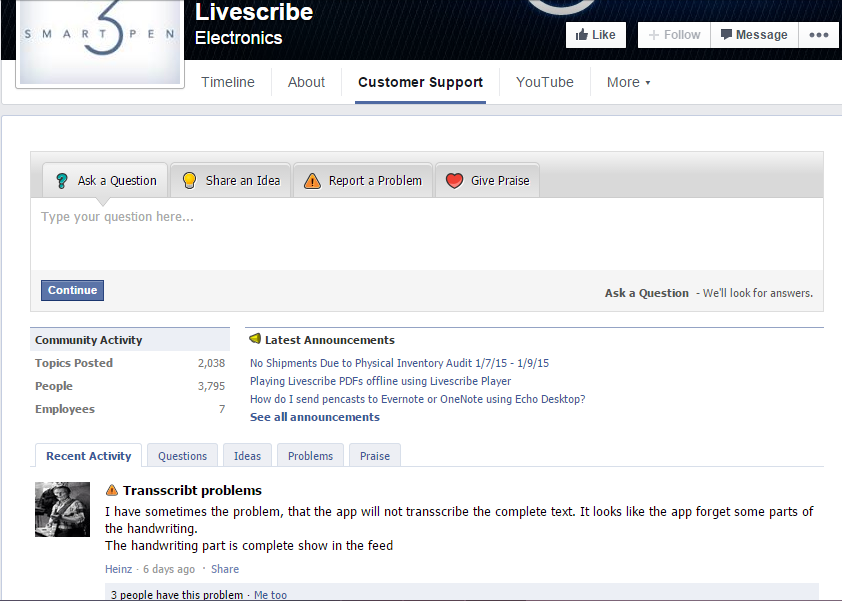 2. Integrating UserVoice
UserVoice is another customer feedback tool (alternative to GS) you can integrate with your Facebook company page to listen and respond to your customer feedbacks. While GetSatisfaction is more used as a customer community system, UserVoice is positioning itself being as being more customer support system – though both are great when it comes to listening to your customers and managing the feedbacks in one single system.
3. Make sure you allow ratings and reviews (for local businesses)
If you are a local business and you are not using Facebook's ratings and reviews you should change it now! While we have dozens of tools like UserVoice and Get Satisfaction that you can integrate with your Facebook page there is no better customer feedback solution for you than Facebook's native review tab if you are a small business. One single reason why you should do it is that your star ratings appear alongside your business name when users perform a local business search on Facebook, and it becomes another ranking factor for you to be on higher positions on Facebook searches. Another advantage of Facebook's review app is that users' rating and comment activities appear on their timeline and it can bring the attention of more potential customers for you for free!
To let people post ratings and reviews on your page, you'll need to choose Local Businesses for your Page's category and add your business address to your page
4. Instant Searches With Icerocket

When it comes to instantly searching specific terms and brand names on Facebook, IcerRocket is the tool you will need. The best thing about IcerRocket is that it doesn't require an account and is easy to use. All you need is to just type your term(s) in the search box and choose the channel you want to search: blogs, Twitter, Facebook or search all.
With the help of IcerRocket and similar online reputation management tools you can easily find more user feedbacks and make your further actions to make better experiences for them.
5. Ask directly on your news feed
Tools like Get Satisfaction, UserVoice and IcerRocket are great but to increase your engagements with customers while getting their valuable feedback most of the times you have to ask for feedback directly! Below is an example from Velveeta which is using facebook news feed for consumer insight! The poll results later helped Velveeta solidify its decision on the new flavor packaging. Their fanbase was very responsive to the post, demonstrating a very high feedback rate compared to other posts.
Do you have other methods do you use to get customer feedback?
Here is another article you may be interested in:
Monitoring Your Online Reputation – Who Do you Think You Are?
If you are interested in attracting more customers on Facebook click below to download our latest ebook!