Why you should never EVER promote your SAAS company with Inbound Marketing [2021 GUIDE]
August 8, 2020 – Pavel Aramyan
Why you should never EVER promote your SAAS company with Inbound Marketing [2021 GUIDE]
If you are serious about growing your SaaS business, I mean really serious, you should stay miles away from inbound marketing methodology. I'll tell you why.
Inbound is an online marketing technique that helps generate website traffic, leads and customers, with minimal (or in an ideal case, without any) intervention into users' experience when browsing the web. That's just plain boring, right?
Ever since the internet became mainstream (meaning that all people started using it pretty much every day, for pretty much anything they do: communication, research, purchases, etc.), buyers got smarter. In fact, it has been proven that an average buyer is 60% through his or her buyer's journey, before even talking to a sales rep. Moreover, 93% of purchases start with a Google search. Inbound tells us to utilize these facts and offer value to readers instead of cold calling and push tactics. Sounds like a dumb idea to me. TLDR: Inbound offers more visitors, cheaper cost per lead acquisition and helps prolong customer life-time value. Who in their right mind would even consider those benefits though?
Want more marketing efficiency with much lower costs? Look elsewhere
Anybody with the corresponding knowledge can start utilizing inbound marketing (or at least some aspects of it) in their marketing strategy. Who cares though? Why would you want to start providing value to your potential clients, building up your online reputation or attracting visitors with high quality content? Just look at this graph, isn't it the worst thing you have ever seen?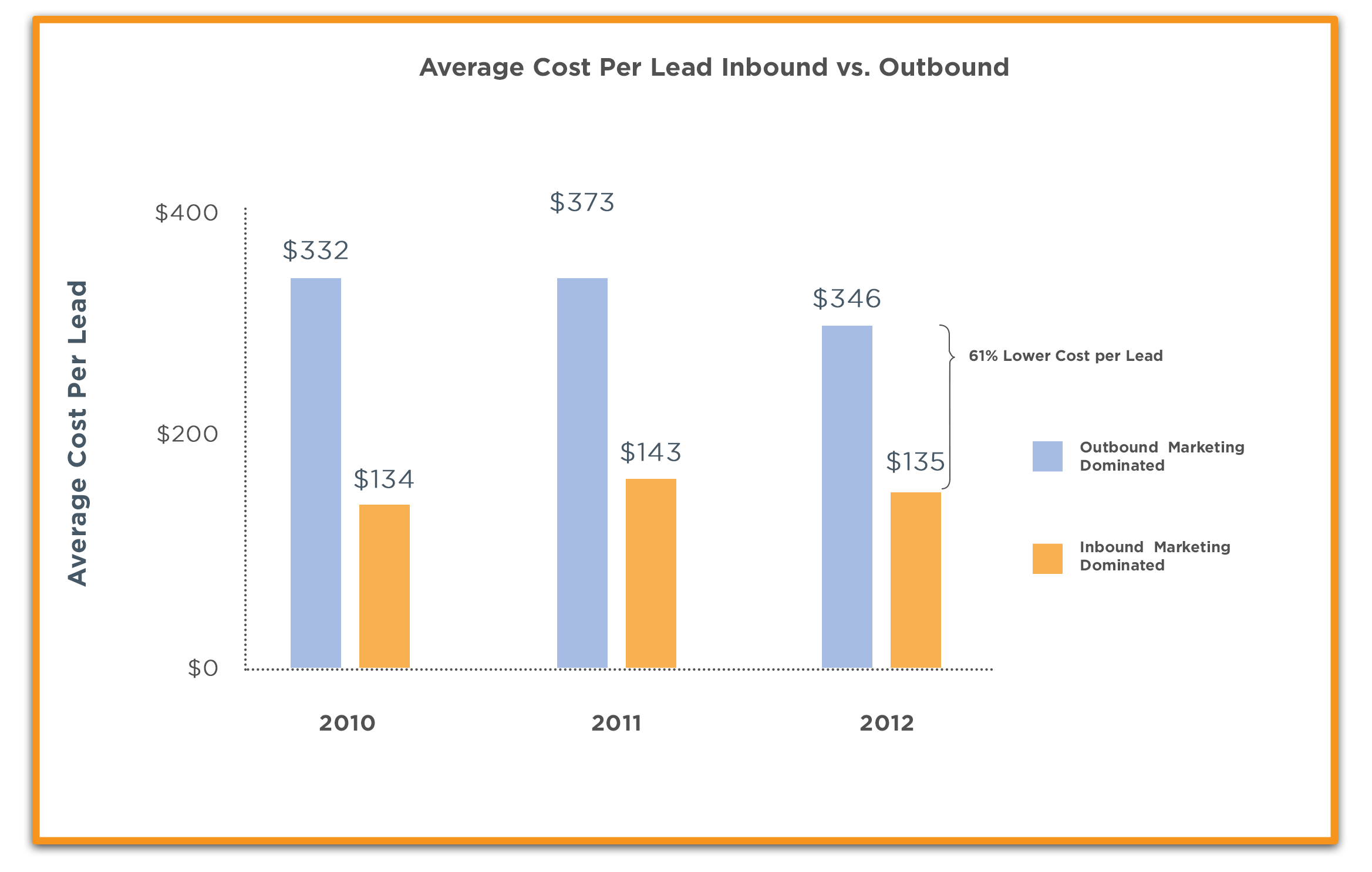 Inbound traffic will be more relevant to your business, inbound leads cost only 61% less per lead, convert at a significantly higher rate (up to 12%, which is obviously too low when you look at the average conversion rates of 1-3%) and can be closed into lifelong customers who will continuously ramp up your revenue, year after year. Trust me, no SaaS business needs this. At all. Let's look at some more statistics to see why exactly inbound is so bad:
Inbound marketing techniques generate merely 54% more leads than traditional, outbound marketing – pff, give me a break here, that's useless.
An average company saves around $20k annually with the help of inbound marketing compared to outbound – $20k? You won't even be able to buy a cup of coffee with that. Not worth it.
According to HubSpot, companies who utilize inbound save $14 for every new customer acquired – No big deal. Really.
You know blogging? Those flimsy articles (like this one) that you read around the web? Blogging is one of the cornerstones of inbound marketing campaigns. Well, companies that blog once or twice a month generate around 70% more leads than those who don't. Plain stupid.
Look at this one. A mere 80% of C-suite executives prefer to learn about companies via a series of blog posts vs ads – That's basically 8 out of every 10 potential customer if you are a B2B focused SaaS company. Nothing to see here I guess.
Thinking about how to replace cold calls? Inbound can't help you there
Don't you just love cold calling? You pick up the phone and start calling random potential customers who might be interested in your services, but are sick and tired of such sell outs? People love that. Salespeople are always so nice during cold calls: they refuse to take no for an answer, they don't really know much about the customer and can't personalize their message, they use manipulative tactics to get to the decision makers, the call is usually an unwelcomed interruption for people, etc. Actually:
Well, closing just a fraction of leads and basically getting blacklisted by the rest sounds a pretty solid strategy. What inbound can do is simply eliminate cold calling altogether, by making it easy for customers to find you in the first place and basically request a call with one of your sales reps on their own. Taking into consideration that different customers are at different stages of their buyer's journey, inbound methodology suggests to create relevant content for ALL of three stages (awareness, consideration, decision) so that people can move from one stage to the other smoothly, and become a loyal customer in the end. Who needs any of this anyway?
Want to grow your website? Don't even consider inbound
The core idea of inbound relies on making it easy for potential customers to find your website themselves, without trying to sell anything to them prior to their request. In the world of today, when buyers have all the knowledge and power in the world in terms of gathering information, referrals and social media reviews about ANY company, I don't see how that can even help any business, let alone a SaaS company. Creating and distributing relevant and valuable content to your audience helps improve your search engine ranks and drive more traffic to your website. More relevant traffic technically means more high quality leads, which will be easier to close for sales teams and will continuously generate ROI. Did you know that only 78% of customers believe that if you create custom content, then you probably want to build good, long lasting relationships? This does by no means point to creating personalized, relevant content for your audience though. Content marketing, which is one of the fundamental pillars of inbound, costs 62% less than traditional marketing and helps generate 3 times more leads. Talk about growing your business: 3 times more leads for 62% less is the worst possible deal, right?
You want more leads, don't you? Inbound should be at the bottom of your list then
We have already discussed how ineffective inbound can be when trying to generate leads for your SaaS business. However, there is something else you may need to know. Ever heard about evergreen content? It's the dumbest thing ever. It's a piece of valuable information that basically never gets old and can be used as a lead generation tool for years. Evergreen content is usually formed around a topic that will always be relevant to your industry (every industry has a few such topics) and provides constant value to any person reading it. The only thing you might need to do is update the content from time to time to keep it fresh and updated for your audience. TLDR: Evergreen content is something that you invest in once and generate leads with forever. Worthless piece of information, I know. A huge part of inbound lead generation is also reliant on social media marketing, which involves sharing useful information with your audience, engaging with them, building relationships, establishing yourself as a thought leader, answering questions, showing the right way to do things, etc. Here are some more useless facts:
Around 75% of buyers use social media to back up their buying decisions.
Social media has about 100% more lead-to-customer close rate compared to outbound.
62% of companies say that social media is an important source of leads.
There is also lead nurturing – another useless inbound tactic that involves using email campaigns to nurture leads further down the sales funnel and eventually turn them into customers. Email nurturing is the most popular lead generation strategy, which surprisingly generates no results whatsoever. Nurturing is useless because around 96% website visitors are not ready to buy. Who cares about 96%? You can always hunt down the other 4%, no?
Inbound leads convert into more loyal customers? Bullshit
Inbound marketing is focused on gathering data about each potential customer so that you can create personalized marketing and sales messages that will make customers fall in love with your company and see that you really care about them. Why use data if you can just do some guesswork though? Data is just a waste of time, forget it. Due to the nature of the SaaS business model, the longer you can retain an acquired customer, the more profitable your business will be after each passing year. Inbound marketing techniques allow you to gather as much data as you can about old and new customers and create special loyalty programs that will address your customers' needs on an individual level, thus increasing retention and loyalty. Again, useless and dumb. On top of that, customers who love your business are much more likely to refer your services to a friend or colleague, and 74% of consumers regard word-of-mouth and referrals as key to making purchase decisions. In short, inbound helps generate loyal customers and increase customer LTV, while also motivate those happy customers to bring more users to you via word-of-mouth, for free. Yeah, I would pass on this if I were you.
Want to out-market your competition? Try something else
Inbound marketing is one of the worst tactics to outsmart your competition. Think about it, what does it offer besides high quality content (which is what every buyer is after these days), more sales qualified leads (more closed accounts in less time) and customers with a high LTV (more profits and ROI)? Inbound obviously doesn't have the tools SaaS businesses need to grow. Don't believe posts from leading SaaS companies like HootSuite, nor even HubSpot. You know Kissmetrics? It's a SaaS marketing analytics tool that heavily invests in content marketing. Their blogs constantly get shared across social media, generate a ton of engagement in the form of comments and provide real value to consumers. All of this has earned them nothing more than appearing at the tops of nearly every search query that they have written content around. I bet they are close to being bankrupt since that doesn't mean anything at all.
Looking for better marketing results? Inbound marketing isn't what you need. At all.
Inbound marketing is the worst way to generate more website visitors, more qualified leads for less cost and acquire loyal customers with a lifelong customer LTV. No SaaS company that is looking to grow their business should ever consider this marketing technique. Ever. There is this last, puny fact that only 50% of marketers in the world claim that inbound marketing is their primary lead generation strategy, which is merely double that of outbound. These guys certainly don't know what they are saying. Don't listen to them. Actually, stop wasting your time with inbound and close your browser.