Inbound marketing is a term created by the founder of HubSpot. According to this concept, companies can attract clients by providing interesting and high quality content on their websites. If the content is educational, valuable and engages directly with your target audience, then it builds awareness, trust and increases leads.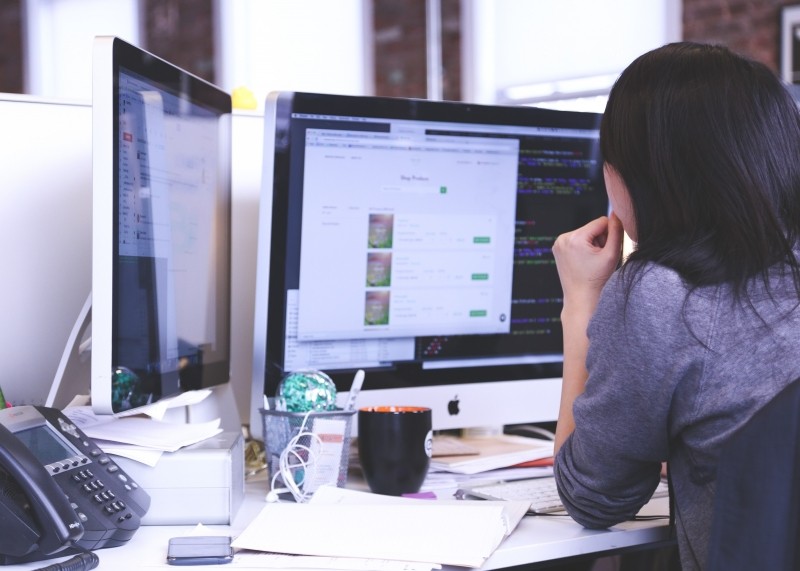 Once visitors become leads, you take them through the sales funnel. After they become your customers, you can analyze the process in order to produce more desirable content and show your expertise.
There are several reasons why inbound marketing is so important for SaaS companies:
It is affordable: Inbound marketing requires that you understand what your customers want, what are their challenges and what you should provide in order to bring them value. If you know their needs, preferences and psychology, it means that your time is efficiently invested in developing a content strategy. You can produce as much content as you want depending on your marketing budget.
There are leads generated: The more frequently you produce content, the more people will visit your website, and when they do, you should be ready to convert them into leads with CTAs and landing pages.
It's long lasting: The main goal of inbound marketing is to create connections with customers. It means that it's not just a one time relation, but it's something that will last for a long time if you create trust and credibility. Let's consider the most popular tools of inbound marketing: blogging and SEO. When you consistently blog about valuable content and implement great SEO practices, what is the result? At the beginning, you won't reach too many customers, as SEO is a process that needs time to shine, but after you rank for some keywords comfortably, your rankings will stay there for a long time(assuming that you maintain consistency).
How to grow a SaaS company with inbound marketing
Inbound marketing can be a great strategy for SaaS companies if implemented in the right way. Here is how you can grow your SaaS company by using powerful inbound marketing strategies:
1. Increase website traffic
The first step in growing a SaaS with inbound marketing is attracting the right traffic to your website. For this reason, you must create buyer personas for your inbound marketing strategy. This means you need to make research and understand who are those people who are potential users of service, what are their problems and challenges.
Challenges are what your target personas type in Google every day in order to find answers. You need to clearly understand them, in order to create the right content just for them.
By creating content and optimising it for search engines, your content is going to show up as an answer for their problems. However, as you post on your blog, it's not enough to wait for the search engines to index it, as you have to promote it as well.
This means that you need to share that content on your social media networks like Facebook, Twitter or work with other experts in your market to co-author content creation by running shared webinars, blog posts and so on.
2. Generate qualified leads
As you start driving traffic to your website, it's the right time to think about the ways to convert these visitors into qualified leads. The best way for generating leads is to produce premium content that your buyer personas will be interested in to download in exchange for their contact information.
For instance, if your SaaS company produces software for sales teams, you can write an eBook called "5 ways to get productive sales team", and everyone who downloads will be information qualified. This will indicate that they are interested in building productive sales team and they may want to buy your software as well.
Make sure that you promote such eBooks on your website and at the bottom of the blog posts with CTAs. Once you have a strategy of generating leads, it's time to move on to the next step in the process: nurturing leads.
3. Nurture leads until they are marketing qualified
The next step is all about nurturing leads until they are marketing qualified. There are usually two criteria that marketing qualified leads meet:
they have indicated that they are interested in your software, for example by downloading a case study, looking at price options for several times and so on.
they have provided information which allows your company to identify them as potential customer.
To turn leads into marketing qualified leads, you need to continuously provide them with valuable content via email. Going back to the previous example, if someone downloads your eBook "5 ways to get productive sales team", later you might send them a case study telling about a customer who improved productiveness of their sales team by using your software.
If the lead downloads that case study and meets 2 criteria mentioned above, then he or she should be marketing qualified.
4. Convert them with free trials
Once a lead is labelled as marketing qualified, now you should focus on providing them as much information as they need in order to be sure that your software is a good solution to their problems. You can offer them free trials/demos to help them make their final decision and convert in customers.
Whether you offer them free trials or demos depends on the difficulty of your software. If you sell an enterprise software, then demo is more useful than trial. However, if you sell software which is easy-to-use and can offer value in short time(14-30 day), than trial is a better option for you.
The best way of offering trial/demo at this point is to promote them consistently in your website, at the bottom of blog posts, sidebars and in emails sent.
5. Close leads as paying customers
The final goal of your inbound marketing strategy is to generate new paying customers. This is the point where you should include your sales team in the process as well. Even if you sell relatively low priced software, the human interaction is crucial at the ending stage of inbound marketing strategy.
These are the main 5 steps that help SaaS companies implement inbound marketing strategies.
If you are still unsure whether to use inbound marketing or outbound marketing in your company, here is how and why SaaS marketing is much more effective when going inbound vs. outbound with respect to each stage of buyer's journey: Awareness, Consideration, Decision-making.
Awareness stage
In your marketing strategies, one of the most important things to implement is attracting visitors to your website.
Inbound: When implementing inbound marketing, you can attract visitors to your website by blogging strategy integrated with target keywords(SEO). If your website is optimizes with target keywords, both long and short tail, then you will show up in organic search engines like Google, Yahoo etc.
Your blog posts, website pages and social media posts are the main ways you are going to be present in search engines. Though this method takes more time to work, but after some time you will start noticing traffic that comes only from organic sources, like inbound links and social media.
Outbound: With outbound marketing, the popular way to attract visitors to your website is by pay-per-click(PPC) and paid ad campaigns on social media. On social media, instead of connecting with your followers, you will spend more time promoting your company's ads.In addition, instead of having natural followers, you will pay money for getting more likes.
Though these paid methods generate traffic in a short time, but disappear as soon as you turn off the ad.
Consideration stage
Not everyone who visits your website is going to buy your services immediately. In reality, most of them would get to know your company and its service, before making a purchase decision. This is what we call nurturing process: converting visitors into leads by providing them with valuable information.
Inbound: In this case, we get contact information of visitors in exchange for providing valuable content for them. For example, you can blog with target keywords which will be of interest for your buyer personas, offer content by posting on social media networks and so on.
When people fill out the form with their contact information, it means that they become leads who are interested in your offer. However, just because the sales process in not over yet, you should continue developing the relationship.
Outbound: When you implement outbound marketing, instead of getting natural leads, you just purchase contact lists, including emails, phone numbers, social media profiles and so on. In this case, the outcome is also immediate, which means that you can start calling your prospects right on the first day of purchasing the list.
But what about the quality of these leads and the level of their interest? This is a question you can never be sure, when you purchase already available contact lists. This is another point where inbound wins outbound.
Decision stage
The last phase in buyer journey is decision-making, where your leads become either customers or lost deals.
Inbound: One of the great benefits of inbound marketing is that you are close to your prospects during the whole buyer journey. First, you use blog posts to attract them, then you nurture the relationship by providing them with more valuable content, such as case studies, eBooks and so on. In the decision-making stage, it's the right time to implement contextual marketing.
For example suppose that the lead downloaded two types of content, such as an eBook and a case study, but still hasn't requested a meeting. So, this is the right time for you to make a call, because sometimes they just need a little extra nudge.
But what happens if they downloaded only one type of content and ignored your phone calls and emails? This means, that you should take your foot off the gas, and connect with them later.
Outbound: Just because contact lists here are purchased, you cannot be sure whether the leads you are calling are actually visible or not. In this case, your company has only 10 seconds to offer its value proposition by calling before being hung up on.
Or, instead of being hung up on, you can be marked as "spam" when you send them emails. So, this is probably the biggest risk of outbound marketing: connecting, reaching those people who are not interested in your software.
Now, when there are so many aspects where inbound outperforms outbound for SaaS companies, we can clearly state that SaaS and Inbound are best buds ever!