What Makes Hubspot an Effective Marketing Tool for Early Stage SAAS Companies?
March 22, 2017 – Artash Arakelyan
What Makes Hubspot an Effective Marketing Tool for Early Stage SAAS Companies?
According to Gartner, the market for SaaS applications are projected to grow by 16.5 percent in2016, forming a total of $204 billion, up from $175 billion in 2015. Research director at Gartner Sid Nag said.
"The market for SaaS is continuing to demonstrate high rates of growth across all markets and Gartner expects this to continue through 2017,"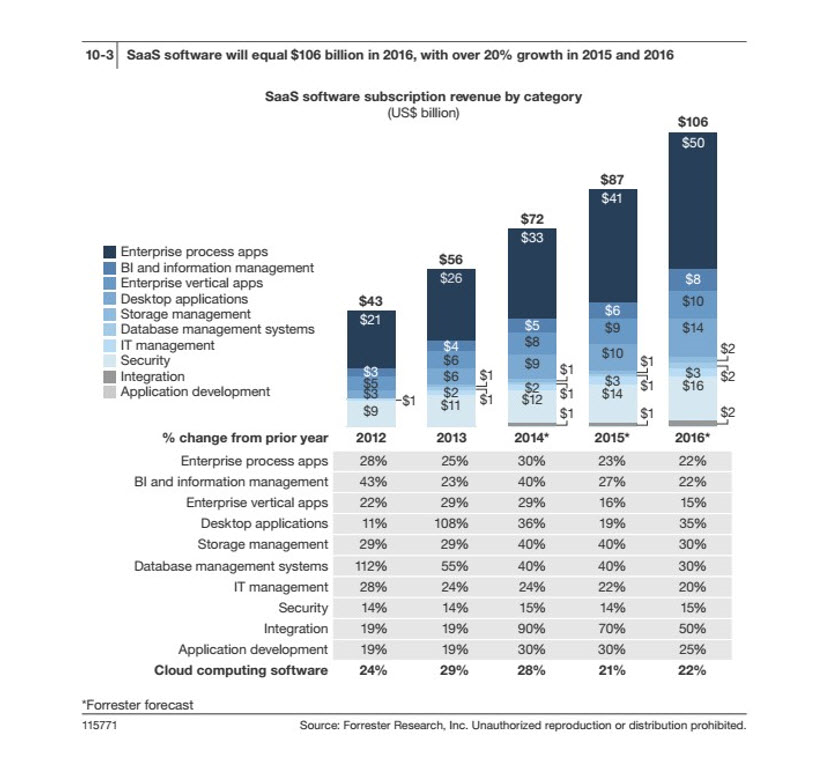 Source This, of course, is good news for SaaS companies, but at the same time, the marketplace is getting crowded and competitive as well. What can their founders do to enhance the chances of success and ensure that their companies will get to the top of the market?
Early Stage SaaS Companies' Challenge
Assuming that the SaaS company has developed a great product that solves customers' problems, it still has to capture the market fast and grow its monthly recurring revenue quick enough to refund customer acquisition cost before the funding runs out. To establish solid and consistent growth,SaaS startups should be able to:
Attract new customers quickly and cost effectively
Increase conversion (sign ups/demos)
Retain customers over the long period of time
Upsell customers to increase customer lifetime value (LTV)
The good news is that inbound marketing addresses all of these challenges and does not require huge upfront investments like advertising, sponsorships, trade shows and other outbound strategies, all of which have pretty high customer acquisition cost (CAC). An increasing number of early stage SaaS companies leverage inbound marketing strategies to edge out the competition and grow their business.
Inbound Marketing for SaaS Companies
Inbound marketing's strength is a combination of three core concepts:
Marketing philosophy based on the understanding of how prospects search for products and services, make purchases and live their lives.
Marketing strategy that focuses on target audience, buyer personas, buyer's journey, lead generation and nurturing processes.
Marketing tactics that work in tandem with the marketing strategy. These are marketing functions like search engine optimization, content marketing, social media marketing, email marketing, etc.
Inbound marketing works perfectly for SaaS companies. It shortens the sales cycle and increases conversions by reaching out to the target audience via genuinely valuable content, warming them up, and gently pushing them towards making a buying decision. To get all the components of inbound marketing work in harmony, SaaS companies need a marketing automation tool. HubSpot is one of the best all-in-one marketing automation platforms as it helps get customers through all stages of the SaaS marketing funnel. Let us examine why HubSpot is an effective marketing tool for early stage SaaS startups.
Lead Generation
Customer acquisition is the #1 challenge for SaaS startups, with lead generation at the top. HubSpot helps to convert visitors into valuable inbound leads for your business, and this is how this process is organized. A website visitor clicks on a call-to-action (CTA) located on a website page or a blog post, goes to a landing page with a form used to capture the visitor's information, fills out the form, and becomes a lead.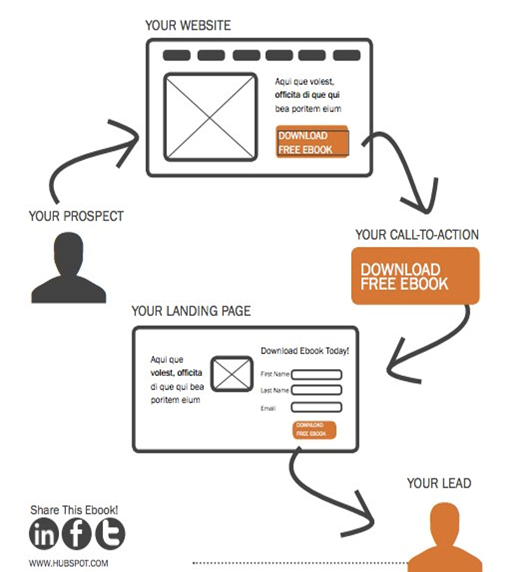 Source According to a HubSpot survey, companies with 30+ landing pages generated 7X more leads than companies with 1 to 5 landing pages.
Source HubSpot provides an opportunity to create a number of landing pages with premium content and smart call-to-actions to capture more leads, and turn them into customers.
Lower Cost of Customer Acquisition
Customer acquisition cost (CAC) is next on the challenge list. An early stage SaaS company would hardly survive if it starts burning down fundings with expensive advertising, cold calling and other interruptive outbound techniques. It is a different matter when a company leverages inbound marketing and HubSpot to generate qualified leads and warm them up with sales reps, who act more like consultants ready to help solve problems, rather than salesmen pressing their products on them. As a result, close rates increase, and the cost-per-lead and cost-per-customer go down significantly. According to HubSpot's "State of Inbound Marketing", businesses who primarily use outbound methods (advertising, tradeshows, etc.) typically spend $346 per lead, whereas Inbound Marketing's average is $135.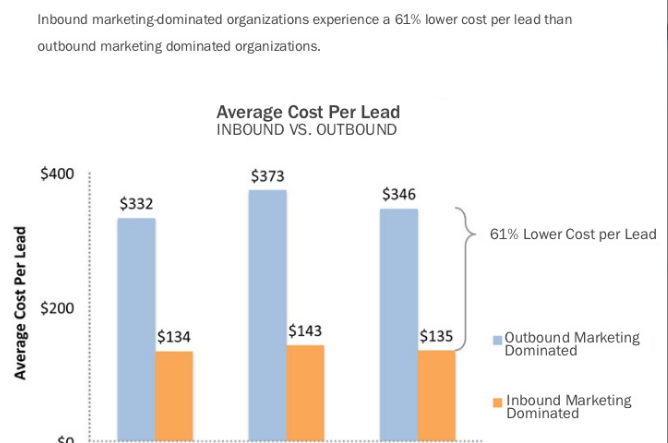 Source
Maximize Customer Lifetime Value (LTV)
According to the study of the White House Office of Consumer Affairs, it costs businesses 6-7x more to acquire a new customer than to retain an existing one. For SaaS companies, it is of primary importance to retain customers, maximizing their lifetime value (prediction of the total revenue a customer can bring to your company during for the entire span of your relationship) and monthly recurring revenue so that they overcome customer-acquisition costs and start making profit. To meet this challenge, they should hang onto their customers as long as possible, and inspire their loyalty. With HubSpot and inbound methodology SaaS companies can address this challenge, and this is how they can do it: Inbound marketing strategy focuses not only on what happens before conversion, but also afterit. One of the core components of inbound methodology is about delighting customers and turning them into happy promoters of the brand. With this methodology, early stage SaaS companies can not only maximize LTV, but also build a strong company and get a competitive edge. The sure-fire tactic of delighting customers is building educational resources that help them solve their problems, learn best practices, stay tuned with new features and updates, and get the most out of their investment. Let's take, for instance, HubSpot with its Academy, certification program and educational resources. All these keep customers delighted and retained. As the loyalty of customers and their love towards the brand spreads around, new licences are sold, new features are added to maximize LTV, and everybody wins.
The bottom line
SaaS is an industry of complex products, freemiums and constantly changing services that should be precisely marketed to reach target audience. It's also an industry where HubSpot and inbound marketing can give you the strongest foothold for getting out in front of prospects during the decision-making stage. It revolves around developing interesting, valuable content that attracts prospects, turns them into leads and customers, and delights them. Besides earning your a reputation of an expert in your industry inbound marketing is a great way to gain a competitive edge by changing a conversation from how great your product is to how it can benefit your prospects and customers.