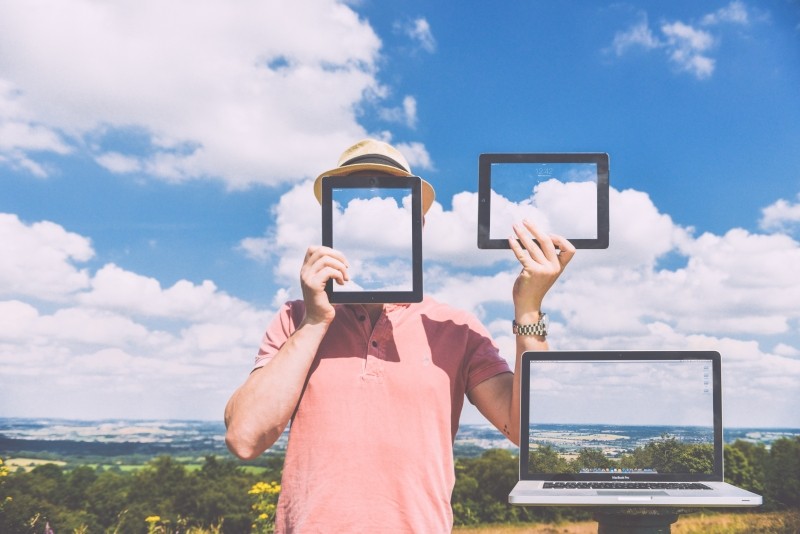 How do you market something you can't touch?
The more you think about it, the more complicated it becomes. Really, something with no shape, size, weight or tangibility isn't very easy to promote or advertise, yet services, and more particularly, software as a service, are rapidly growing as time moves on.
It's estimated that around 25% of new business software purchases will be service enabled in 2016. Among cloud computing services, SaaS is estimated to make up to 59% of all of those by 2018.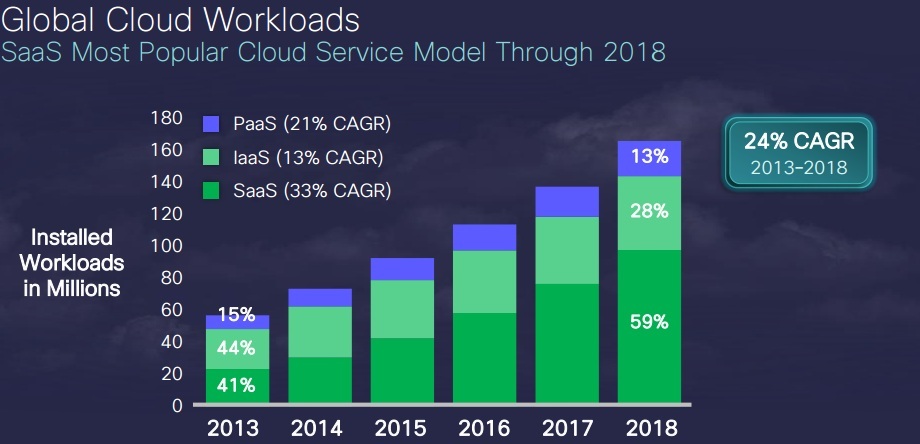 Source: Cisco Global Cloud Index, 2013-2018
According to the unspoken rule of marketing – if there is demand, it needs to be satisfied – marketers don't have a choice, but to make the impossible happen.
So let's do it, shall we?
As much as online marketing is different from traditional, they still share some common elements: using the product in visuals, videos/images showing people benefiting from the product, information about the comfortably of usage, comparison to other products, etc. Well guess what, SaaS is having none of those.
You have very limited options when trying to make your SaaS marketing work. This is why marketers have to be even more careful, attentive and take advantage of the benefits of SaaS to really get the ball rolling. So where do you start?
What does SaaS offer that other products don't?
This is the key to your marketing strategy. Compared to other products, SaaS ultimately offers its customers "a way to make their business life easier". This is the primary value proposition that you need to focus on.
Use your value proposition to your advantage
Stating that your software will make somebody's life easy isn't enough to make people believe it. Consumers believe what they see or use. This is where SaaS companies have an advantage.
When a physical product manufacturing company advertises its products, consumers can't get much hands on experience with it generally. They might get a free sample, a sneak peak of the product, or see the product in action during a presentation, but if they really want to see how it works for them, they need to buy it first.
SaaS businesses have the option to offer the whole product for free right of the bat to their consumers. You have the option to prove that your value proposition will really do what it's meant to, and if consumers need proof, no worries: they can have with full features and functionality for a limited time to test out. For free.
In this example, Kissmetrics – A SaaS company focused on providing deep insights and actionable data solutions – invites users to give their software a try right on their homepage. Just type your website URL and you are ready to go.
Note that you need to have a follow up plan for consumers who request a free trial of your software. Convincing them to give your software a try is a good start, but without further action, most of the consumers will not become clients. They will use the software, get to the end of their free trial and move on.
Your strategy should involve the next steps for each consumer and how to turn them into long term customers. Most SaaS companies do this almost right: offer help and support to the client during the free trial, answer all the questions, help with understanding the features, etc. and wait for the free trial period to expire, so that they can contact the customer with an offer of purchase.
Except this is where they go wrong.
Why wait for the trial period to expire? Why not upsell the product during the free trial?
Most consumers are very interested in the product during the first three days of using it. There is a lot more engagement during this time between the service provider and the prospect, which diminishes rapidly as time moves on.
Engage with your prospects as much as possible during the first three days of the trial and do everything you can to convert them during this time.
Another advantage: short sales cycles
Most B2B companies have a standard procedure they need to go through during their typical sales cycle, which involves negotiations, contracts, numerous meetings between representatives, etc. A huge advantage of SaaS is that the sales cycles do not take long, actually they take a few days at most.
Software is a very rapidly evolving industry and long sales cycles would be devastating for SaaS companies. What's considered good today, may not be the best choice in 6 months. An update will be released to make the necessary changes and adaptations and suddenly, you have a brand new product, with just a fraction of similarities with the old version.
When shopping for software products, consumers essentially take just three steps before becoming a client: they research, find the software that will help address their needs, request a trial and make a decision: buy or not to buy.
Typically, SaaS subscriptions do not cost a fortune and since they are made to simplify the lives of users, they need to be as simple and user friendly as possible in the first place. It doesn't take much time for prospects to get used to it.
If consumers are reluctant to buy the product during the first week or two, then probably you have already lost them. Don't waste too much time and energy on such users.
The secret is not to sell your product to as many customers as possible. It's to find those customers that will become your lifelong clients. They are the ones that bring you revenue and profits.
As Gartner mentions in one of its studies, 80% of the profits a company gets come from 20% of its customers. This makes retaining valuable, long term customers more important, than selling your product to more prospects.
Frederick Reichheld of Bain & Co mentions in his book Loyalty Rules, by increasing your customer retention rate by a mere 5%, you can increase your profits by 75%. This gives all the more reason to think about customer retention rate and not waste time on prospects that don't seem to be interested that much.
Your weapon of choice is information
As a SaaS company, you don't have much to offer to your audience to attract them. You don't have samples, you don't have images/visuals/videos of customers using your products, and you don't have commercials.
What you DO have though (and you absolutely should, in case you don't) is information. Valuable, impressive, 100% true and useful information.
Do you read blogs? Think about your favorite blogs for a minute, the ones that you turn to for succinct, solid information that you can trust. 9 out of 10 times your favorite blog will be a SaaS company. Why? Because information is their strongest asset, their best weapon to fight for their customers' attention.
Hubspot – leading marketing automation software and CRM provider – offers you to try their software right then and there, or learn more of you still need to. Their blog is always packed with useful information about online marketing.
As a smart SaaS marketer, you strategy should always revolve around providing information to your prospects, information that is relevant enough to make them want more and come to the source of it – which is your SaaS product – and give it a try.
Information format preferences have been evolving on its own as well.
We have now reached a point where it actually matters how you provide information to users.
Written word information is still good and relevant, but it is no longer prefered by most consumers. Time and focus are both becoming increasingly important aspects year after year and consumers want to learn everything faster, with minimum efforts and concentration.
One of the better ways to deliver your information faster and easier to consumers is video.
Did you know that 65% of people are mainly visual learners? People also process visual material 60k times faster than text. This means that whatever you have to say in a 4000-5000 word long, detailed article, which would take around 20-25 mins to fully understand and digest, can be expressed in an about a 3 minute video.
If you are low on budget, or cannot make videos for various reasons, infographics are still a great alternative. You can make an infographic mixed together with a small post for introduction purposes and spread the rest of the information via visuals.
If your information is aimed to educate your audience, consider having an online academy. Online academies offer you to make explanatory videos that will rest on your website forever, educate your audience step by step and also simplify the learning process and save even more time.
Here is an example of how HubSpot uses its academy to educate the public on the basics of inbound marketing, and even offers a test at the end, which gives you an online, printable certificate from HubSpot, which qualifies you as an educated inbound marketer.

Apart from Inbound certification, HubSpot also offers neatly organized, helpful information about all the aspects of their tool and how to use it to achieve success.
Focus on what's MOST important, the rest will flow automatically
Software as a service.
While most B2B companies have a lot to think about concerning their product, SaaS companies really have one aspect that's extremely important – it's the actual service.
When you add up all the parts together – your product, business model, marketing, etc. – they all ultimately combine together into one big pillar, service.
When creating your marketing plan, whatever you do, make sure you promote your service, not your product. It's your biggest competitive advantage over similar SaaS companies offering the same product.
Be mindful of your existing customers. They are and should always be your top priority, and the longer you work together, the more profitable your business will be.
World class customer support should be the other pillar of your marketing strategy. As Peter Drucker – the man who invented management – once said:
"The aim of marketing is to know and understand your customer so well the product or service fits him and sells itself".
This is exactly what you want to achieve: make your service sell itself, by providing the best customer service alongside valuable, trustworthy information and of course, your awesome SaaS product.