Mobile app marketing can be a very powerful way to reach out to your target audience and extend your customer base, but you need to know how to do it right. You cannot build an app and not have a plan to market it properly because people will certainly not start rushing immediately to download it and see what it is about. You need to develop an effective marketing strategy in order to truly yield some great benefits.
How can you know what kind of strategy will actually work and compel a lot of people to check out your app? The key is to understand your end users. You need to understand their behavioral patterns, so that you can know exactly how to engage them.
Another very important step to take is to choose the right social media platform for marketing your mobile app. You will be able to pick the right platform once you get to know your end users and learn which platform they prefer to use, so that you don't waste your time and effort on marketing your app somewhere where the audience is not really interested in it.
Facebook vs Instagram
Quite a lot of people will tell you that Facebook is the best platform for marketing literally anything. Facebook is definitely the dominating social media network, with 2.37 billion daily active users, so it sounds quite logical that one would want to market their products or services there, as they could reach out to a great number of people all around the world.
While you should make sure that your mobile app is discoverable everywhere, a very smart choice would be to focus on the platform that can bring you the most positive results when it comes to mobile app install campaigns, and that may not be Facebook.
With 1 billion active users, Instagram may not seem like a choice as good as Facebook but your target customers spend more time on it than you may think. Instagram is great for reaching a younger demographic (under 35), and those users are precisely who are going to be most interested in your mobile app, since the older generation is not too tempted by those. This is exactly why you should focus on Instagram ads when trying to market your mobile app installs.
What's more, celebrities drive far more engagement on Instagram than any other brand which a lot of marketers can use to their advantage, as celebrities can become their brand advocates and engage a lot of people. Influencer marketing is becoming more and more popular, and Instagram is definitely the best platform for it. Big Commerce statistics (and not only) indicate that Instagram Posts and Instagram Stories are the most widespread types of content for Instagram influencer marketing campaign while a Youtube Video is on the 3rd place.
The Difference between Facebook and Instagram Audiences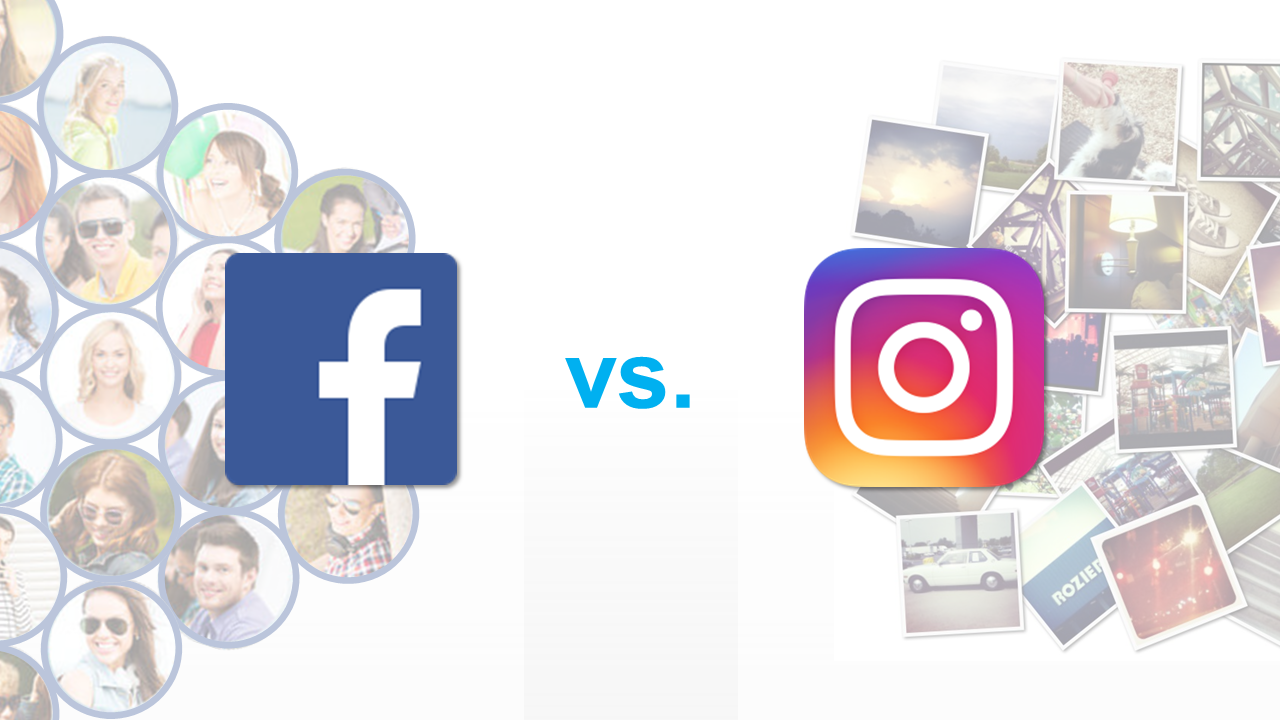 Mobile app usage is much higher when it comes to younger generations, and young people are more and more migrating from Facebook to Instagram. While they keep using Facebook on a daily basis, they spend much more time on Instagram.
In order for any marketing campaign to bear fruit, you need to target a specific age group. When it comes to your mobile app install campaign, you need to target a younger demographic. Facebook has a user base of most age groups, so it guarantees greater reach, but Instagram is a place for a younger user base. It appeals to a younger audience, which makes is perfect for marketing mobile apps.
What's more, Instagram drives much higher engagement. While Facebook is great for distributing information, Instagram is way better when it comes to engaging people. This recent statistic says it all: Instagram's engagement rate is the highest among all social media channels.
The great engagement increase on Instagram has to do a lot with the fact that it attracts a younger audience. The main reason why a younger demographic loves Instagram is photos and, as of recently, short videos. They spend time on Instagram scrolling down those visuals and double-tapping them to "like" them, without sharing posts or publishing status updates. Precisely because of this tight focus that Instagram has, its users are more engaged in posts that they scroll through.
People don't use Instagram to check out your business hours or see where your company is located. They have Facebook for that. They use Instagram to engage, which is exactly what makes the platform so effective when it comes to spreading the word about particular products or services and building a strong brand.
Also, Facebook has changed its algorithm for content reach, so you need to boost your posts and ads in order to increase your visibility and get more exposure. Therefore, by marketing your mobile app install on Instagram, you will have much higher chances of people clicking on your ads to see what your app is about.
The Top Benefits of Marketing Mobile Apps on Instagram
Since Instagram has become a very powerful platform for marketing products or services, it goes without saying that it can provide you with some pretty great benefits, so take a look at the most important ones.
1. Higher Engagement
As you already know, Instagram has much higher engagement rate than any other social media network, including Facebook. Therefore, since it drives high engagement, Instagram is perfect for connecting with your target audience and building strong relationships with them. You can very easily build a community of users who will come back time and time again to use your mobile app, since you will effectively engage them in your product.
Visuals have the power of tapping into people's consciousness and engaging them on an emotional level, and Instagram is based on visuals. All you need to do is make sure that your visuals (both images and videos) are eye-catching, and you will effectively capture people's attention. Also, while people can turn off autoplay for videos on Facebook, they cannot do so on Instagram, which makes them even more eye-catching.
2.Increased Visibility
When you post ads on Instagram, they will appear just like standard posts which means that your target audience will see them in their news feed as if they are already your followers. This greatly increases your visibility, since your ads will take up the entire mobile screen, as opposed to other social media networks, where there are many distractions all around the news feed.
Also, Instagram posts stay highly visible, no matter how much time has passed from the moment you posted them. Anyone can quickly scroll through your account to see everything you have ever posted, which can help you effectively connect with your audience.
3. Reaching Mobile Users
Since Instagram is a mobile-first platform, it is truly perfect for mobile app install campaigns. By advertising your mobile apps on Instagram, you will be able to reach a much broader audience of mobile users who will be interested in checking out your apps. You can easily capture their attention precisely because of the high level of visibility of your ads.
Although you cannot put clickable links on Instagram (except in the bio on your account), you can still compel your target users to click on your ads and find out more about what you have to offer by including an enticing call-to-action. Also, don't forget about all those hashtags, as they can be very useful when it comes to extending your reach, so make sure you include them in your ads.
4. Reaching Out to Millennials
Millennials are the ones who are more likely to download your mobile apps and, more importantly, come back again to check out your new offers. Given the fact that the majority of Instagram daily active users are millennials, you can reach them very easily and effectively engage them in your brand by marketing your mobile apps on the platform.
5. Building a Strong Brand
It goes without saying that you need to market your products everywhere you see fit in order to extend your reach and build trust with your target audience. However, because of the fact that Instagram is much better at driving engagement than any other platform out there, it can significantly help you build a strong brand and strong reputation.
If you develop effective marketing strategies and consistently push your ads, Instagram can become your most powerful tool for strengthening your brand and gaining a huge edge over your competition. It is important to note that there is quite less competition on Instagram than on other social media networks, so you should definitely use it to your advantage. It is much easier to reach your target audience if you incorporate Instagram into your marketing strategy.
There are certainly much more benefits of using Instagram to market your mobile apps, but the aforementioned ones are definitely the most important ones to consider. Therefore, you should definitely start working on your marketing plan and strategy as soon as you can. Focusing your campaign on Instagram ads will help you get your every mobile app out there much quicker and easier, so that you can successfully grow your user base and boost your entire business.