Why You Don't Get High Quality Leads in 2021? [Mistakes to Avoid]
March 4, 2020-Sona Hovhannisyan
Why You Don't Get High Quality Leads in 2021? [Mistakes to Avoid]
The world is long past cold calling and emailing in order to get leads. While these tactics are still present, the truth is that the emphasis is put more on generating leads via online marketing activities.
Many companies are making the mistake of going more traditional and thinking that push methods are the ones that are more likely to bring leads. However, data tells us a different story.
Inbound marketing techniques such as focusing on SEO and Social Media Marketing are the highest achieverswhen it comes to generating quality leads.
Here are a few tips on why you may not be getting the most qualified leads with your online marketing efforts:
You are not putting enough effort in SEO
Search Engine Optimisation is also sometimes referred to 'free traffic'. What makes it unique, is that traffic that comes from search engines converts, on average, at 16% rate. First search result on Google enjoys 32.5% click rate, while the second one gets 17.6% on average.The first three results together consume 67% of the whole traffic. In addition, compared to paid listings, organic results get 90% traffic from all searches.
Recently, SEO has become more and more focused on long tail keywords. This is the key to getting high quality leads versus high amounts of traffic and bad leads. Something general like the term "traveling" can attract a whole lot of different consumers that may all be searching for different things, while a term like "family traveling in Northern California" will attract fewer people, but they will be "the real deal".
Your landing pages are not customized for every campaign
Effective landing pages are the ones that are tailored to each online marketing campaign. Moreover, to be as effective as possible, you should have a landing page customized according to the source of traffic. The reason is because potential customers will have a different mind-set depending on where  they come from (SERPs, social media, emails, etc.) and what stage of the buyer's journey they are in. Therefore, they might require more or less information depending on the circumstances.What this means is that when a visitor comes to your website and does not know anything about your business, it is less likely that he will convert on a brief and straight-to-the-point landing page.
On the other hand, in case of one-time customer promotion emailing, all he needs to know is how to get the offered discount. When it comes to LP forms, some marketers tend to put simple forms in order to get more leads.
While this might indeed bring more leads, those leads will mostly include people who are not that interested in the product, but are happy to get the free E-Book you offered. It is important to get targeting right when it comes to landing pages. Which brings us to the next point.
Testing, Always and Forever
Testing is the most important part of optimizing any marketing efforts. This is particularly important when it comes to email marketing and landing pages. Based on research done by Ascend2 and Research Partners A/B, testing accounts for the most effective and least difficult way to optimise landing pages.


Nowadays, some of the free tools (such as Google Analytics) make it fairly easy to track data. It is important to understand what the data is trying to tell you though and what should be changed in order to get the most out of your efforts.
There is no documented Content Marketing strategy
Companies started paying more attention to their content marketing during the past years. Regardless of what you use your content for (acquiring links, building your sales funnel, optimizing the buyer's journey, etc.) it is crucial to document the strategy.
According to a survey done by Statista, 37% of companies who were surveyed had a content strategy which is documented while 42% had a strategy, but was not documented.

To support this chart, Content Marketing Institute states that 53% of the most effective marketers do have a documented content marketing strategy. On the other hand, 40% of the least effective ones are the ones that have no strategy at all.
You don't have a clearly defined Buyer's Journey
An astonishing 68% of the B2B companies have not identified their buyer's journey correctly. What this means is that these organizations have no idea about how prospects find them, convert into leads or become customers.
In order to achieve high conversion rates and get quality leads, it's crucial to have a clearly defined buyer's journey. Not only it helps you guide the consumer up to the point of becoming your customer, but it also gives important insight into what content he or she should be served in each stage.
Don't give too much for too little
In a desperate effort to generate more leads sometimes companies decide to make their opt-in pages as simple as possible, with a form requiring just an email, in exchange for an EBook containing high quality information. Don't do that.
It is simply not worth giving away high quality content just for the sake of growing your email list. The eBook cost a lot of cash and effort to create and you should trade that for something more useful than a simple email address.
The idea and advantage of inbound marketing is that you don't search for potential customers, they search for you instead. Hence, you get people who already are potential customers for you. The next steps would be guiding them through the buyer's journey and encouraging them to convert with the help of your awesome content.
In their State of Inbound 2015 report, HubSpot found that companies are 3 times more likely to see higher ROI using inbound marketing vs using outbound. Higher ROI is directly related to the quality of your leads: the better leads you have, the more revenue you will earn.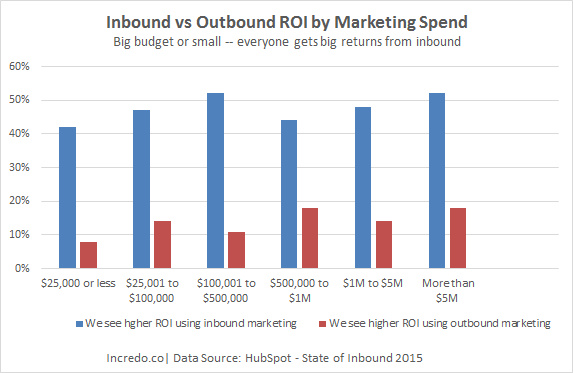 This chart itself tells more than what is needed to prove that inbound marketing strategies are effective and by utilizing the practices tailored to your customers and individual campaigns, you can succeed in acquiring high quality leads.
Acquiring high quality leads doesn't happen overnight. It takes a lot of effort, time and investment, but in the end it's better to have a single quality lead than ten random ones. Quality leads have a real problem and need a real solution as opposed to people who just want to get free content. You just need to guide them through the maze of internet to the very end with the help of your content.