Social media is now crucial for any company's reputation and branding (especially SaaS companies). In the 21st century, in order to have a decent business reputation, it's important to have a well developed social media presence and strategy. Social media is growing in trustworthiness, and though traditional media like TV, radio and newspapers are still relevant for some industries, SaaS can't really turn to them for public exposure, which leaves them almost entirely reliant upon social media to gain followers and/or fans and spread the word about their brand.
A recent study conducted by ING revealed the impact of social media on companies' financial decisions and reputation in the eyes of customers. The study revealed that around 25% of the people surveyed think that a company's social media posts may change public attitude and opinion regarding a company's brand, and thus have an impact on the company's reputation. So, in order to improve your online reputation, change perceptions and build a worthy brand, it's necessary to have a proper social media presence and the right people managing it.
Benefits of social media marketing in SaaS industry
According to the Statista, in 2015 there were 2.04 billion social network users worldwide and this number is expected to increase to 2.72 billion by 2019. Besides the fact that SaaS companies can spread the word about themselves and reach out to so many people, here are a few additional advantages of social media to take into account:
1. Instant contact with customers: Communicating with customers and showing that you really care about them is critical for the success of a SaaS company. You might think that it's really difficult to engage with everyone, but social media gives you the chance to keep in touch with each customer you have, on an individual level. With the help of social media, you can further develop your brand and give your business a voice. Get the Social Perspective Workbook to utilize social media to its full potential.
2. Huge data available: Probably the biggest advantage of using social media is that all customer data can be collected in one place. You can find out a lot of things related to your customers, such as what they think about you, how many people leave positive/negative comments, how many people see your posts, who are your biggest influences, which of your posts are the most effective ones and so on. Social media is like an experimental platform, where you can look at things from different angles and create the right marketing campaigns for your company.
3. Increased inbound traffic: Without social media networks, you can get inbound traffic only from people familiar with your company and those who search for keywords you rank for. However, by creating an advanced social media strategy, you create another way of leading people back to your website. The more quality content you post on social media, the more inbound traffic, leads and conversions will be generated.
4. Decreased marketing costs: HubSpot states that about 84% of marketers see increased traffic as a result of a six-hour effort per week on social media. Six hours is definitely not a large number for a channel as huge as social media. So, if your company devotes just 1 hour per day for developing high-quality content, you can start seeing the results of your efforts soon.
Drawbacks of social media marketing in SaaS industry
Though social media is an excellent tool for any business, one cannot simply ignore the disadvantages that it has. Instead, you should take them into account when developing your inbound marketing strategy:1. Small mistakes can be noticed by thousands: On social media, everything is public! Posts get shared, so you need to be cautious. Mistakes or a wrong online strategy can put you in a social disadvantage and even harm your company's reputation, because when you make a mistake offline, people may never know, but when you make a mistake online, it can spread like a wildfire. Just one wrong word posted from the company's page can turn out to be a huge problem for the brand.
2. Complaints can go viral: Social media is an excellent way to provide customer service. However this comes with its disadvantages. Complaints from your customers can quickly go viral and make a bad impression on other customers. Any misstep by one of your employees can ruin the reputation you have spent years building up, in just a few hours.
Companies that Failed on Social Networks
Based on the above mentioned advantages and disadvantages, we can conclude that social media can be a fantastic tool for companies to engage with their customers, but it can also be dangerous if used foolishly: here are some examples of companies that blew it on social media:
Blackberry tweeted from an iPhone
Blackberry's case is probably among the greatest fails in social media history. On January 13, 2015, a high-quality, beautiful picture of Blackberry was tweeted. But it turns out that a good picture alone is not enough to make a good impression on people. If you look at the tweet's timestamp, you will see that the picture was posted from an iPhone. Of course, the company tried to delete the post quickly, but there are always some tech reporters who notice such mistakes.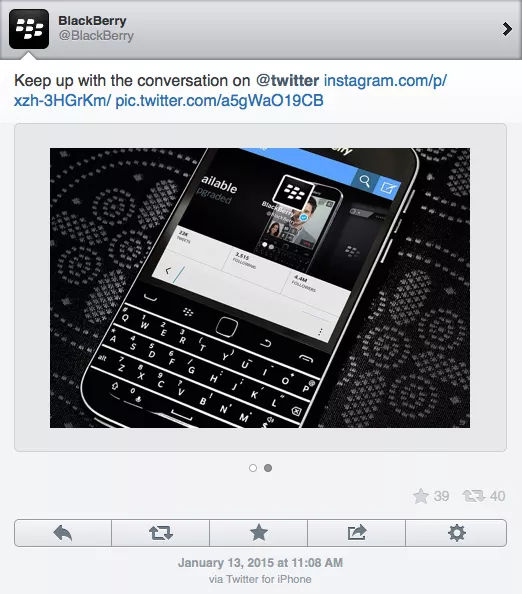 McDonald's hashtag blunder
In 2012, eager to hop on the Twitter bandwagon, McDonald's wanted to promote its brand and started engaging with its audience through a promotional hashtag, #mcdstories. Yes, the number of social media interactions increased, but with entirely unintended results for McDonald's. Many Twitter users started to post their horrific and unsuccessful stories that happened at the fast-food chain using the hashtag. Seeing that the promotion brought bad publicity to the company, McDonald's essentially admitted that "#mcdstories did not go as planned."
The Anti-Obama tweet of KitchenAid
Because of its infamous fail, KitchenAid can now be considered the leader of offensive tweets. After President Obama mentioned his grandmother in a debate, KitchenAid posted the following tweet among its 24,000 followers:
The company quickly deleted the post and apologized, explaining that the post was made by one of the employees who mistakenly used the company account instead of their own personal account. But do you think that is a decent enough of an excuse? We don't think so.
HMV employees got the access
HMV, which is a UK entertainment retailer, had recently laid off a large number of employees, but didn't consider the fact that some of them still had access to the company's Twitter account. One of the disgruntled, laid-off employees, took advantage of access to the account and live tweeted about the "mass execution of local employees who love the brand". It seemed that no one in the management got the Twitter password, as they were unable to stop it, wrecking public opinion of the company.
Companies with successful social media strategies
The awesome content of Oreo
If you follow Oreo on social media networks, you will absolutely agree – Oreo does a fantastically phenomenal job on their social media presence. It seems that they have a dedicated team of social media content writers and designers on standby, as they continuously post fresh and relevant content on Facebook, Twitter and Instagram.
One of the best campaigns of Oreo that went viral was Halloween 2013. Oreo created a Vine video series of horror films that featured their cookies as the lead roles.
Netflix's understanding of its audience
Maybe it's because of the enormous amount of data available about its users, but it seems that Netflix clearly understands who its social audience is and what they really want to see and hear. Whether it's a famous quote from its titles or a gif that shows how people feel about the video streaming site, Netflix constantly creates content that is tailored to its users.
GoPro stands out from others for its amazing social media posts, where they use the power of user generated content. The company encourages its customers to send their best shots done by GoPro. This not only makes great content for sharing, but it also showcases the quality of the product in action.
Delta Hotels care about their guests

During the #PSEWEB conference in Vancouver, Mika McCready tweeted that though he liked the room at Delta, he was not so pleased with the view. He didn't tag Delta and he was not really expecting a response from the hotel. However, within an hour, Delta responded and offered a room with a better view. When Mike returned to his room, he found some sweets and a card from the hotel apologizing for the "bad view". This is how companies should take care of their customers with the help of social media.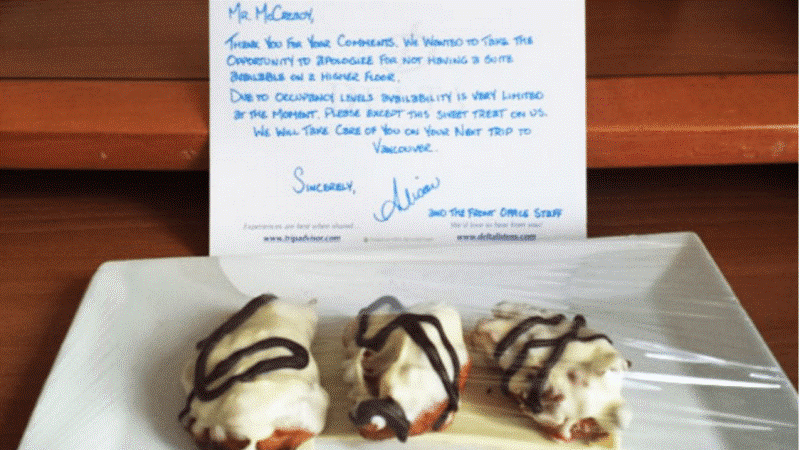 Excellent customer service of HubSpot
We all know that the holidays can be challenging for customer service. When customer service closes for a national holiday, it does not mean that other countries' customers won't have questions on that day. This happened with a HubSpot customer in London. She had workflow issues and could not contact anyone in the US because it was Thanksgiving Day. However, when she posted about her concern on Twitter, she found a customer service representative in Ireland.
HubSpot has a dedicated customer service Twitter account, where concerns of customers are solved. In order to manage international schedules and time zones, they have two representative offices in Dublin and two in Cambridge, MA.
The most common mistakes in social networking
In social media, one unthought post or one lapse in understanding can instantly turn away even your most loyal followers. Fortunately, we have a list of the common mistakes that you need to avoid for better social media results.
Spamming and irrelevant content
When we refer to spam, first of all, people think that it's only referenced in email marketing techniques. However, these days the term has already spread to the social media marketing industry as well. On social media, spam is considered sending the same message over and over again, without any noticeable value behind it. If a person follows a lot of users, your spammy post can get lost in the crowd. In the same breath, if the person has a less active feed, imagine how irritating it may be to see the same posts over and over again.
People follow you for a reason: they want to see the content you share and get as many benefits as they can. However, this does not mean that they will appreciate everything that you share. Make sure to post only when you have something valuable to share. The biggest mistake is publishing for the sake of meeting a quota.
Not using management tools
Managing all of a company's social media pages can turn out to be a very time-consuming process. However, tools like Buffer, Hootsuite and Sprout Social are there to help you: with the aid of said softwares you can easily schedule your content, collaborate with others, analyze the results and see what works best. Without using these monitoring tools, you cannot fully understand the effectiveness of your social media campaigns, and are doing your company a disservice.
Simply having Facebook, Twitter, LinkedIn, Google+ pages is not enough for a SaaS business to become relevant on social media. One of the biggest mistakes that businesses make is ignoring the community. Your followers are the primary reason why you share content, so you should pay close attention to them and understand what they really need to read and watch. If your customers are left in a void with no satisfactory answers concerning the value of your service, you will quickly lose your respect among them. The most dangerous case is when a savvy competitor pays attention to your customers' concerns, learns how to offer them solutions and turns them into their own customers.
Too many or very few hashtags
Posts that include too many hashtags usually have very little customer engagement. On the other hand, posts that do not contain enough hashtags lose out on the chance of becoming discovered by interested social media users. The rule of thumb is to use 1-3 hashtags per post. Here is a guide by Business 2 Community that presents the do's and don'ts of hashtags.
Too much or too little of company presence on social media
Here, as well, you need to find the perfect balance for your brand's presence on social media. You should not make a post only once a month, but this does not mean that you need to flood your audience's feeds all day long. The content frequency strategy, of course, needs to differ from one platform to the other. There is nothing wrong when you post 15 tweets a day because of Twitter's rapid timeline. However, 15 daily LinkedIn status updates will definitely annoy people. Here is a useful Social Media Frequency Guide to give you a better understanding of how frequently and how much content you need post on social networking platforms.
Must haves in your social media strategy
Visuals are extremely important for creating an engaging social media strategy. Here are some interesting statistics from Heidi Cohen about the importance of visuals:
1. Publishers using infographics in their content can increase their traffic by 12%.
2. Content with images get 94% more views than content without images
3. Facebook posts that include visuals have 37% more engagement
These facts alone should be enough for including visuals in your following posts. Here is an infographic that explores more on the value of visuals.
According to TechCrunch, there are about 40 million active small business pages on Facebook. With such a huge number, it's really difficult to catch people's attention and drive them to your page. However, one thing that can help you is creativity. Try to do things that are not common. For example, instead of just sharing articles, try to throw a content poll or post a Periscope video podcast.
As David Ogilvy says: "If it doesn't sell, then it isn't creative". So try to be creative if you want to have impactful social media presence.
You might spend weeks and months trying to develop the perfect social media strategy, which will place you ahead of the game: but don't lock it in. Social media is not static. You cannot simply rely on the same strategy for three years, or even one year, because social media is continuously evolving. So, try to be flexible and always follow the new trends/tricks in order to make an even greater lasting impact on your followers.
How to monitor your SM performance
Monitoring social media performance is as important as creating a social media strategy. Here are some tools that can help you measure the influence of social media on your goals:
1. Google Analytics: This tool can help you monitor your overall performance, see the contribution of each social media website and understand how much traffic your website gets.
2. Topsy: Topsy lets you search relevant content by only filtering the location or the keywords. Here are some key aspects where this tool provides information: number of retweets, filtering by day, hour, week, month, preview of links in tweets and so on.
3. Goog.gl: This awesome tool lets you shorten your links and see how many people have actually clicked on it.
4. Hootsuite: This tool gives you the opportunity to manage all of your social networks at once, schedule posts for future updates, see what people talk about you, get in-depth analysis of your social media efforts and so on.
Other tools you can consider using are: EasyPost, Social Oomph, Social Sprout, Crowd Booster, SocialBro and so on.
Wrapping up
Overall, you need to invest in social media for three main reasons: 1.) promoting your brand, 2.) controlling your reputation and 3.) keeping your audience engaged. By implementing the steps, tips and best practices mentioned above, you can easily achieve and maintain an excellent online reputation for your SaaS company and increase your customer base.